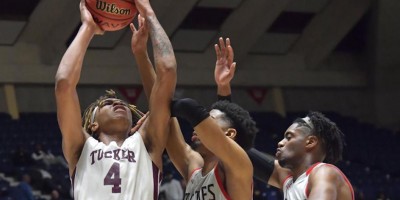 The Starr's Mill girls extended their winning streak to 15 games on Tuesday with a 70-49 win over Jonesboro. Senior Alice Anne Hudson set a new school record with a game-high 33 points in the victory. The Union County girls scored a 31-point victory (54-23) over Region 8-AA opponent Social Circle to improve to 17-4 overall and 8-2 in region play. The Panthers were up 41-4 at the half and senior Brook Dockrey netted all 18 of her game-high points in the first half action.
Madison County stormed back from an early 18-9 deficit and defeated Oconee County 70-45. The Lady Red Raiders were paced by Kayla McPherson's game-high 42 points and a 10-point effort by teammate Tiffany Wilson. Elsewhere in Region 8-AAAA, senior Marielle McNeal lifted Stephens County to a 58-56 win over St. Pius with a game-winning bucket at the buzzer. St. Pius sophomore Kate McBride had 16 points and 14 rebounds in the loss and teammate Wylie Sheridan finished with a team-high 19 points.
The Lumpkin County girls scored a big 67-35 win over Region 7-AAA front-runner Greater Atlanta Christian to improve to 15-8 overall and 6-5 in region play. Junior guard Isabel Davenport netted her 1000th career point after making a deep 3-point attempt from the top of the key in the first quarter and finished with a game-high 20 points. Lumpkin County's Lexi Pierce (18 points) and Kate Jackson (16) also finished in double-figure scoring.
The Troup girls kept their perfect season alive with a hard-fought 44-43 comeback win over Sandy Creek. Troup entered the final quarter down 35-27, but completed the rally and preserved the win after a pair of clutch free-throws from Samarria Weldon with 2.3 seconds to play.
On the boys side, Americus-Sumter looked sharp in its first game since taking over No. 1 in Class AAAA–defeating Region 1-AAAA opponent Cairo 78-27 to improve to 20-0 overall and 11-0 in region play.
See the rest of the scores below
Boys
Academy For Classical Education 46, Glascock County 23
Alexander 69, South Paulding 61
Americus-Sumter 78, Cairo 27
Arabia Mountain 65, Chamblee 55
Baker County 78, Camden County 71
Buford 74, Johnson-Gainesville 40
Calhoun 63, Adairsville 46
Calvary Day 68, McIntosh County Academy 58
Chattahoochee 75, Dunwoody 47
Chattooga 67, Gordon Central 36
Chestatee 64, West Hall 41
Denmark 76, Flowery Branch 40
Dublin 57, Southwest 37
Fayette County 68, McIntosh 59
Greater Atlanta Christian 74, Lumpkin County 43
Grovetown 58, Evans 52
Hart County 64, East Jackson 47
Heritage-Conyers 100, Lakeside-Evans 66
Landmark Christian 78, Strong Rock Christian 36
Miller Grove 51, Southwest DeKalb 49
Mt. Pisgah Christian 69, Walker 48
New Hampstead 76, South Effingham 41
North Murray 68, Lakeview-Fort Oglethorpe 48
Northview 54, North Atlanta 50
Rabun Gap 90, Christ School, NC 69
Richmond Hill 45, Glynn Academy 41
Riverwood 59, Jackson-Atlanta 48
Rockmart 70, Pepperell 58
Savannah Country Day 65, Portal 47
Shiloh 68, Eagle's Landing 62
Social Circle 54, Union County 49
St. Anne Pacelli 74, Webster County 44
St. Pius X 64, Stephens County 35
Tallulah Falls 83, Prince Avenue 50
Towns County 77, Lakeview Academy 70
Tri-Cities 92, Northgate 55
Turner County 64, Clinch County 54
Valdosta 79, Fitzgerald 55
Walnut Grove 59, Loganville 56
Wesleyan 39, Galloway School 37
West Laurens 79, Mary Persons 74
Winder-Barrow 73, Apalachee 39
Woodward Academy 69, North Clayton 61
Worth County 64, Cook 41
Girls
Alexander 66, South Paulding 19
Atlanta International 54, Atlanta Classical Academy 15
Buford 70, Johnson-Gainesville 18
Cambridge 58, Johns Creek 50
Carrollton 48, Rome 31
Carver-Columbus 82, Westover 39
Cedartown 53, LaGrange 52
Central-Carroll 47, Cartersville 27
Cherokee 56, Walton 31
Claxton 49, Savannah Christian 41
Clinch County 64, Turner County 54
Collins Hill 76, Mountain View 30
Creekview 52, River Ridge 41
Crisp County 50, Monroe 41
Dacula 58, Gainesville 42
Darlington 58, North Cobb Christian 43
Fannin County 69, Cherokee Bluff 38
Franklin County 50, Jackson County 44
Glynn Academy 66, Richmond Hill 27
Grady 62, North Springs 45
Grovetown 60, Evans 42
Harrison 59, South Cobb 45
Hart County 75, East Jackson 52
Hebron Christian 72, Athens Academy 33
Jackson-Atlanta 55, Riverwood 44
Jones County 85, Stockbridge 43
Kell 76, Villa Rica 51
Lake Oconee Academy 81, Lincoln County 31
Lithia Springs 47, Carver-Atlanta 20
Loganville 67, Walnut Grove 28
Lowndes 86, Thomas County Central 5
Lumpkin County 67, Greater Atlanta Christian 35
M. L. King 66, Drew 37
McDonough 51, Salem 26
Model 51, Coosa 48
Mt. Zion-Jonesboro 66, Stephenson 64
North Atlanta 46, Northview 30
North Forsyth 65, South Forsyth 37
North Hall 66, Dawson County 50
Pickens 70, Gilmer 66
Pierce County 57, Liberty County 33
Pope 64, Alpharetta 49
Ringgold 42, Haralson County 31
Rockmart 61, Pepperell 23
Roswell 54, Etowah 45
Savannah Country Day 35, Portal 19
Sequoyah 59, Dalton 31
Sonoraville 62, Coahulla Creek 48
Southwest 64, Dublin 26
Southwest DeKalb 56, Miller Grove 29
Starr's Mill 70, Jonesboro 49
Strong Rock Christian 46, Landmark Christian 41
Tallulah Falls 51, Prince Avenue 39
Toombs County 56, Bacon County 49
Troup County 44, Sandy Creek 43
Union County 34, Dutchtown 21
Union County 54, Social Circle 23
Valdosta 59, Fitzgerald 42
West Laurens 60, Mary Persons 6
Westminster 58, Stone Mountain 27
Westside-Macon 52, Peach County 37
Winder-Barrow 58, Apalachee 37
Woodstock 85, Lassiter 23
Woodward Academy 66, North Clayton 38
Worth County 47, Cook 27