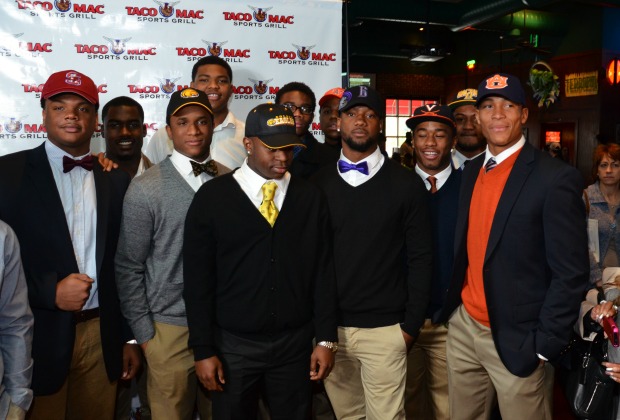 Photo by Jason Mussell
Gwinnett County is the bellwether of high school football in Georgia. And today's festivities at Taco Mac-Buford were a perfect reason why.
Twenty-one area schools stopped in to announce their signees and enjoy the comfortable environment of Taco Mac. The began with South Gwinnett, which announced seven signees at 10:25 a.m. including Coray Keel, who will take his talents to Indiana next year.
The next few teams were some of the powerhouses of the county, each with big-name signees who took the microphone and announced their schools of choice. Grayson was followed by Peachtree Ridge, North Gwinnett, Norcross and Buford. Some of the notable events included Blue Devils defensive end Lorenzo Carter stopping by despite not disclosing his decision until later in the afternoon (he chose Georgia). Peachtree Ridge's Orlando Brown announced he was uncommitted despite being pledged to Tennessee for months. Kevin Mouhon was also committed to Tennessee for months, but recently decommitted. He announced his pledge to Cincinnati today at Taco Mac.
GAC and Wesleyan rounded out the day at 3:30 with signees to prestigious schools around the country. Rafe Chapple and Chris Williams of GAC will continue their pass-and-catch connection at Yale next year. Teammates Britt Lee (Army) and Ross Wood (Dartmouth) also signed with prestigious institutions. Wesleyan's lone signee, Stuart Johnson, signed with Harvard.
Throughout the day, 92.9 The Game broke into their live programs with updates from Buford, as Harper LeBel and Rich Kamla were on site at Taco Mac. PlayOn! streamed the event live on the internet to add to the coverage. As always, Taco Mac's offerings were a big hit. The restaurant provided players and coaches with $15 gift cards for food and soft drinks.