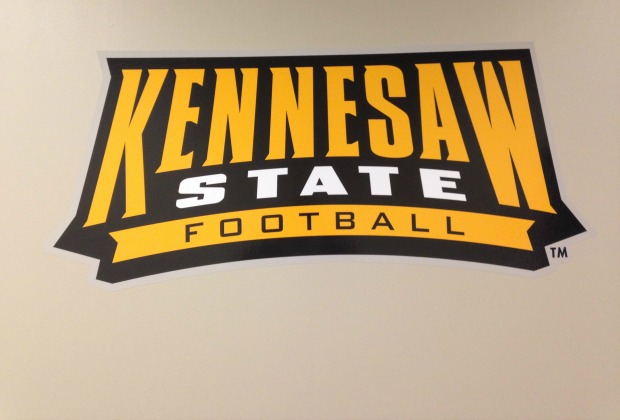 Brian Jones
History was made at Kennesaw State on Wednesday as the first signing class for the football team was announced by head coach Brian Bohannon. Since last year, the coaching staff has been working hard to get the right players that fit into the system on offense and defense, and they ended the recruiting season with 29 players from Georgia and all over the southeast.
"This is a monumental day for Kennesaw State University," Bohannon said during his press conference. "This is another huge step in the process of building the football program and brings us one step closer to getting out onto the field and preparing for that first game in 2015.
The signing class includes eight defensive linemen, six defensive backs, five offensive linemen, three quarterbacks, three running backs, two wide receivers and two linebackers.
Leading the recruiting class is quarterback Jaquez parks from Griffin. He was the Atlanta Journal Constitution All-Classification Player of the Year in 2013 and lead Griffin High School to a state title.
The Owls also added Kell defensive back Taylor Henkle. With 104 tackles and four interceptions last season, Henkle was named to the All-State team by the Atlanta Journal-Constitution and is only one of three players to have his jersey retired. The other two players are Jonathan Dwyer and Brian Randolph.
"We are extremely excited about the group of players who have signed and made the commitment to become the foundation of the program and make history," Bohannon said. "We accomplished a lot with this class and are looking forward to getting them on campus and start working with them.
The first signee was quarterback Chandler Parks from South Paulding. Parks was also the Owls' first verbal commit back in June.
Here's a look at all 29 signees that will start working together in the fall.
Chandler Burks           QB     5-10    175     Douglasville, Ga. (South Paulding HS)
Jae Bowen       RB      5-11    190     Douglasville, Ga. (South Paulding HS)
Will Cape        DB     5-10    180     Gainesville, Ga. (North Hall HS)
Taylor Henkle DB     5-11    185     Marietta, Ga. (Kell HS)
Lorenzo Adger            OL      6-2      290     Douglasville, Ga. (South Paulding HS)
Luther Jones    DL      6-0      285     Blairsville, Ga. (Union County HS)
D'Vontae Bedford      DL      6-1      265     Darien, Ga. (McIntish County Academy)
Joseph Alexander        DL      6-4      300     East Point, Ga. (Tri Cities HS)
Braylon Young           DL      5-11    265     Alcoa, Tenn. (Alcoa HS)
Dez Billingslea            LB      6-2      205     Covington, Ga. (Newton HS)
Marcus Thurman         DB     5-11    165     Bowdon, Ga. (Bowdon HS)
Anthony Gore LB      6-0      215     Statesboro, Ga. (Statesboro HS)
Jake McKenzie            QB     6-0      190     Monroeville, Ala. (Monroe Academy)
Trey Chivers    RB      5-11    195     Carrollton, Ga. (Carrollton HS)
Auzoyah Alufohai      DL      6-3      310     Alpharetta, Ga. (Alpharetta HS)
Austin Byrd    DL      6-3      230     Calhoun, Ga. (Calhoun HS)   Watch
Corey Thomas OL      6-2      290     Covington, Ga. (Newton HS)
Melvin Hill      RB      5-8      175     Sandersville, Ga. (Washington County HS)
Cymeon Burden          DB     6-2      180     McDonough, Ga. (Eagles Landing HS)
Chiaza Nwadike         OL      6-2      290     Riverdale, Ga. (Charles Drew HS)
Xavier Harper WR     6-0      185     Hoschton, Ga. (Jackson County HS)
McKenzie Billingslea  DL      6-4      240     Powder Springs, Ga. (McEachern HS)
Jace White       DB     6-1      185     Dallas, Ga. (North Paulding HS)
Devin Pughsley           DL      6-1      215     Hoover, Ala. (Spain Park HS)
Jaquez Parks    QB     6-1      205     Griffin, Ga. (Griffin HS)
Ryan Warrior  OL      6-3      260     Fayetteville, Ga. (Sandy Creek HS)
Justin Sumpter           WR     6-3      200     Tyrone, Ga. (Sandy Creek HS)
Akebren Ralls DB     5-10    170     Forsyth, Ga. (Mary Persons HS)
Brandon Sutton         OL      6-0      250     LaGrange, Ga. (Callaway HS)