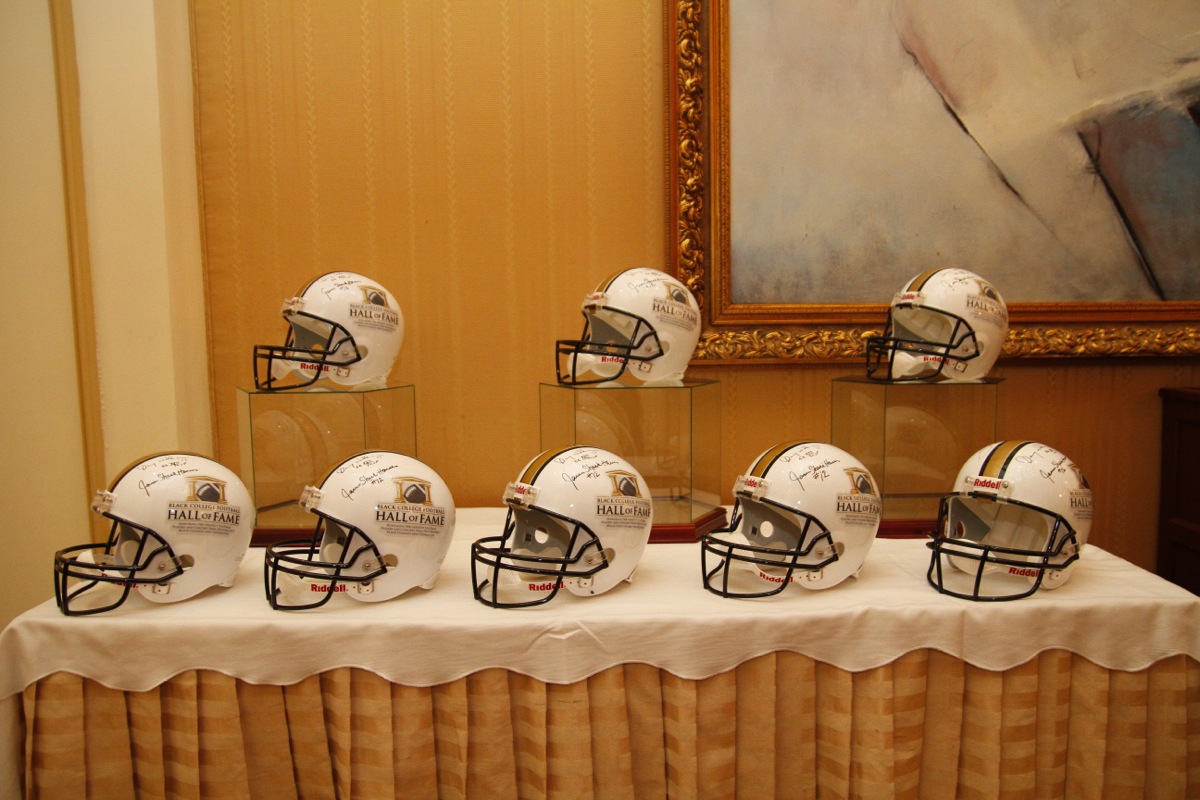 Out of 25 finalists for this year's class, six of the greatest historically black college football players will inducted into the Black College Football Hall of Fame on March 19 at the College Football Hall of Fame in Atlanta, Georgia. The metropolis of Atlanta has not only been a centralized hub for business and entertainment but is also one of the most well respected cities with a proud cultural background. In February of 2010 during Black History Month, the capital city was selected as the perfect location to be the home of the Inaugural Enshrinement Ceremony with its close proximity to more than half of the nation's HBCUs.
Ken Burrough (Texas Southern University), Jethro Pugh (Elizabeth City State University), Otis Taylor (Prairie View A&M University), Emmitt Thomas (Bishop College), Aeneas Williams (Southern University) and Lloyd "Judge" Wells (Kansas City Chiefs' Scout) will enter the Hall, which currently holds 58 previously inducted members.
Burrough was drafted by the New Orleans Saints in 1970 10th overall before playing his next 11 seasons in Houston while garnering two Pro Bowl selections and two All-Pro honors. The physical 6-foot-3, 215-pound wide out led the NFL in receiving in 1973 with 1,063 yards and is the last NFL player to ever wear 00.
Pugh starred as a two-time All-CIAA defensive end in 1963-64 at Elizabeth City State University before playing all 14 seasons in the NFL with the Dallas Cowboys where he was a two-time Super Bowl Champion in 1972 and '78.  Pugh passed away on Jan. 7, 2015 at 70 years-old.
Taylor played 11 seasons with the Kansas City Chiefs and was named to three Pro Bowls. The wide receiver as a two-time All-Pro in 1971-72, was a two-time AFL champion and won the Super Bowl in 1970.
Thomas spent 13 years in Kansas City and was selected to five Pro Bowls as a lock-down cornerback. He claims three Super Bowl titles: One in 1970 as a player and in 1988 and 1992 as a coach for the Washington Redskins. He was inducted into the Pro Football Hall of Fame in 2008.
Williams made eight Pro Bowls during his 14 seasons as a member of the Arizona Cardinals and St. Louis Rams secondary. The four-time All-Pro was inducted into the Pro Football Hall of Fame in 2014.
Wells is recognized as pro football's first black full-time scout. He passed away on Sep. 12, 2005.