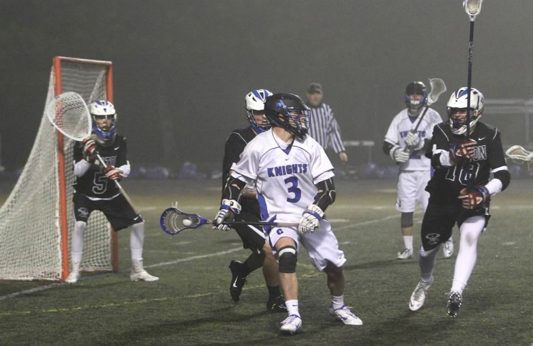 Photo by Deb Dreesman
In Class AAAAAA, undefeated Lambert (6-0) occupies No. 1 for the third straight week and Pope remains No. 2 after a 2-0 start. North Gwinnett made a significant jump after toppling No. 3 Lassiter 10-3. The win vaulted North Gwinnett to No. 3 and dropped Lassiter to No. 6. Mill Creek comes in at No. 7 ahead of No. 8 Walton, which the Hawks edged 10-9 in the season opener. This is Walton's first week in the poll and the Raiders are off to an impressive 4-2 start after a 2-5 start in last year's early gauntlet. Johns Creek was edged out of the poll due to a 14-2 loss to Lassiter in February that became worse after North Gwinnett handled the Trojans in last week's 10-3 victory. No. 10 Alpharetta beat No. 9 and defending champion Roswell 7-6 but sits behind the Hornets in the poll due to a three-game losing streak that was finally snapped Tuesday with a 7-6 win over Harrison.
In Class A-AAAAA, Blessed Trinity defeated Cambridge 7-6 on Tuesday and jumped to No. 8, while Cambridge slid down to No. 10.
In the girls Class AAAAAA poll, No. 1 Milton and No. 2 Walton clash Thursday night at Milton in a must-see finals rematch. No. 3 Lassiter survived a 16-15 overtime marathon with No. 4 Chattahoochee on Tuesday and the remaining ranked teams all posted victories this week to maintain the current status quo.
In Class A-AAAAA girls, Westminster's 5-0 start and 100-3 goals advantage this season keeps the Wildcats safe at No. 1. Previously-ranked No. 2 Kell, dropped to No. 3 in this week's poll after an 11-10 loss at Blessed Trinity, which took over No. 2 in this week's poll. Cambridge dropped one spot to No. 4 after a 9-8 loss to North Gwinnett, but mostly because of Blessed Trinity's rise to No. 2 from its previous home at No. 4.
BOYS
Class AAAAAA
1. Lambert
2. Pope
3. North Gwinnett
4. Centennial
5. Etowah
6. Lassiter
7. Mill Creek
8. Walton
9. Roswell
10. Alpharetta
Class A-AAAAA
1. Westminster
2. Wesleyan
3. Allatoona
4. Lovett
5. Marist
6. McIntosh
7. Greater Atlanta Christian
8. Blessed Trinity
9. St. Pius
10. Cambridge
GIRLS
Class AAAAAA
1. Milton
2. Walton
3. Lassiter
4. Chattahoochee
5. Harrison
6. North Gwinnett
7. Mill Creek
8. West Forsyth
9. Lambert
10. Hillgrove
Class A-AAAAA
1. Westminster
2. Blessed Trinity
3. Kell
4. Cambridge
5. Creekview
6. Marist
7. Wesleyan
8. McIntosh
9. Lovett
10. St. Pius