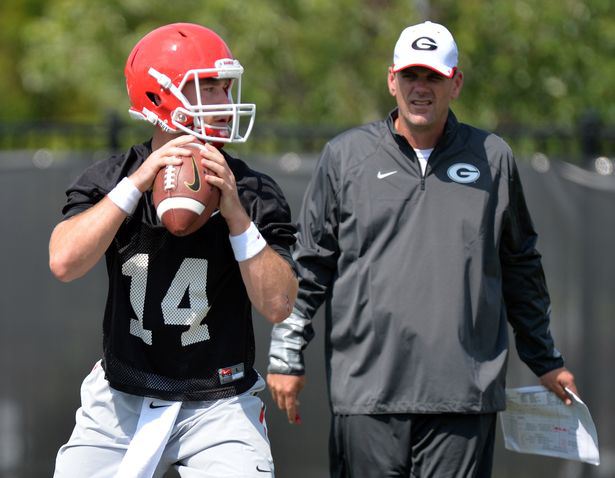 Brant Sanderlin/AJC Photo
Wednesday was the beginning of Georgia's bowl practices, as they get ready for their December 30 matchup with Louisville. It seemed like storylines outside the game itself were what was on topic.
News came out on Tuesday night that offensive coordinator Mike Bobo was going to interview for the vacant head coaching job at Colorado State. Head coach Mark Richt addressed the report during his Wednesday press conference ahead of their first Belk Bowl practice.
"A couple of days ago I found out that Mike had that opportunity," Richt said. "It's obviously a very good job, very good opportunity for a guy to become a head coach. Mike is taking advantage of the opportunity to go visit, and right this minute he's our offensive coordinator and we're planning on him being here at practices."
It is a little jarring to hear that Bobo is talking with another school and could have the possibility of leaving UGA. However, keep in mind Colorado State is talking with other coaches. Names like Oregon offensive coordinator Scott Frost, Michigan State defensive coordinator Pat Narduzzi, and Texas defensive coordinator Vance Bedford have also been mentioned as possible candidates for the job.
Bowl Prep Starts:
Georgia started their bowl practices on Wednesday and will continue on until Saturday the 20th. Coach Richt is giving his team off until Christmas eve, when they will travel to Charlotte.
Practices will begin on Christmas Day and will go all the way up kickoff on December 30 against Louisville.
Mark Richt says that the game plan for Louisville will be slowly installed over the next few days of practice. The first few days are focused mostly on fundamentals.
A Georgia Player Is Out For Bowl Game:
The Bulldogs will be playing a man down for the Belk Bowl, with Mark Richt announcing that outside linebacker Leonard Floyd will miss the game.
"Leonard will not be available for this game," Richt said. Leonard actually had some surgery yesterday to clean up his shoulder. We want to give him the maximum amount of time to be prepared for his (redshirt junior) year, so we've made that determination to do that."
Last weekend, Mark Richt made an announcement at the team's awards gala that he expects Floyd back for next season. He said the same thing about wide receiver Malcolm Mitchell and offensive tackle John Theus. He added that he expects outside linebacker Jordan Jenkins back.
No final decisions have been made. However, Richt said he made that statement after getting permission to do so from those players.