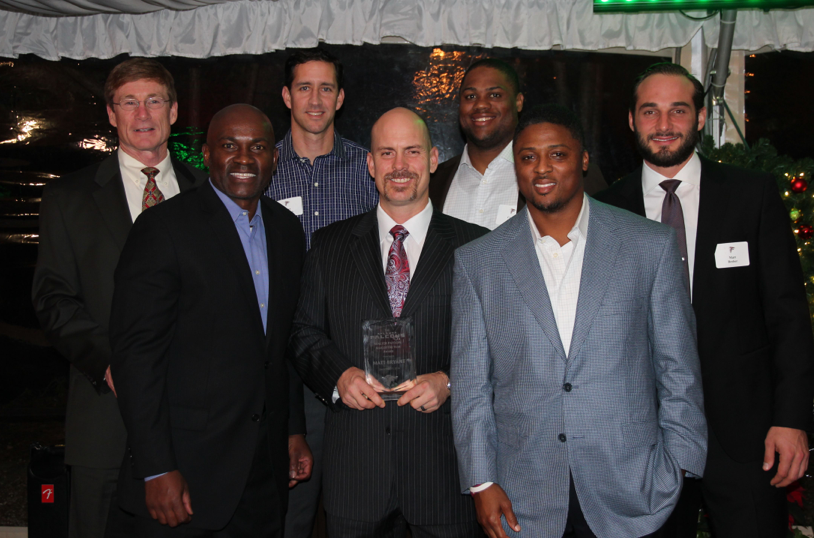 AtlantaFalcons.com
Watching Falcons kicker Matt Bryant kick a game-winning field goal is one of the safest bets in sports.
He never misses.
But Monday night at a nice sit-down dinner under a tent only a football's throw away from the Chattahoochee River, I had the chance to see what this man is truly about.
For the second straight year, Bryant was named the club's 2014 Walter Payton Man of the Year, given to the Falcons player that truly shows his off-the-field commitment through his dedication to the community.
I was at last year's Falcons Community Honor's Dinner when Bryant won but this year was different. Only once before has a Falcons player won the honor in consecutive years, that Falcon being the popular and very giving Warrick Dunn.
Bryant, who will finish his career as one of the top kickers ever in the NFL, puts in an incredible number of service hours the entire year and is the "go to guy'' for Falcons director of community relations Chris Millman, who likes to say, "I think he knows I am coming for him when he see me walking into the locker room.''
Before the game against Cleveland, I had a chance to walk off the field with Bryant after he finished his pregame warm-ups. I told how impressed I was with his giving back to the community. He simply said, "I love doing it.''
Bryant, though, is not alone. Ever since the Falcons were bought by Arthur Blank they have become one of the top NFL teams when it comes to community involvement. From Blank on down, Falcons executives, players, coaches and staff can be seen giving back and through the building of the new stadium, the Westside Works program truly has a chance to revive a part of Atlanta that has been an eyesore for years. Maria Saporta, who I worked for many years with at the Atlanta Journal-Constitution, says Blank is calling it the "dual challenge" — building an "iconic" world-class football/soccer stadium and transforming the adjacent
And Blank, as usual, is backing it up Westside Works and his team's community outreach with a lot of financial support.
On the team's staff directory, their community services department has six people led by the very capable and aggressive Kendyl Moss, a team vice president. Moss, Millman and their team are also intertwined with the Blank Foundation and about every one on the club is brought in to help at different times, either with their hands or their specific expertise.
At the dinner Monday night, CEO and president Rich McKay, who with Blank at his side has become a strong advocate and public voice for everything Falcons, delivered an impressive message about the team's community involvement and the different statistics he rattled off are pretty awesome. One included that this season Falcons players have logged over 780 appearances and 3,000 hours in the community.
Bryant received the award Monday night from Dunn, who was the Falcons Man of the Year in 2003 and '04 and also won the NFL's Walter Peyton Award in 2004. Also, other previous Falcons winners were on hand which included Billy "White Shoes" Johnson, Matt Bosher, Buddy Curry, Brian Finneran, Corey Peters and Terance Mathis. The voting this season came down to Bryant, defensive Robert McClain, snapper Josh Harris and fullback Patrick DiMarco.
So while it is easy to pick on the team for their record on the field over the last two seasons, it certainly hasn't distracted them from being even better neighbors.
There certainly is something to be said for that.