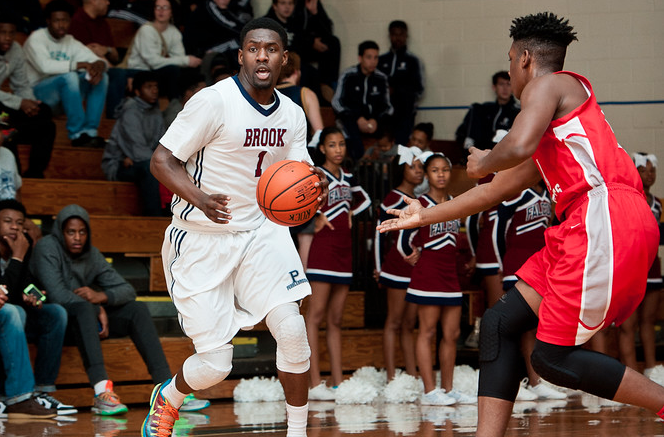 Photo by Ty Freeman
In Class AAAAAA, Pope fell out of the top 10 after consecutive losses to Wheeler and Roswell last week and Duluth fell out of the poll after an 88-66 loss to Norcross. Collins Hill replaced Pope at No. 7 and Alpharetta took over No. 10 after securing a 10-0 start in region play on Saturday. Pebblebrook jumped Shiloh and Tift County for No. 2 after an impressive 87-62 win at Douglas County on Friday.
Tri-Cities was handled by No. 1 Miller Grove 69-43 in Class AAAAA and slid to No. 10. In Class AAAA, Bainbridge fell to No. 10 after a 64-61 loss to Cairo. Burke County made a jump to No. 7 in Class AAAA with a 65-60 win over Liberty County. Stone Mountain lost to Lithonia (67-56) and Columbia (77-53) and was replaced by Westover at No. 9.
In Class AAA, South Atlanta sent North Clayton out of the rankings with a 74-58 victory and as a result debuted at No. 10 in this week's poll. Savannah topped rival Johnson-Savannah 53-51 on Wednesday and improved to No. 6. Blessed Trinity used a 50-35 win over Westminster to replace the Wildcats in the poll at No. 9.
Seminole County crushed Thomasville 67-55 and jumped to No. 2 in the Class AA rankings. The loss sent Thomasville to No. 5. Crawford County debuted at No. 10 with a 13-3 record and five-game winning streak.
AAAAAA
1. Wheeler
2. Pebblebrook
3. Shiloh
4. Tift County
5. Tucker
6. Norcross
7. Collins Hill
8. Douglas County
9. Hillgrove
10. Alpharetta
AAAAA
1. Miller Grove
2. McIntosh
3. Gainesville
4. Allatoona
5. M.L. King
6. Brunswick
7. Northside-Columbus
8. Richmond Hill
9. Drew
10. Tri-Cities
AAAA
1. Jonesboro
2. Johnson-Gainesville
3. Lithonia
4. Columbia
5. St. Pius
6. Carrollton
7. Burke County
8. Americus-Sumter
9. Westover
10. Bainbridge
AAA
1. Laney
2. Cedar Grove
3. Jenkins
4. Butler
5. Morgan County
6. Savannah
7. Johnson-Savannah
8. Rutland
9. Blessed Trinity
10. South Atlanta
AA
1. Pace Academy
2. Seminole County
3. Holy Innocents'
4. Greater Atlanta Christian
5. Thomasville
6. Bryan County
7. Vidalia
8. Model
9. Harlem
10. Crawford County
A
1. St. Francis
2. Greenforest Christian
3. Athens Christian
4. Hancock Central
5. Treutlen
6. Whitefield Academy
7. Wilkinson County
8. Calhoun County
9. Turner County
10. Greenville