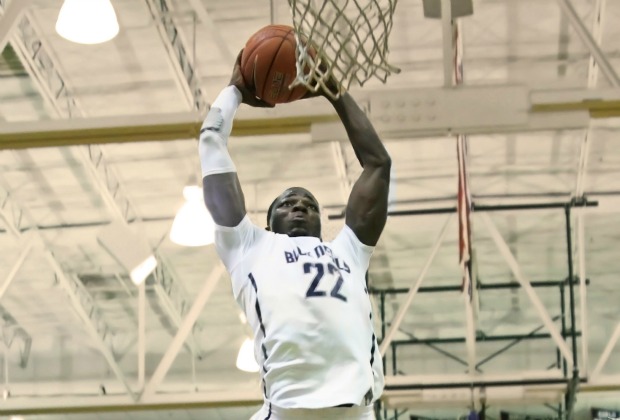 Photo by Sonny Kennedy
In Class AAAAAA, No. 1 Westlake survived double overtime to beat Walton 83-76 at the Hoops in Overdrive/Kenn Littlefield Memorial Classic Monday at Centennial. The rest of the top four in Class AAAAAA also went unscathed this week. McEachern fell to Pebblebrook and No. 6 Hillgrove last week and dropped to No. 7.
In Class AAAAA, Allatoona remains unbeaten and at No. 1 while Miller Grove looks solid at No. 2 after grabbing wins over No. 3 Tucker (67-56) and No. 4 Stephenson (62-56) this past week. Tucker topped Stephenson 55-47 on Tuesday, but Stephenson fell 41-39 to Marietta after the win over the Tigers and Tucker remains a spot ahead of the Jaguars at No. 5.
In Class AAAA, South Atlanta moves to No. 2 after topping No. 1 Columbia 70-66 last week. Alexander topped previous No. 2 Fayette County 64-57, Troup 75-46 and Shaw 69-55 and jumped up two spots to No. 3 after its successful week. Westover fell from No. 7 to No. 10 with a 59-58 loss to Americus-Sumter and Eastside debuts at No. 7 in the poll with its 17-2 record.
Johnson-Savannah topped Savannah and is the new No. 1 in Class AAA. Savannah dropped to No. 2. Morgan County is the newest member of the top five after rallying for a huge 76-67 win over previously-unbeaten Clarke Central in overtime of the Blue Collar Basketball/Berkmar MLK Showcase at Berkmar. Blessed Trinity fell from No. 5 to No. 8 in the poll after losing 57-54 to Woodward Academy last week.
In Class AA, Pelham jumped two spots to No. 8 and a 44-41 loss by Taylor County to Monticello dropped Taylor Co. to No. 10.
Whitefield Academy defended its No. 1 ranking by topping last week's No. 2 St. Francis 71-63 and No. 3 North Cobb Christian 64-43. Greenforest Christian beat Westminster 66-50 and Atlanta International 92-37 last week and jumped St. Francis and North Cobb Christian for No. 2 in the poll. No. 8 Randolph-Clay (16-3) and No. 9 Calhoun County (18-1) debut in the poll and send Athens Christian and Seminole County out of the top 10.
Class AAAAAA
1. Westlake
2. Wheeler
3. Tift County
4. Norcross
5. Milton
6. Hillgrove
7. McEachern
8. Walton
9. North Gwinnett
10. Douglas County
Class AAAAA
1. Allatoona
2. Miller Grove
3. Jenkins
4. Sprayberry
5. Tucker
6. Stephenson
7. Clarke Central
8. Warner Robins
9. Drew
10. M.L. King
Class AAAA
1. Columbia
2. South Atlanta
3. Alexander
4. Eagle's Landing
5. Fayette County
6. Rutland
7. Eastside
8. Sandy Creek
9. Statesboro
10. Westover
Class AAA
1. Johnson-Savannah
2. Savannah
3. Cartersville
4. Washington County
5. Morgan County
6. Buford
7. St. Pius X
8. Blessed Trinity
9. Elbert County
10. Cedar Grove
Class AA
1. Greater Atlanta Christian
2. Vidalia
3. Laney
4. Manchester
5. Calhoun
6. Model
7. Jefferson
8. Pelham
9. Crawford County
10. Taylor County
Class A
1. Whitefield Academy
2. Greenforest Christian
3. St. Francis
4. North Cobb Christian
5. Landmark Christian
6. Holy Innocents'
7. Aquinas
8. Randolph-Clay
9. Calhoun County
10. Mt. Vernon Presbyterian