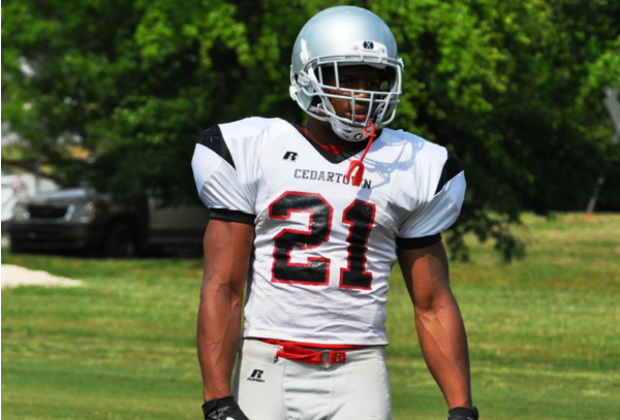 247sports.com
We are counting down to National Signing Day 2014 by putting the spotlight on 25 of Metro Atlanta's top prospects as they choose their college destinations. These athletes will be recognized for their outstanding varsity careers throughout Score Atlanta's record breaking coverage of the Peach State's signees. #NSDFrenzy
Schools around the country were upset when Cedartown running back Nick Chubb committed to Georgia on June 11. You see most schools wanted the 5-11, 218-pound super prospect, who led the state in rushing this year with 2,690 yards and 41 touchdowns, to sign with them. But he is about as solid as it gets to UGA.
Chubb is ranked among the top backs in the nation in the class of 2014. He combination of power, quickness and strength is something college coaches dream about. While his breakaway speed is not something scouts are raving about, neither was Todd Gurley's at this stage of his career. Like Gurley and fellow rising junior Keith Marshall, Chubb is the perfect complement to fellow Bulldogs pledge Sony Michel, who is known as a "homerun threat" at tailback.
While many recruits waffle this time of year, it is good news for Georgia fans that Chubb seems to be solidly committed to Mark Richt.
"Next year, I'll be playing at the University of Georgia," said Chubb at his commitment ceremony in June. "Mostly, when I go to Georgia, I feel very comfortable," he said."I love the coaching staff and what they were telling me. They have very good running backs there where I can learn from them and compete for a spot. Hopefully I can learn some things and get better."
While the Bulldogs gain a star in Chubb, Georgia high school football will watch one of its best running backs ever walk off into the college game next year.
1. Nick Chubb
2. Lorenzo Carter
3. Nick Ruffin
4. Bryson Allen-Williams
5. Dante Sawyer
6. Cortez McDowell
7. Korie Rogers
8. Wesley Green
9. Mike Rogers
10. Orlando Brown
11. Detric Dukes
12. Nate Brown
13. Andrew Williams
14. Kendarius Webster
15. Allen Artis
16. Demarquis Gates
17. Kevin Mouhon
18. Elisha Shaw
19. Treyvon Paulk
20. Myles Autry
21. Taariq Shabazz
22. Kendall Baker
23. C.J. Leggett
24. Grant Haley
25. Evan Berry