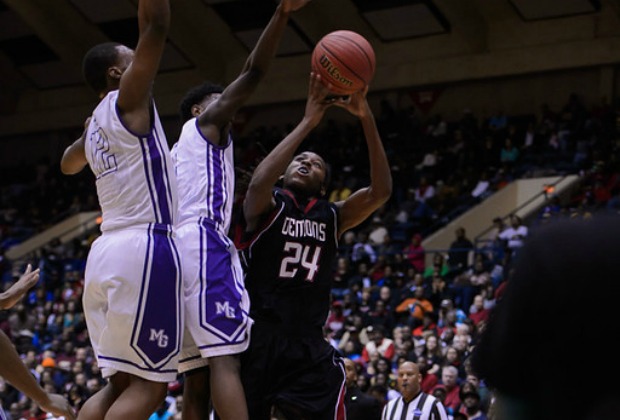 Photo by Ty Freeman
Class AAAAAA No. 1 Shiloh is off to a 7-0 start with quality wins over Milton (58-40) and Peachtree Ridge (87-71) on the resume. The Generals were slated for a showdown at South Gwinnett last Friday, but the game was rescheduled for Jan. 3. Tucker takes over No. 2 in after seeing a 10-0 start in its debut season in Georgia's highest classification. Six-time defending champion Miller Grove holds off undefeated McIntosh (No. 3) and Gainesville (No. 2) for the top spot in Class AAAAA.
In Class AAAA, defending state champion Jonesboro tops the poll with Lithonia making its debut at No. 2. Lithonia lost its season opener to North Clayton but has since tallied eight straight wins.
Class AAA No. 1 Laney dropped its first game of the season to Class A No. 1 St. Francis 67-64 and has ignited to become one of the hottest teams in the state since. The Wildcats crushed Stephenson 74-54 before toppling out-of-state Northwestern and defending AAAA champion Morgan County (71-67) to close out November. In December, Laney has defeated Norcross (70-59), Pebblebrook (65-59), Academy of Richmond County (73-37) and Glenn Hills (82-54).
In Class AA, Pace Academy used a 73-57 win over two-time defending champion GAC on Dec. 9 to takeover No. 1.
Class A-Private defending champion St. Francis and Class A-Public two-time defending champion Wilkinson County come in at No. 1 and No. 2 respectively in Class A.
Class AAAAAA
1. Shiloh
2. Tucker
3. Pebblebrook
4. Tift County
5. Wheeler
6. Norcross
7. Collins Hill
8. Duluth
9. Pope
10. Douglas County
Class AAAAA
1. Miller Grove
2. Gainesville
3. McIntosh
4. Allatoona
5. Tri-Cities
6. ML King
7. Northside-Columbus
8. Drew
9. Richmond Hill
10. Clarke Central
Class AAAA
1. Jonesboro
2. Lithonia
3. Johnson-Gainesville
4. St. Pius
5. Columbia
6. Stone Mountain
7. Sandy Creek
8. Bainbridge
9. Carrollton
10. Liberty County
Class AAA
1. Laney
2. Cedar Grove
3. North Clayton
4. Morgan County
5. Jenkins
6. Johnson-Savannah
7. Westminster
8. Savannah
9. Butler
10. Peach County
Class AA
1. Pace Academy
2. Vidalia
3. Greater Atlanta Christian
4. Holy Innocents'
5. Bryan County
6. Seminole County
7. Thomasville
8. Model
9. Harlem
10. Early County
Class A
1. St. Francis
2. Wilkinson County
3. Greenforest
4. Athens Christian
5. Whitefield Academy
6. Calhoun County
7. Hancock Central
8. Greenville
9. Randolph-Clay
10. Treutlen