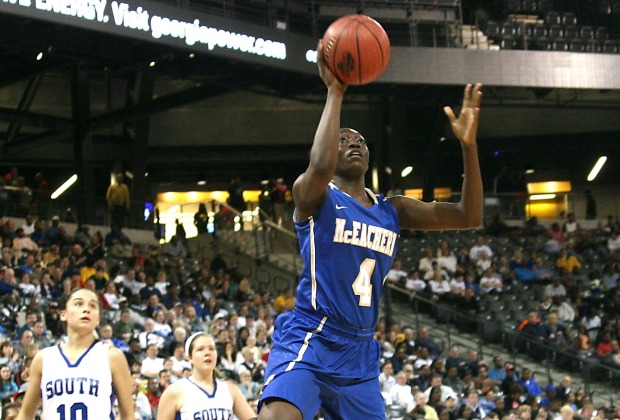 Photo by Ty Freeman
McEachern's last loss came in November of 2013 and its last loss to a instate opponent dates all the way back to February of the 2012-13 season to Colquitt County (54-49). This year's Indians are 6-0 and have outscored their first six opponents by a combined 150 points. Last year's runner-up Archer sits at 8-0 and comes in at No. 2 in Class AAAAAA. In Class AAAAA, Region 3 opponents Coffee and Brunswick top the poll. Brunswick comes in at No. 1 with its 8-0 start.
Louisville-commit Asia Durr and the St. Pius top the poll in their Class AAAA debut. The two-time defending Class AAA champs are cruising in Class AAAA and sit at 8-0 with a trip to Redan on the Friday night slate.
Dawson County tops Kendrick and Laney for the No. 1 slot in Class AAA and Holy Innocents' sits at No. 1 in Class AA after reaching the finals in Class A last season. Undefeated St. Francis debuts at No. 1 in Class A.
Class AAAAAA
1. McEachern
2. Archer
3. Westlake
4. Parkview
5. South Forsyth
6. North Cobb
7. Norcross
8. Centennial
9. Woodstock
10. Hillgrove
Class AAAAA
1. Brunswick
2. Coffee
3. Sequoyah
4. Stephenson
5. Greenbrier
6. Southwest DeKalb
7. Effingham County
8. South Effingham
9. Cross Creek
10. Forest Park
Class AAAA
1. St. Pius
2. Veterans
3. Buford
4. Redan
5. Jonesboro
6. Americus-Sumter
7. Mary Persons
8. Thomson
9. Marist
10. Gilmer
Class AAA
1. Dawson County
2. Kendrick
3. Laney
4. Morgan County
5. Decatur
6. Dodge County
7. Beach
8. Johnson-Savannah
9. Peach County
10. Westminster
Class AA
1. Holy Innocents'
2. Pelham
3. Model
4. Wesleyan
5. Darlington
6. Vidalia
7. Putnam County
8. Lovett
9. Union County
10. McIntosh County
Class A
1. St. Francis
2. Soutwest Atlanta Christian
3. Taylor County
4. Turner County
5. Mount Pisgah
6. Mitchell County
7. Savannah Country Day
8. Tattnall Square
9. Eagle's Landing Christian
10. Claxton