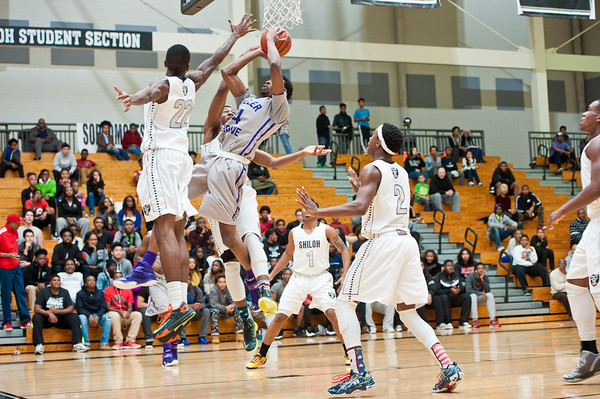 Photo by Ty Freeman
AAAAAA
#1 Pebblebrook (25-5) @ #1 Norcross (27-3)
In what could easily be a State Championship-caliber game, the battle-tested Falcons visit the streaking Blue Devils. After trailing at the half to Pope, Pebblebrook blew past the Greyhounds and won in convincing fashion, 78-59. Ty Hudson (Clemson) led the way with 26 points while potential X-factor Trhae Mitchell finished with 16. Hudson, Derek Ogbeide (UGA), and Jared Harper are the main focuses for opposing teams to stop, but the 6-foot-5 Mitchell is a competitor on both ends of the floor averaging 12.3 points, 7.1 rebounds and two steals and over a block a game. With the win the Falcons have now won nine straight. That win streak however, pales in comparison to Norcross's. The Blue Devils have ripped off 18 consecutive games including a 102-59 shellacking of Lowndes. It will be an all-out war inside as Pebblebrook's Ogbeide will have to tussle with the likes of Rayshaun Hammonds and Ricky Madison. Madison, a High Point-commit, can score both inside and out. On the perimeter, guards Tim Cameron, Devin Huffman, and Amir Butcher may have the size advantage over Hudson and Harper, but don't expect anything to come easy. Both teams have featured national powers on their schedules. The Falcons have picked up wins over top programs such as Prestonwood Christian (TX), Mater Dei (CA) and Damien (CA). Pebblebrook's only instate loss came to Laney, 65-59. Norcross also lost to Laney, 70-59.
#2 Alpharetta (25-5) @ #1 Shiloh (27-3)
The Generals have yet to be beaten on Georgia soil. Shiloh's only three losses came in succession at the Montverde Academy Invitational Tournament in late January. Region 8 Player of the Year Josh Okogie leads the attack along with Kareem Brewton. Both players average upwards of 18 points per game and control the action on offense. Cedric Guillaume roams the paint and Dejon Waters is also a threat. Okogie posted a 17 point 13 rebound double-double as the Generals advanced past Rockdale County, 55-45. Alpharetta has the size and experience down low to potentially give Shiloh fits. UNC-Wilmington-signee Devontae Cacok is a smooth 6-foot-7 forward. He pairs up with fellow 6-foot-7 senior Jaylon Gamble to control the glass on most nights. Sophomore Carlos Carriere has proven to be lethal from deep. Greg James scored 19 points to lift the Raiders over McEachern in overtime, 70-69. Mark Eze runs the offense and is coming off an 11 point, six rebound, nine assist game.
#2 Hillgrove (23-5) @ #1 Tucker (28-2)
The Tigers seamlessly transitioned into being a 5A powerhouse into becoming a 6A juggernaut. Auburn-bound guard Bryce Brown ignites the offense for Tucker. He teams up with Ayinde Russell and Josh Parker to form a sweet shooting backcourt. Jonathon Stephens is a strong forward who can score inside and out. Tucker erased Archer from the postseason with a 55-32 victory in round two. The Hawks are led by Collin Sexton and Jourdan Julian. Both players can fill it up and can get hot from deep. Point guard Antonio Wade is a strong ball handler with a knack for making plays while Brandon Schick provides some size inside. The Hawks are coming off a 73-59 win over a banged up Lambert squad.
#4 Newton (22-8) @ #1 Wheeler (27-2)
Wheeler, another school that has yet to lose to a team from Georgia, has had some close calls along the way. Pope challenged them three times but came up short each attempt. The Wildcats' most impressive win came against Montverde Academy (FL) who is ranked No. 2 nationally. Five-star prospect and No. 2 ranked senior forward Jaylen Brown is the catalyst for Wheeler. He pairs up with Tennessee-signee Shembari Phillips to make one of the scariest lineups in Georgia. The Wildcats blew out Douglas County 87-68 in front of UNC Head Coach Roy Williams. 6-foot-7 Hakeem Anchrum and shooting guard Cam Jordan must support Brown and Phillips if Wheeler wants to reclaim its spot as state champions. The Newton Rams will be up to the challenge. The giant slayers have not backed down from any contest this postseason. In round one the Rams stunned defending state champ Tift County, 52-49. The party didn't stop there as Newton then survived Dacula, 58-54. They may not have the size Wheeler has, but they have enough heart to go a long way. JaNaud Notae and Jaquan Simms pace a talented backcourt. D.J. Hill mans the point guard position and Donovan Grubb, who scored 12 points in the win over Dacula, battles inside at 6-foot-1.
AAAAA
#2 ML King (24-5) @ #1 Cedar Shoals (22-8)
The Lions of MLK came away with a massive upset of undefeated McIntosh, 66-65. Juquan Jones would not be denied as he scored 35 points including two free throws with 6.1 seconds left to stun the McIntosh crowd. ML King's gym burnt down before the season started and has caused the Lions to play every single game on the road. A team could easily wilt under that burden, but Head Coach Tony Brinson would not allow it. Seniors Kevon Harris and Jordan Martin lead the team in scoring. Harris averages 15.8 points and 11.6 rebounds while Martin pitches in 11 points. 6-foot-8 senior Andre Brooks gives the Lions a strong rim protector averaging 10.4 rebounds 3.1 steals and 1.7 blocks per game. Cedar Shoals slipped by Northside WR, 57-56 on a D'andre Mahaffey 3-pointer. The VMI-signee has had a knack for hitting big shots this season. He has scored over 20 points in three of his past four games. Sophomore Phlandrous Fleming also is a high-scorer for the Jags and is a threat to score 20 on any given night.
#1 Warner Robins (23-4) @ #1 Miller Grove (27-3)
In a finals rematch from a year ago, the Demons will try to end Miller Grove's warpath to seven straight titles. The Wolverines dumped Warner Robins last season 70-43. Alterique Gilbert has emerged as a defensive stalwart and the point guard position averaging over five steals per game. Couple his defense with his team-high 18.5 points and 6.2 assists per game and you have a junior floor general who flirts with a triple-double almost every night. Transfer Lamont West has fit in nicely on the low block and averages 15.8 points and 7.7 rebounds. Raylon Richardson cleans up mistakes inside and swats nearly three shots per game. 21-conescutive wins, national victories and local wins over St. Francis, Tucker, and Jenkins are all impressive. The Wolverines' only instate loss came by 21 points to Jonesboro. Miller Grove has not been as dominant as usual in the tourney, with a three point win over Chapel Hill and a 50-42 victory against Statesboro. Warner Robins has a chance to get the monkey off its back and get some revenge after getting hammered in the state championship. The Demons have good length inside that can harass the best of scorers; ask Apalachee's Kamar Baldwin who was held to just 19 points. Marquez Callaway and Nate Curtis can both light up the scoreboard while Stephon Raybon likes to bang inside with his 6-foot-2, 225 pound frame. The Demons' average margin of victory thus far in state has been 20 points.
#1 LaGrange (22-7) @ #1 Allatoona (27-2)
The Bucs search for their first ever semifinals appearance after dropping in the quarterfinals last season to Stephenson. Head Coach Markus Hood has built the young program into a powerhouse and will attempt to take the next step in securing themselves as a perennial favorite. After a season opening 69-49 loss to GAC, the Buccaneers righted the ship and now ride an 18-game win streak. Allatoona's only other loss came to previously unbeaten McIntosh by five. Rodney Brown is the go-to scorer, but fellow seniors Bradley Brevet and Chris Ifill both play big roles. Ephraim Tshimanga is a strong junior and Trey Doomes has blossomed into a scoring threat as a freshman. The Buccaneers handled Coffee County, 61-38 in the second round. LaGrange seeks to reach the finals for the first time since 09-10 when it fell to Columbia in the AAA championship. Fiery head coach Mike Pauley gets the best out of his players each year. Guards Rico Smith and Laperion Perry spark the Grangers offense while Danterrius Bray also impacts the game with his ball handling and defense. Convincing wins over Houston County and Heritage-Conyers, has the Grangers firing on all cylinders.
AAAA
#1 Jonesboro (29-1) @ #1 Johnson-Gainesville (29-0)
It will be a battle of styles as Jonesboro will attempt to keep its hopes of repeating alive with its hard-nosed defense while the Knights will try to space things out and let star guard Ty Cockfield continue his historic season. Jonesboro knocked off a disciplined St. Pius team 67-57 in round two. Now five-star sophomore guard M.J. Walker Jr. will try to power the Cardinals into the semifinals. Walker Jr. averages 17.1 points per game and is flanked by seniors Tracy Hector Jr. and Deantre Mack who both score over 11 points on average. Chattanooga-signee Austin Donaldson runs the show at the point. The Cardinals have not lost in Georgia yet and have massive wins over Miller Grove (21 points) and Spain Park (AL) by six. The Cardinals will put their 28-game winning streak on the line as they visit the Steele Factory where Johnson and its own 29-game win streak will welcome them. Unsigned senior guard Ty Cockfield plays with a chip on his shoulder and will attempt to gun down Jonesboro with his scoring prowess. Cockfield pours in 28.6 points on average and is flanked by fellow senior Rod English who chips in 19.2. Johnson does not have much size, so it is imperative for Cockfield and English to knock down their shots. The duo has combined for 105 threes this year and both have attempted over 210 free throws. Andrew Sims is a 6-foot-3 post that plays with energy inside and battles for rebounds. Signature wins over Whitefield Academy, North Cobb Christian, Gainesville, and Buford give the Knights the confidence they can beat anybody. A 75-60 win over West Laurens sets up this matchup between the two hottest teams in AAAA.
#4 Cairo (19-11) @ #1 Lithonia (27-2)
Lithonia clinched its first winning record in over ten years. Wallace Corker has overseen the growth of the program from 12 wins last season to 27 this year but it hasn't been easy. Battles with St. Pius have been must-see games with the Bulldogs taking two of three including the region title by two points. Rodney Chatman has helped carry the Bulldogs with strong guard play along with Kesean Warren and Tyheem Freeman. Lithonia has rolled thus far with a 20 point first round win over Fayette County and an 81-60 victory over Mt. Zion-Jonesboro. The fourth-seeded Syrupmakers stunned Perry in round one and then disposed of Monroe Area, 65-50. Stacy Masten and Trey Sparrow pace senior ladened Cairo scoring 20 and 19 points per game respectively. 6-foot-7 Deon Patterson is a rebounding specialist grabbing 8.1 on average while blocking a shot each game.
#4 Upson-Lee (19-9) @ #1 Carrollton (27-2)
The Carrollton Trojans are back after falling in the quarterfinals last season. Jarel Rowe and Georgia Southern-signee Montae Glenn power the Trojan offense that scored 84 points in a win over Burke County. Rowe can slash and get to the bucket, while Glenn prefers to do his work on the block at 6-foot-8. The big man had a monster game in the second round with 19 points, 17 rebounds, and seven blocked shots against Burke County. The fourth-seeded Upson-Lee Knights have enjoyed their first winning season in five years. Wins over Albany and Buford have helped Upson-Lee shake up the bracket. The Knights knocked of number one-seeded Albany 66-54 then handled Buford 84-71. In win against Buford, O'qualon Harris paced the Knights with 20 points while Jarvis Atwater tossed in 16 points and seven rebounds. Malik Crafter and Dinasis Walker also scored 15 and 13 points.
AAA
#1 Laney (28-1) @ #1 East Hall (24-5)
It's safe to say Laney has transitioned well after moving from AA, where they lost in the Final Four to eventual champ GAC, to AAA. Pound-for-pound, Laney makes one of the best cases as the top team in the state of Georgia regardless of classification. The Wildcats fell 67-64 to St. Francis to open the season but has since reeled off 28-straight wins including impressive wins over Morgan County (2x), Pebblebrook, Norcross, Jenkins and Buford. Coach Buck Harris leads a team that is unselfish and will do whatever it takes to win. Senior JaShawn Brooks leads the team in scoring at 13.1, but Christian Keeling and Collin Young are two juniors right behind him at 11 points per game. Zep Jasper is another quick guard who runs the offense and harasses opposing ball handlers. Laney has unsurprisingly romped through state thus far with wins over North Clayton (85-61) and Rockmart (68-31). East Hall, though the might not have the same resume, has been equally impressive. A 19 point win over Jefferson and a 95-62 thrashing of Peach County has seen the Vikings score at will. Brothers Luke Cooper and Triston Cooper are snipers from behind the three point line. Jacquen Hopkins scored 19 points in the win over Peach County while Kyvon Davenport controlled the paint with 31 points. The 6-foot-7 senior is a dominant rebounder and rim protector and gives Coach Joseph Dix a huge option offensively inside. This is the deepest playoff run for East Hall since 2011
#1 Morgan County (22-7) @ #1 South Atlanta (27-4)
Defending state champ Morgan County is back for seconds behind the sensational guard play of the diminutive Tookie Brown. A Mississippi State-signee, Brown scored his 3,000th point of his career this season and looks to continue to add on. The star guard stole the show last season in the finals when he scored 36 points in a rout of Buford. Brown teams up with the springy Jailyn Ingram who is known for his thunderous dunks. The Bulldogs knocked off Macon-Central 69-61 in round two. Marteveous Favors, Orlando Beebe, and Devontae Dean all play big roles in the Hornet attack. South Atlanta dropped to AAA this season after its final season in AAAA went without a playoff berth even though the Hornets were 18-8. After an 11-point win over Butler in round one, the Hornets stung Carrollton-Central, 103-38.
#2 Cedar Grove (20-4) @ #1 Rutland (26-3)
The high scoring Rutland Hurricanes average 81.4 points per game thanks to their potent balanced attack. Seven seniors return to the Hurricanes who were apart of back to back Elite 8 finishes in 2013 and 2014. Tylik Evans at 5-foot-7 leads the Canes with 22.4 points 6.7 assists, and 5.1 steals. The jitterbug quick guard surpassed the all-time scoring record at Rutland after starting for four years. Jeremy Braswell pours in 19.8 points while Dallas Smith contributes 15.3 points and 9.3 rebounds per game. Timori Northcutt rounds out the scoring at 10.1. Rutlans blew out Burke County 80-40 in round two. The Saints are led by Jacara Cross, Christopher Fredrick and Kenneth Lewis. Cross averages over 15 points and six rebounds to go along with three blocks. Fredrick nets 13 points on average while Lewis chips in nearly 12. Wins over South Atlanta and Gainesville are impressive, along with a four point loss to Miller Grove. Cedar Grove edged Calhoun 52-42 in round two.
A Private
#9 Aquinas (18-9) @ #1 St. Francis (26-3)
Aside from a blowout loss to Miller Grove 66-43, no Georgia team has been able to solve the Knights. Four-corners didn't work and resulted in St. Francis' players dancing and going viral. FSU-signee Malik Beasley heads the attack scoring 21.9 points while snatching seven rebounds. Five-star junior Kobi Simmons pours in 20.9 points and Xavier-bound big man Kaiser Gates scores 13.4 points and hauls in 7.1 rebounds on average to give St. Francis possibly the best big three in the state. Wins over national powers and Laney have made St. Francis the favorite to repeat as state champs. The Knights beat Lakeview Academy 103-59 in round one. Aquinas is led by San Antonio Brinson, a do-it-all small forward. The Irish beat Tattnall Square 55-39.
#5 North Cobb Christian (19-9) @ #4 Whitefield Academy (21-9)
Whitefield is seeking another finals appearance after losing to St. Francis a year ago 65-60. Four players average double figures led by Norman Harris' 14.4 points. 6-foot-7 senior Courtney Alexander averages a double-double with 12.5 points and 10 rebounds. Brendon Myles and Isaiah round out the scoring at 12 apiece. Whitefield handled Hebron Christian 68-36. The Wolfpack beat the Eagles 57-43 in the region semifinals. North Cobb Christian's paint is anchored by Chattanooga-signee Trey Kalina who stands at 7-foot. Nick Flemming is coming off a 29 point game in which NCC defeated Calvary Day 76-59.
#6 Landmark Christian (21-8) @ #3 Athens Christian (28-0)
The War Eagles may not have much size, but they can sure shoot the ball. Six players have made 30 or more threes this year led by Zack Allen's 77. Allen is Landmark's leading scorer at 19.2 per game. Jackson Schultz teams up in the backcourt to add 17.3 points and 6.4 assists. Landmark defeated St. Anne Pacelli 83-75. For Athens Christian Will "Turtle" Jackson, a UGA-signee runs the show. Turtle averages 21.9 points, 6.5 rebounds and 7.4 assists to go along with over three steals and one block. Demetrius McWhorter does his damage inside at 17.7 points and 7.4 rebounds while Chris Tate adds 12.6 points and seven rebounds of his own. Athens Christian beat Mt. Pisgah 91-48 in round one.
#7 Stratford Academy (18-6) @ #2 Greenforest (25-1)
After a disappointing second round by one point to Calvary Day last season, the Eagles are out to claim the title away from St. Francis. Greenforest annihilated Southwest Atlanta Christian 103-31 in its opening game. The Eagles are loaded with talent and length. Ikey Obiagu is a 7-foot-1 center who changes each game. Justin Ravenel, John Ogwuche, and Justin Forrest solidify the backcourt while Precious Ayah and Faisal Abdulmalik control the paint. Stratford won a high scoring game over Providence Christian 95-80. Duel-sport star Quintez Cephus will be relied on heavily to pull the upset. The high-scoring guard leads the attack and is flirting with 2,000 career points.