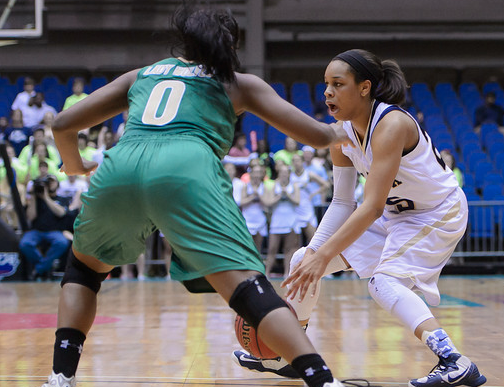 Photo by Ty Freeman
St. Pius superstar Asia Durr and the Golden Lions ended Buford's previous two playoff runs before the Wolves were able to return the favor Tuesday night with a 59-55 home victory.
St. Pius topped Buford in the Elite 8 in 2013 before posting a 48-45 win in last year's Class AAA state championship and in order to leave with a victory, Buford would need a career performance from its own star, Camille Anderson. The N.C. State signee carried Buford with a timely 33-point performance to balance a 39-point night from the Louisville-bound Durr.
"She [Camille] is one the best players in the state and and she was ready to compete with Durr in the playoffs for a third time," assured Buford head coach Gene Durden. "She shot extremely well tonight and I could not be prouder of our team's effort."
Durr's 39 points surprisingly dropped her scoring average this postseason and she finishes with an astonishing 45 points per game.
Class AAAAA
Stephenson 55, Sequoyah 53: The three-seeded Stephenson Jaguars (26-5) are no stranger to playing the role of the spoiler thus far this postseason. After knocking off previously undefeated Brunswick last round 80-70, they were faced with the tall task of visiting the War Lodge to do battle with No. 1 Sequoyah (27-4). In the end, the Jaguars survived on a Chloe Culpeper lay in with 0.4 seconds remaining to give Stephenson the victory. It was a back-and-forth game the entire way as Sequoyah jumped out to an 11-10 lead after one. The Lady Chiefs' leading scorer this season Kelley Hartman was anchored with foul trouble early and finished with seven points. Stephenson trailed 43-40 entering the fourth, before Davion Wingate took over. Wingate finished with 16 points, 12 in the second half. Terrianna Cave also had a big game for Stephenson with 16. After a Lauren Hartman free throw tied the game with 45.8 seconds left, Stephenson held for one shot. Coach Dennis Watkins told Wingate before the final possession, "If we are going to lose, we are going to lose with you. If we are going to win, we are going to win with you." Wingate slashed through the lane with the clock ticking and found a wide open Chloe Culpeper for the game-winning basket. Lauren Hartman led Sequoyah with 15 points and 13 rebounds in the loss.
Dutchtown 39, Loganville 38: No. 3 seeded Dutchtown overcame a one-point deficit at the end of the third quarter to knock off No. 2 seeded Loganville. Dutchtown's Janessa Murphy had 15 points while Tiara Scott added 12 points and Kamera Harris scored six. At the end of the third quarter, Loganville led 24-23 but Dutchtown made an early run in the fourth quarter as Aryanna Gerald had 15 points and Imani Arnold, Schekinah Bimpa and Kelly Ackerman each added five points.
Class AAAA
Carrollton 56, Americus-Sumter 51: No. 1 seed Carrollton outscored No. 1 Americus-Sumter 14-7 in the opening quarter, but the host Panthers tied it at the half 24-24 after outscoring Carrollton 17-10 in the second. The Trojans took a 42-40 lead into the fourth quarter and closed the door in the fourth with a 14-11 scoring edge. Carrollton's Alecia North (18), Emily Waters (15) and Erial Daniel (12) combined for 45 of the team's 56 points. A'tyanna Gaulden's game-high 25 points and an 11-point outing by Timia Swanson led Americus-Sumter.
Veterans 47, Marist 31: No. 1 Veterans (30-1) shook off an ice cold second quarter, which saw the Warhawks net just two points, to outscore visiting No. 1 Marist (23-5) 34 to 10 in the second half. After leading 11-7 after one quarter, Veterans entered the half down 21-13. The Warhawks switched to a Man defense in the second half and ignited its offense by getting easy buckets. Kya Cochran, Carrington Kee, and Khayla Owens all scored 10 points. Marist was led by Dominique Oden's game-high 22.
Fayette County 58, Monroe 50: In a matchup of No. 2 seeds, Fayette County  advanced to play Buford in the semifinals. Fayette County was led by Kayla Smith with 26 points on 8-of-13 shooting, six steals and five rebounds. Teammate Daryl Langford added 11 points and six rebounds while Christa Jones scored eight points with six assists. Monroe was paced by Keshaundra Price with 19 points.
Class AAA
Laney 70, Dawson County 64: In a battle of No. 1 seeds, Laney had three players in double figures in the win. Laney took advantage in the second half, outscoring Dawson 44-30 to put away the game. Laney was led by Aubriana Vonner with 23 points. She was helped by teammate Desha Benjamin (22) and Aaliyah Collier (14). Dawson County was paced by Sheyenne Seabolt, who scored 22 points while Karlie Bearden added 14 points and Haley Burgess put in 10.
Class AA
Lovett 65, Model 51: Third-seeded Lovett trailed No. 1 seed Model 22-20 after the first quarter but used a 17-6 scoring differential in the second quarter to build a 37-28 lead and take control of the game. Lovett freshman Jenna Brown netted a game-high 25 points while adding eight assists and senior Te'Erica Eason finished with 23 points, 11 rebounds and five steals. Quinn Barry flirted with a double-double with nine points and nine rebounds and Carrie Mutombo added eight rebounds. Freshman Victaria Saxton led Model with a team-high 17 points and added 14 rebounds and seven blocks from the post.
Holy Innocents' 80, Vidalia 65: A 14-0 run in the third quarter finally gave the visiting No. 1 seeded Golden Bears (30-0) some breathing room as they defeated fellow No. 1 seed Vidalia (25-5). Holy Innocents' was led by Khayla Pointer and Kaila Hubbard, who both finished with 20 points. Erika Cassell added 19 and Sydney Long pitched in 12. Chynna Hodge scored 17 points for the Lady Indians.
Wesleyan 71, Brooks County 36: Nikki McDonald posted a double-double with 15 points and 10 rebounds to help lift No. 2 Wesleyan (23-7) over visiting No. 3 Brooks County (16-16). Cairo Booker finished with 11 points to help pace a balanced Wesleyan attack. The Trojans were led by Alicia Gertman who finished with a game-high 22 points while Samantha Ryles netted 10.
Class A-Private
Southwest Atlanta Christian 68, Eagle's Landing Christian 52: No. 2 seeded Southwest Atlanta advances in the Class A-private tournament with the win over No. 7 seed Eagle's Landing. Southwest Atlanta had five players in double figures in the win:  Shakyna Payne (15), Elizabeth Gibbs (14), Tiamya Butler (14), Dominique Banks (12) and Nicole Martin (10). A strong first half (37-19) in Southwest Atlanta's favor sealed the game. Eagle's Landing's Peyton Lewis had 17 points, Sydney Spence added 14 points and Abigail Rogers finished with 10.
By Craig Sager II, Kyle Sandy & Seth Ellerbee