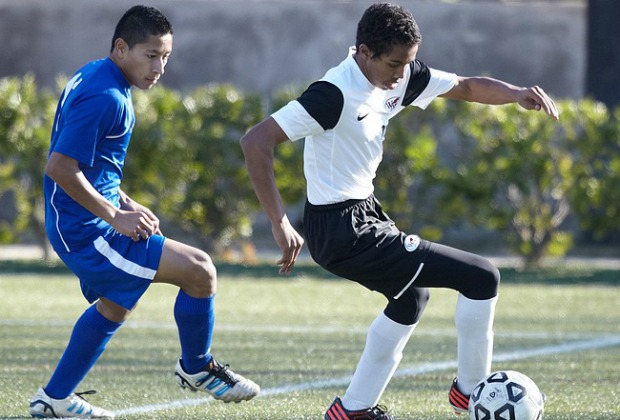 Photo by Nill Toulme
Dawson County edged West Hall 1-0 on Tuesday in a significant region battle. Junior Brandon Lund scored in the first half off of a Ben Leaver assist and the Tigers handed West Hall its first region loss. … Johnson-Gainsville scored a 5-1 victory over Madison County on Tuesday and clinched the Region 8-AAAA title. The 15-0 Knights were led by a Barut Perez hat-trick. Johnson, currently ranked No. 2 in Class AAAA, hosts Class AAAAA No. 2 Gainesville (12-1-1) on Friday.
No. 1 McIntosh scored its 10th straight shutout on Tuesday in a 8-0 rout over Drew. The undefeated Chiefs (16-0) own a 39-game game win streak that dates back to 2012. Over the past 10 games, McIntosh has outscored its opponents 72-0 and is holding a 103-4 goal advantage this season.
Calhoun junior Sergio Alvarez scored four goals and added one assist on Tuesday in the Yellow Jackets' 10-0 win over Model. Calhoun is 15-0-1 this season and has shut out 13-of-16 opponents. Alvarez has charged the offense since the start of March and has netted 21 goals in Calhoun's last 11 games. Alvarez has two four-goal performances over the span and a total of three hat-tricks.
Class AAAAAA No. 9 Lassiter beat No. 2 Lambert 2-1 on Tuesday and moved to 11-5. … Central Gwinnett won a 2-0 region contest with Parkview on Tuesday to improve to 12-3-1. The Black Knights sit behind 15-1 Brookwood in Region 8-AAAAAA and will close out the regular season on Friday at home against Loganville. Brookwood beat Berkmar 3-1 on Tuesday and will visit Parkview on Friday before closing out the regular season at home with Grayson on Monday.