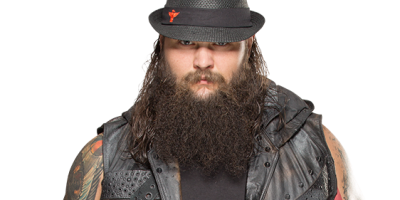 Photo By WWE
Born into a family of professional wrestlers, a third generation superstar in fact behind grandfather Blackjack Mulligan, father Mike Rotunda and uncles Barry Windham and Kendall Windham, Windham Lawrence Rotunda or better known as Bray Wyatt, has become one of the most polarizing faces of the WWE.
The 29-year-old grew up in Brooksville, Florida and won a state championship in wrestling at Hernando High School and also was a star defensive tackle and guard on the football team. He parlayed his physicality and gridiron success into earning a football scholarship at Troy University where he played two years.
Playing football at a high level naturally helped him ease into becoming a professional wrestler soon after his collegiate career was over.
"I think every sport I ever played during my life has helped in my career," explained Wyatt. "As far as balance, focus, drive and determination and people screaming at you and telling you how horrible you are. Certainly it was a huge asset playing at Troy like I did."
Wyatt's football career and eventual WWE superstardom actually came full circle in Louisiana on April 6, 2014.
"I played bowl games in New Orleans where I got to do my first WrestleMania," told Wyatt.
Family Ties
Once Wyatt finished playing football the transition into wrestling was a logical one, but even with such deep bloodlines in the industry, he didn't feel any pressure to follow in his family's footsteps.
"I'm so different than anyone else in my family. It's hard to compare myself to anyone. I never really felt any kind of pressure because I always kind of did my own thing. I never felt the pressure to be successful, I just kind of wanted it for myself," explained Wyatt.
"I knew that I would find something in life and that I had a purpose."
Wyatt's younger brother, 26-year-old Taylor Michael Rotunda, known by his ring name Bo Dallas, has wrestled alongside Wyatt as they both have cut their teeth in the WWE, the pinnacle of wrestling and entertainment.
"It's a beautiful thing," said Wyatt on living out his dreams with his brother. "You come up with someone and you spend your entire life fantasizing about the things you can accomplish and dreaming of things you might do one day and then to come to the realization that you're actually doing everything you said you'd do. To see us come up the way we have and achieve things we only could have dreamed of, it's a beautiful thing and it's something I'll never forget."
The Birth of Bray Wyatt
Once Wyatt found his purpose, he worked his way up from Florida Championship Wrestling (FCW) as Duke Rotundo to NXT in June 2010 where he adopted the alias Husky Harris. After a feud with Randy Orton (who Wyatt is currently SmackDown Tag Team Champions with) resulted in The Legend Killer punting him in the head as a member of The Nexus, he returned to FCW and continued to wrestle as Husky Harris.
When he resurfaced in April 2012 on NXT, the ring name Bray Wyatt was coined. There he honed his craft and The Wyatt Family, now a cult following among WWE fans, was born.
"I think NXT was pivotal in my career. Because I knew what we are, the Wyatts and I. We are something so creative and so new it was almost like we helped make NXT, we helped build that thing. For a while NXT was the Wyatt Family show," said Wyatt. "It was kind of like the world needed to see us and what we are and what was going on down in Florida compared to what was happening on the main roster. And a lot of us have made that merge now and it's been a huge success. People want to see something different and a little provocative and that's what we give them."
Bray Wyatt, the leader of The Wyatt Family, is depicted as something of an evil cult leader; an interestingly new and sometimes twisted in a creatively beautiful way of capturing the WWE Universe in a fashion not seen in years.
His eerie and creepy persona is a trait that Wyatt embodies in and out of the ring, going as far to say that he is "offended" when asked if he is surprised that he could play the role of a cryptic heel so well.
"I don't think that people understand how little of a role it is that I'm playing. I am so similar to who I am on television that it would be alarming to most," Wyatt proudly jested. "I like my views and I'm very stuck in my ways and I see the world the way I see it and that's the way it is. There's no good guy or bad guy in me, there's only me and I'm open to the world's interpretation of whatever it is they want me to be."