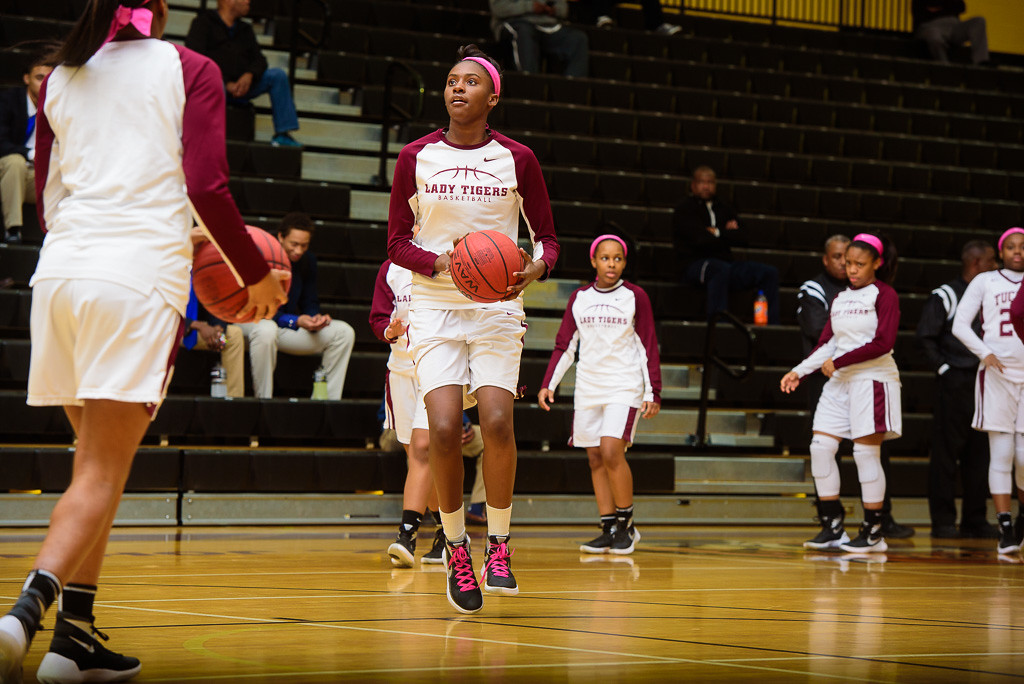 By Kyle Sandy
Archer falls from No. 3 in Class AAAAAAA to No. 8 after losing 46-39 to North Oconee and 61-51 at No. 5 Mill Creek, who rises two spots even after a loss to Wesleyan. Archer will attempt to stop their slide as they visit No. 7 North Forsyth on Tuesday. Collins Hill is the state's new No. 3 after crushing Woodstock 82-37. No. 9 Colquitt County picked up a nice 58-54 win over Bainbridge. Cherokee has lost three straight games and falls out of the Top 10. The Warriors fell to North Cobb (45-41), Marietta (57-43) and Creekview (51-32) who are a combined 16-4. Entering the poll is Lambert.
Class AAAAAA Preseason No. 1 Winder-Barrow slips to No. 3 after Flowery Branch beats them for the second time this season, 50-43. No. 9 Sequoyah won an ugly game against rival Creekview, 35-32 in overtime. Glynn Academy drops out after a 3-2 start to the season. Replacing them is No. 10 Lovejoy.
No. 2 Buford took it to North Oconee on the road 54-36 as the Wolves begin their march to a Class AAAAA title. No. 3 Griffin survived two close games to remain undefeated, beating Luella 67-66 and Fayette County 49-47. No. 5 Warner Robins escaped their meeting with Perry, 60-58 in overtime. No teams in the Top 10 lost this past week.
Even with their loss to Buford, North Oconee remains No. 1 in Class AAAA thanks to their 46-39 victory at Archer. Cross Creek jumps Columbus for No. 2 in the state. The Razorbacks beat Grovetown 64-53 behind Memphis-signee Alana Davis' 27 points.
In Class AAA, Morgan County tumbles three spots to No. 5. They lost to Jefferson and were then upset by Cedar Shoals 53-52 before righting the ship with a 66-35 win over Putnam County. Calhoun was knocked out of the Top 10 by No. 10 Lakeview-Fort Oglethorpe. The Warriors are off to a hot start thanks to senior Jazzmyn Elston and sophomore Macey Gregg.
Banks County and Dublin have fallen out of the Class AA rankings. The Leopards lost to Hart County 53-28 while Dublin dropped a heartbreaker to Treutlen 64-63. Replacing them for the moment is No. 9 Heard County and No. 10 Pepperell.
Class A-Private sees Greenforest drop from No. 4 to unranked after an eye opening 49-44 loss to No. 10 Landmark Christian, who squeaks into the bottom of the poll. Also gone are Tattnall Square and Southwest Atlanta Christian. Tattnall lost to Landmark 54-44 and to Westside-Macon 49-40. The Warriors were blown out by No. 3 Holy Innocents' 68-20. SACA's strong schedule should bode well down the stretch in region play. No. 8 Savannah Country Day and No. 9 Pinecrest Academy enter the rankings and will try to stick around.
Pelham laid the boom in their Class A-Public opening week, scoring two wins including a thumping of Mitchell County 73-31, knocking the Eagles out of the Top 10. With Woodville-Tompkins and Mitchell County gone from the poll, No. 9 Marion County and No. 10 Hancock Central jump in.
Class AAAAAAA
1. Norcross (8-0)
2. McEachern (4-2)
3. Collins Hill (5-0)
4. Newton (5-0)
5. Mill Creek (6-1)
6. Westlake (5-1)
7. North Forsyth (8-0)
8. Archer (4-2)
9. Colquitt County (5-0)
10. Lambert (5-0)
Class AAAAAA
1. Harrison (4-1)
2. Mays (1-2)
3. Winder-Barrow (2-3)
4. Douglas County (5-2)
5. Jonesboro (5-1)
6. Tucker (7-0)
7. Grovetown (4-3)
8. Northview (5-1)
9. Sequoyah (4-0)
10. Lovejoy (6-0)
Class AAAAA
1. Flowery Branch (6-1)
2. Buford (2-0)
3. Griffin (5-0)
4. Southwest DeKalb (4-2)
5. Warner Robins (5-0)
6. Villa Rica (4-0)
7. Carrollton (3-0)
8. Harris County (7-0)
9. Arabia Mountain (6-0)
10. Loganville (4-3)
Class AAAA
1. North Oconee (5-1)
2. Cross Creek (3-2)
3. Columbus (4-1)
4. Carver-Columbus (5-0)
5. West Hall (2-3)
6. Jefferson (4-1)
7. Americus-Sumter (2-1)
8. Henry County (5-2)
9. Northwest Whitfield (3-2)
10. Sandy Creek (5-0)
Class AAA
1. Johnson-Savannah (6-0)
2. Beach (5-0)
3. Greater Atlanta Christian (3-4)
4. Hart County (5-0)
5. Morgan County (3-3)
6. Haralson County (4-1)
7. Redan (5-1)
8. Monroe (4-0)
9. Ringgold (4-1)
10. Lakeview-Fort Oglethorpe (6-0)
Class AA
1. Model (3-1)
2. Laney (1-1)
3. Rabun County (4-1)
4. Putnam County (2-2)
5. Fitzgerald (2-0)
6. Dodge County (1-1)
7. Vidalia (3-1)
8. Dade County (5-2)
9. Heard County (5-2)
10. Pepperell (2-0)
Class A-Private
1. Wesleyan (5-0)
2. St. Francis (4-1)
3. Holy Innocents' (6-1)
4. Our Lady of Mercy (5-1)
5. Calvary Day (2-0)
6. Lakeview Academy (5-2)
7. Stratford Academy (5-0)
8. Savannah Country Day (4-2)
9. Pinecrest Academy (4-1)
10. Landmark Christian (4-3)
Class A-Public
1. Pelham (2-0)
2. Terrell County (3-0)
3. Greenville (3-0)
4. Telfair County (5-0)
5. Treutlen (2-0)
6. Wilcox County (4-0)
7. Taylor County (1-1)
8. Wheeler County (3-1)
9. Marion County (2-0)
10. Hancock Central (2-1)