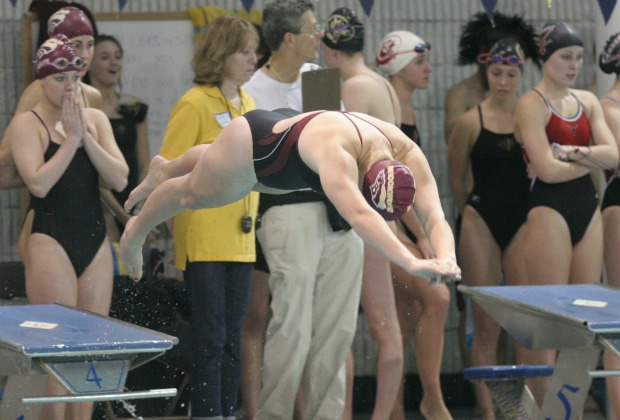 Photo by Greg Puckett
Madeline Jude Brown Invitational at Emory University…
The Madeline Jude Brown Invitational at Emory University saw Brookwood girls swimming and diving team and Alpharetta boys' take home first place finishes. Broncos boys' swimmer Alex Taylor broke a pair of invitational records capturing the 200-yard individual medley in 1:53.16 and the 50 freestyle in 21.65, which helped lead his team to a seventh-place finish overall. Brookwood girls were victorious in three individual events and two relays racking up a total of 302 points. Devan Sweeney won in the 200 IM, Anna Jahns in the 500 free and Erin Scott in the 100 breaststroke were Lady Broncos individual first place finishers. The squad of Haley McMullen, Scott, Jahns and Megan Hansen dominated the 200 free relay and Jahns, Sweeney, Hansen and Leila Taylor went on to win the 400 free relay. Lambert girls took home second place with 291.5 points and Marist with 208 points. Wesleyan sophomore Kate McCahan and junior Maggie Dryden took home fourth and fifth place respectively amongst a total of 48 divers at the Invitational.
Collin's Hill breaks losing streak against Parkview…
After a 10 year deficit against a stout Parkview swimming and diving team, Collins Hill's boys squad defeated the Panthers 175-137. The Eagles took home individual events from Cody Bekemeyer in the 200 freestyle, Taylor Delk in the 200 IM and 500 freestyle, Benjamin Parker in diving and Wesley Hobbs in the 100 butterfly and 100 backstroke. Parkview boys also had first place finishes from Dalton Vaux in the 50 freestyle and 100 freestyle and Samuel Kim in the 100 breaststroke.
The Lady Eagles were victorious with a 172-140 win over Collins Hill. Parkview top finishers were Chelsea Keown in the 200 IM, Morgan Fleming in the 50 freestyle and 100 freestyle, Zoe Walker in the 100 breaststroke, Haley Arner in the 200 freestyle and 500 freestyle, Kamilah Manohar in diving, Anna Jaggears in 100 fly and Reagan Balog in the 100 backstroke.
North Gwinnett triumphs in tri-meet with Dacula and Mountain View…
North Gwinnett's swimming and diving teams came out on top of the tri-meet in dominating fashion against Class AAAAAA rivals Dacula and Mountain View. Dacula (133) and Mountain View (162) squads were no match for the Lady Bulldogs, who finished the meet with an astounding 316 points. Maggie Anderson won the 200 free, Abby Duncan the 200 IM, Alayna Lamberth the 50 freestyle, Lauren McClelland the 100 fly, Megan Jones the 100 freestyle, Hannah Jones the 500 freestyle, Carlye McKillip the 100 backstroke and Val Lin the 100 breaststoke, which lead their team to a first place finish. Dacula's Faith Wilson won the girl's individual diving with 190.95 points.
The North Gwinnett boys' team brought in 306 points towering over their Dacula (144) and Mountain View (125) rivals. The Bulldog winners were Evan Sobol in the 200 free, Nick Mahoney in the 200 IM and 100 backstroke, Kyle Shumeyko in the 50 free, Mitchell Peters in diving, Tyler Mazurek in the 100 fly and 100 breaststroke, J.P. Baselj in the 100 freestyle and Sean Kang in the 500 freestyle.
Peri Charapich, Walton boys dominate Kennesaw Mountain diving meet…
Walton boys Kyle Hudon and Josh Getty won at the diving meet hosted by Kennesaw Mountain on Jan. 2 at the Central Aquatic Center. Hudon dives accumulated to 353.10 points, while his teammate was not far behind with 329.80 points. Kennesaw Mountain's two divers Jeymian Bullard and Will Hoynes combined for 390.90 points to finish runner-up and Marietta finished third with 278.80 points from diver Caleb Comer.
The Lady Mustangs had three divers score in the top eight, aiding to their top place finish with 639.35 points. Allatoona finished second with 481.90 points and Walton's Peri Charapich placed first with 408.75 points to help Walton take home third place finish.