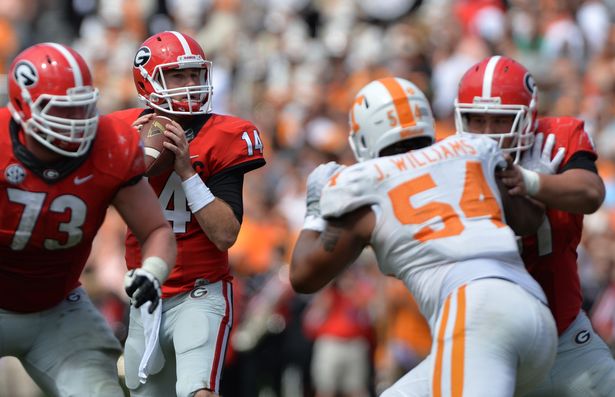 Brant Sanderlin
Yes, I know it's more than a week removed from the season. But, is there ever a bad time to talk about Georgia Bulldogs football?
2014 had pretty much everything you could ask for in a season. There were very high points in the season and some very low. This being the case, Georgia's season was an exciting one to watch.
The way this piece is going to go is that I will break down each position group and give them a final season grade. At the end of this piece, I will give the entire team a grade on their season.
Offensive Line: A+
What else could you have asked for out of this group in 2014? They seemingly fired on all cylinders from day one of the season against Clemson, all the way to their final game of the season against Louisville in the Belk Bowl. Yes they had some moments of letdown, like when they gave up seven tackles for a loss, three sacks, and only picked up 141 yards rushing against Florida in their 38-20 loss down in Jacksonville. This group helped the offense put up 5,951 yards of total offense, average 41.3 points per game, and only allowed 28 sacks all season long. Plus, who can forget about the huge season running the football by Todd Gurley, Nick Chubb, and Sony Michel? Who opens the running lanes for those running backs? You got it. Want more good news? Four out of the five starting offensive linemen are coming back for next season. Offensive tackles John Theus and Kolton Houston are returning to Athens. Same goes for guards Brandon Kublanow and Greg Pyke. That said, Georgia is going to loss center David Andrews and offensive line coach Will Friend. These losses cannot be underscored at all. Georgia has yet to hire a new offensive line coach. Also, the battle for the new offensive line captain (center) will rage on during spring practice. Look for fifth year senior Hunter Long or rising sophomore Isaiah Wynn to be in competition for that job.
Running Back: A+
How can you not give this group a grade like this? They started out the season with junior running back's Todd Gurley and Keith Marshall as the ones expected to make things happen running the football. We thought we might see a little of the freshman duo Nick Chubb/Sony Michel make an impact on the offense. Either through suspension/injury or in Gurley's case both. We got to see the freshmen make a huge contribution to this offense. As a team, Georgia finished the year with 3,352 yards rushing. 1,957 of those yards came from Chubb and Michel. Todd Gurley finished the season with 911 yards rushing, before the year prematurely ended for him because of a torn ACL. This was after he sat out four games for the autograph scandal. We got to see him play for only six games and he still put up that type of production. Keith Marshall only played three games, before injuries put him on the shelf for the rest of 2014. If we can believe what Nick Chubb told us after the Belk Bowl win, we could see a very strong Marshall return for 2015. According to Chubb, Marshall was very impressive during bowl practices two weeks ago in Charlotte. What kind of impact could incoming three-star running back Chris Carson make in his first season? How about rising junior running back Brendan Douglas? Let's not forget that he's been called on twice in his first two years to play injury relief time on the field. He's done well in both those years.
Quarterback: C
Most people might look at this grade as a slight towards the job that Hutson Mason did in his lone season as the Bulldogs starting quarterback. Trust me it is not at all. Truth of the matter is that Mason did his job and did it well. He was asked to lead this offense to high productivity. They did that with an average of 41.3 points per game. They averaged 457.8 yards of total offense this season. Mason and sometimes sophomore Brice Ramsey passed for about 200 yards per game. Plus, they didn't turn the ball over very much this season? So why not a higher grade? Here's why… The majority of the offense centered around the running game. Not Mason's fault at all. The Georgia offensive staff was playing to their strength as a team. That said, they didn't do anything really extraordinary in the passing game. Again, Georgia's quarterback play was good this season. As I stated in my mid-season grades, good is 'C' level work to me. That's not a bad thing. This team wouldn't have been 10-3 without the play of Mason this season. Plus, the team seems to be in good hands with the upcoming starting quarterback competition between Ramsey, redshirt junior Faton Bauta, and redshirt freshman Jacob Park. Also, in 2016 Georgia is expected to get one of the top quarterbacks in that class, with state of Washington product Jacob Eason.
Wide Receivers/Tight Ends: C
This group is seemingly hand in hand with the quarterback position. No one really became the "deep ball threat" this season for the Georgia offense. Senior receiver Chris Conley was the leader in yardage and touchdowns this season with 657 and 8. Fellow senior Michael Bennett brought in the most receptions with 37. Rising senior Malcolm Mitchell provided a little bit of a jolt this season to the passing game with 31 catches for 248 yards in just nine games since coming back from the ACL tear suffered against Clemson in 2013. This group will lose some senior leadership in Conley/Bennett. However, Mitchell's return in 2015 is huge for Georgia. Like Keith Marshall with the running backs, don't sleep on Justin Scott-Wesley. His 2014 never truly got off the ground as he tried to recover from the torn ACL in 2013 he suffered at Tennessee. We also cannot forget about the job done by freshman Jeb Blazevich at the tight end position. He finished 2014 with 18 catches for 269 yards and two touchdowns. If Georgia can get the production he was giving them early in 2013, then they could have a much improved passing game in 2015.
Kick Return/Punt Return: B
This group improved from 2013 to 2014, with Todd Gurley and freshman Isaiah McKenzie even returning a kickoff a piece for a touchdown. McKenzie even added a couple punt returns to the house this season. This part of the Georgia football team was great in 2014. With McKenzie coming back for the 2015 season and beyond, he could soon get the reputation this season that Gurley had this season. Remember what Steve Spurrier said before the game in Columbia this year? Something to the effect of, "they would be pretty stupid to kick to him." The numbers from the punt/kick return units did taper off this season, but they also didn't turn the ball over. That is why they get the great score of 'B.'
Kicking/Punting: B-
Like the return game for Georgia, these parts of the special teams also took a turn for the better in 2014. Aside from only a handful of missed field goals this season from placekicker Marshall Morgan, he had another good to great season for Georgia. Also, Collin Barber was able to flip the field at times for the Bulldogs with long punts. He had a long of 60 yards in one game. Want even better news? Both players are coming back for 2015.
Defensive Line: C
As 2014 progressed, this group was not relied upon as much for the success of the defense. Jeremy Pruitt played a lot of nickel packages as the team's base defense in many of their games. That said, the standouts in 2014 were seniors Ray Drew and Toby Johnson. Both players were not only able to play well against the run (at times) and were able to put pressure on the opposing team's backfield. Both finished the year with 66 tackles, 6.5 tackles for a loss, 22 quarterback hits, and three sacks. The Bulldogs also got good play out of Mike Thornton, Sterling Bailey, and Chris Mayes. All of the players named except for Bailey and Mayes are seniors. So, they'll have to be replaced in 2015. Luckily Georgia already has Tucker product/defensive lineman Jonathan Ledbetter on campus as an early enrollee. Same goes for Mays product Natrez Patrick, who is expected to play defensive end. Likewise for Michael Barnett, a four-star out of South Carolina. Right now, it looks like defensive line coach Tracy Rocker will have young players to work in this season. However, come fall he also gets his hands on one of the nations best in five-star commitment Trent Thompson to add to the defensive line depth.
Linebackers:A+
This group had high expectations placed on them before the 2014 season began and they lived up to them. The base group of seniors Ramik Wilson and Amarlo Herrera played all 13 games together this year. They lead the team in tackles with 225 combined. They also added in 17 combined tackles for a loss and five sacks. They will be sorely missed up the middle for the defense next season and beyond. On the outside, Georgia got excellent contributions from Jordan Jenkins and Leonard Floyd. They were among the team leaders in tackles for a loss and sacks. The Bulldogs fans also got to know freshman Lorenzo Carter pretty quickly, with his 41 tackles, 7.5 for a loss, and 4.5 sacks. What could we see out of him in 2015 with a full spring practice, offseason, and fall camp? I would say the sky is the limit for Carter. Wilson and Herrera's contributions are what made the group what it is for the most part. However, Georgia fans can rest pretty easy knowing that rising juniors Reggie Carter and Tim Kimbrough are experienced on the field with Jeremy Pruitt's defense. Both players got at least 12 games of experience with the Bulldogs this season. So, it's not like they're starting from scratch at the inside linebacker spot.
Secondary: B+
This group is just missing an 'A' by the slimmest of margins. Their progression from 2013 to '14 is remarkable. They helped the Bulldogs lead the SEC in turnover margin at plus-16. The heartbeat of the unit this season was no doubt senior Damian Swann at the "Star" position on the field. Swann finished his final season in Athens with four interceptions and eight pass breakups. He was looked upon to be the leader for this defense and lived up to the challenge. Georgia played a lot of young players in the secondary this season. They either landed on the field because of their work on the practice field and also injuries on the team. Defensive coordinator Jeremy Pruitt's line to the team was that he would, "give them what they earn." Players like freshman Dominick Sanders and redshirt freshman Aaron Davis earned themselves significant playing time this season. They would make the most of that time on the field and have many eager to see the contributions they could make in the future. Sanders had a heck of a season finale, with his two interceptions against Louisville in the bowl game. This group seemed organized and much improved this season, especially on third down. With the youth coming back in 2015, they'll still be in a plug and play situation with the unit as a whole. That seems to be Pruitt's specialty. They might be young, but they've shown they're prepared.
Team Final Grade: B-
The Bulldogs finished 2014 with a 10-3 record and a very impressive 37-14 win over Louisville in the Belk Bowl. However, they had two very tough losses to South Carolina and Florida. Both of those teams did end up with winning records and won their respective bowl games. That said, Georgia had no business losing those games. Same could be said for their loss to eventual 11-win Georgia Tech. These three losses knock the grade down a little. However, the win over Louisville and the 10 win mark puts them into the 'B' grade category. It had the potential to be in the 'A' category. However, the three losses and who they were to knocked them back.