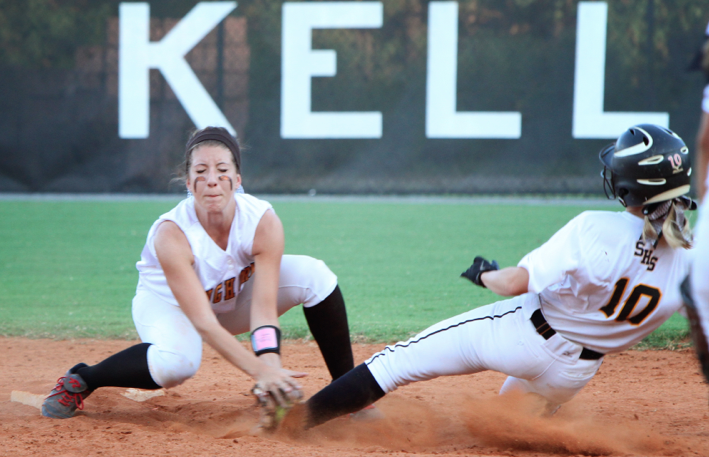 Photo by Deanna Fiveash
Amanda Ablan enjoyed an incredible run of dominance last week, hurling consecutive no-hitters for Brookwood in shutouts of Parkview and Shiloh. The Broncos beat Parkview 4-0 last Tuesday as Ablan struck out 10 batters and walked just two. Ablan returned to the mound for another 8-AAAAAA contest last Thursday and blanked Shiloh in a 4-0 victory. She walked only one hitter and struck out 15, once again in seven innings of work. The junior also helped herself at the plate, going 2-for-3 with an RBI against Parkview before getting two more hits against Shiloh.
Providing additional run support for the first no-hitter were Kayla Louie (3-for-3, two runs scored) and Chelsea Twardoski (two RBIs). In Thursday's game, Kamryn Tillman went 4-for-4 with an RBI and two runs scored.
Lanier scored a pair of victories last Saturday, 3-0 over Baconton Charter and 16-0 at the expense of Chestatee. Cameron Dillard pitched a complete-game shutout in the former contest and got support at the plate from Maygan Loparo (2-for-3, one double, one RBI) and Makenzie Wismer (2-for-3, one RBI). Against Chestatee, both Kirsten Laughlin and Julianna Gracia knocked in three runs and Isabelle Petty went 2-for-4 with two RBIs.
The Longhorns went 4-0 overall last week, having previously taken care of Gainesville 8-1 and Salem 12-7. Wismer went 4-for-4 with five RBIs against Salem.
Buford, the top-ranked team in Class AAAA, improved to 12-1 overall in 2014 and 1-0 in region competition after rolling through three games last week. The Wolves bear Lambert 8-0 via a sixth-inning mercy rule last Monday. Senior pitcher Bria Bush tossed her third complete game of the season and recorded her second shutout. She allowed only two hits and one walk. Baylee Sexton went 4-for-4 with one RBI, four runs scored and four stolen bases. Two days later, junior Kennedy Kotula took the mound for Buford and befuddled North Gwinnett in a 9-1 Wolves' victory. Kotula went the distance and surrendered just three hits, no walks and one unearned run. At the plate, fellow juniors Brianna Gutierrez and Drew Puckett went deep; Gutierrez twice and Puckett once.
The Wolves made their Region 8-AAAA debut last Thursday and it did not last long. Bush (three innings pitched, no hits, no runs and five strikeouts) was back on the bump and North Gwinnett had no answers in a 12-3 Buford victory. Gutierrez, Sexton, Alexus Murray and Tessa Daniels all drove in two runs. Next up for the Wolves is another region game at North Hall on Tuesday.