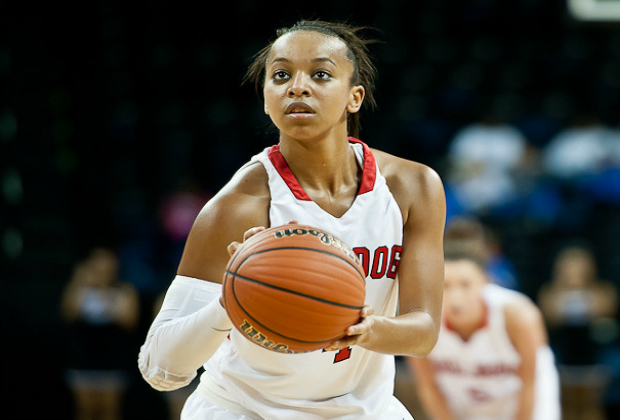 Ty Freeman
The holiday basketball tournaments continued Thursday as several ranked girls basketball squads were in action.
Campbell HS Christmas Tournament
Hillgrove 64, Langston Hughes 52: Visiting Hillgrove got off to a slow start but still matched the Panthers point for point to even it up at 25 at intermission. Aleigha Cass helped get the Hawks rolling in the second half and scored a game-high 22 points with teammate Mackenzie Engram adding 20. Cass and Engram patrolled and dominated the paint and have the 10-1 Hawks on their way to a dandy with a 10-1 Kell squad.
Naples Holiday Tournament (Naples, FL)
North Gwinnett 79, First Baptist Academy, Naples, FL 28: First Baptist Academy was no match for the visiting 9-0 North Gwinnett Bulldogs and star guard Lexie Brown. The senior had a game-high 27 points and added 10 assists, nine steals and eight rebounds to the stat sheet. Teammate Peyton Whitted scored 17 in the Bulldogs first round rout.
Peachstate Holiday Tournament (Holy Innocents')
Holy Cross, MD, 37, Buford 36: Visiting Buford found themselves leading 22-17 at the half but would carry their offensive struggles into the second half. Kaela Davis led Buford with 12 points and Janee Brown led Holy Cross with 10 points, but Buford was unable to find many points after intermission, scoring just 14.
Shane's Rib Shack Classic (Union Grove)
Woodland-Henry 66, Newnan 31: Host Woodland-Henry's talented backcourt overwhelmed any resistance from Newnan. Senior guard Morgan Jones had a double-double with 15 points and 10 assists. Wolfpack Teammate Lindsey Reed scored a team-high 16 as Woodland-Henry was able to run away in the second half. The Wolfpack led 36-20 at halftime.
Upward Classic (Spartanburg SC)
North Cobb 91, Spartanburg 53: Host North Cobb remains a perfect 12-0 on the season after this 42-point victory. Kyrie Chandler showed her range by hitting three 3-pointers and scored a total of 22 points. Amber Reeves scored 17 and teammates Briah Woods and Chantel Strahorn reached double digits with 13 and 11 points, respectively. The Warriors answered a solid first quarter by erupting in the second quarter with 31 points. North Cobb will play North Carolina's defending State Champs Millbrook next in the Classic.
Walnut Grove Tournament
Greater Atlanta Christian 72, Jefferson 43: Visiting Greater Atlanta Christian held a 33-22 lead at the half before they would distance themselves in the second half. Brianna Cummings scored a game high 23 points and Cici Buford scored 16.
Westminster Classic
Paideia 51 Decatur 48: Host Decatur cut into a 29-21 Paideia halftime lead after an outburst of points from senior Jordan Dillard who had a game high 19 points. Paideia's big three held off the late push from the Bulldogs and Dillard and Nia Smith finished with 18, Alex Clark with 15, and Ellery Koelker-Wolfe with 13 points, accounting for 46 of the Pythons 51 points.