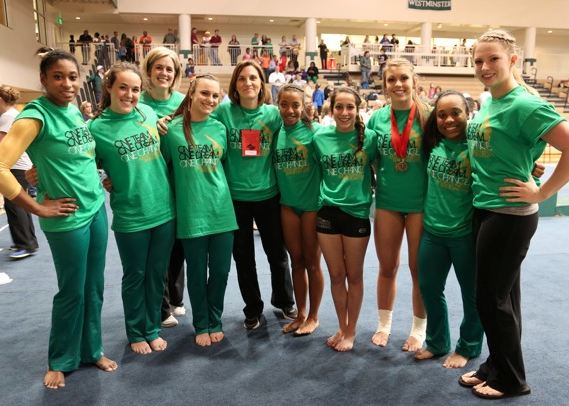 Buford Gymnastics
Buford's gymnastics squad has been successful since its inaugural 2013 season. The Wolves qualified for state and went on to place fourth. With a year of experience under their belts, the Wolves enter Saturday's preliminary state qualifying meet at Dunwoody with a perfect regular season record and five gymnasts that will spend the remaining days leading up to the meet adding new skills to their routines according to head coach Amanda Allen.
"Overall, having the second year and knowing what to expect has helped this year's team. Their peers are getting a little more involved and they are getting more support this season so that has made it more exciting for them. As far as competition goes. We've had bigger meets this season and that has built energy and helped in our preparation," said Allen.
Brei Butts is the only senior out of the group heading to Dunwoody this Saturday and Caroline Davis (junior), Logan Nugent (sophomore) and freshmen Berkely Berrett and Kryslyn Moore will be joining her.
Nugent is a favorite for this year's state title on floor and the sophomore scored a first-place finish 9.750 at the 15-team Lassiter House of Troy Invitational in March. Berrett will be key to the team score and the great all-around gymnast received marks of 9.3 on both bars and beam this year. Bars were the only event at the House of Troy that Buford did not place first in but the freshman has been hard at work according to Allen. Moore will be huge for Buford on the vault and she turned in a 9.1 this season. Sisters Carolina and Claudia Goyco will be unable to compete at Area, but Allen is still confident with her team heading in.
"We are fortunate that all the girls are good competitors," said Allen. "We have a really strong team this year. Unfortunately we won't have everyone at area but we have enough depth to do well."