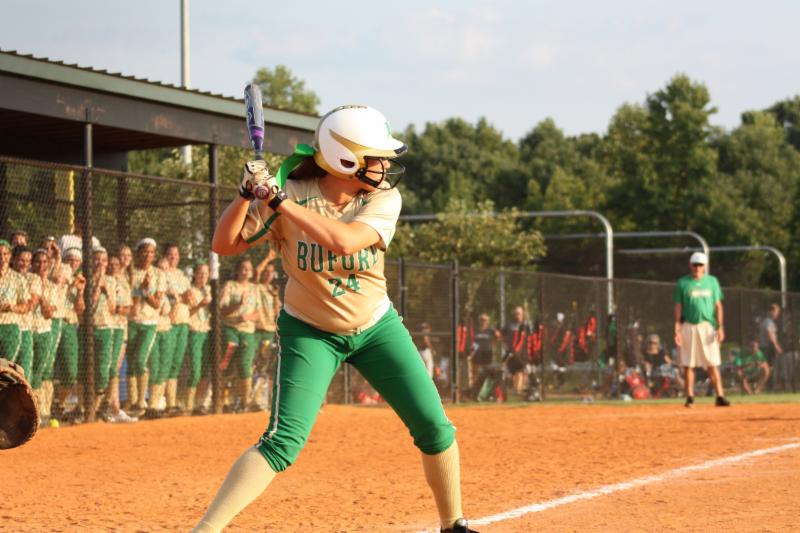 Photo by Jennifer Stravo
A battle between two top-ranked teams in the state lived up its billing last Wednesday. Buford, the No. 1 squad in Class AAAA, scored a run in the seventh inning on a homer by Jordan Deep to beat Lassiter, No. 1 in Class AAAAAA, 2-1. It was the Trojans' first loss of the season. Buford, of course, maintains the top position in its classification while Lassiter is still hanging on ahead of Collins Hill and Brookwood.
Ola, the No. 1 team in Class AAAAA, lost to Woodland-Henry last week but then won four games in a row to stay atop the rankings. In Class A-Private, Prince Avenue Christian fell to Ringgold of Class AAA but still went 6-1 last week and maintained its hold on No. 1.
Lambert is a new arrival in the Class AAAAAA rankings at No. 9. Allatoona (eighth) and Cambridge (ninth) are now making appearances in the Class AAAAA top 10. Mary Persons surged to No. 7 in Class AAAA, having previously been unranked. Class AAA welcomes Morgan County (No. 8) and Westminster (No. 9) to the rankings. Bryan County (No. 6), Armuchee (No. 8) and Social Circle (No. 9) have made their way into the Class AA top 10.
Class AAAAAA
1. Lassiter
2. Collins Hill
3. Brookwood
4. Archer
5. Harrison
6. Kennesaw Mountain
7. Hillgrove
8. North Gwinnett
9. Lambert
10. North Cobb
Class AAAAA
1. Ola
2. Northgate
3. Woodland-Henry
4. Greenbrier
5. Effingham County
6. Creekview
7. South Effingham
8. Allatoona
9. Cambridge
10. Evans
Class AAAA
1. Buford
2. Heritage-Catoosa
3. Walnut Grove
4. Wayne County
5. Madison County
6. Whitewater
7. Marist
8. Mary Persons
9. Carrollton
10. Perry
Class AAA
1. Central-Carrollton
2. Calhoun
3. Ringgold
4. Rockmart
5. Pierce County
6. Blessed Trinity
7. Dodge County
8. Morgan County
9. Westminster
10. Decatur
Class AA
1. Gordon Lee
2. Harlem
3. Wesleyan
4. Heard County
5. Berrien
6. Bryan County
7. Jeff Davis
8. Armuchee
9. Social Circle
10. Seminole County
Class A-Private
1. Prince Avenue Christian
2. ELCA
3. First Presbyterian Day
4. Mount Vernon Presbyterian
5. Strong Rock Christian
6. Brookstone
7. Savannah Christian
8. George Walton Academy
9. Athens Christian
10. Mount Pisgah Christian
Class A-Public
1. Georgia Military
2. Schley County
3. Commerce
4. Hawkinsville
5. Echols County
6. Treutlen
7. Charlton County
8. Mt. Zion-Carroll
9. Telfair County
10. Baconton Charter