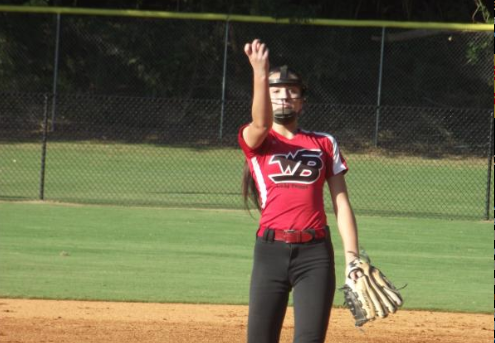 Courtesy of Winder-Barrow HS
Skylar Hayward threw a no-hitter while striking out seven batters through eight innings of work in Mill Creek's 8-0 shutout of Region 7-AAAAAA rival Peachtree Ridge Thursday night. Additionally, Hayward went 2-for-2 at the plate and drove in a run. The Hawks also got two hits from Mikayla Rood and Kaylyn Anthony, who had a double, an RBI and two runs scored. They improved to 9-5-1 overall and 4-2 in region play.
In another Thursday showdown between region foes, Wesleyan hammered Greater Atlanta Christian 11-1 to stay undefeated at 4-0 in Region 6-AA competition. The game was called after five innings, which meant Wolves' starter Jameson Kavel did not have to work too hard despite going the distance on the mound. She struck out five and surrendered just three hits. Meredith DiStaci and Cassie Henning each drove in two runs and Alyssa Bedard contributed a triple. Greater Atlanta Christian scored its only run on a solo shot off the bat of Stephanie McIntosh.
Blessed Trinity gave Wesleyan a taste of its own blowout medicine in the form of a 13-1 rout on Saturday. The Wolves returned to their winning ways later in the day and improved to 12-3 overall by taking care of Stratford Academy 4-1. Henning fanned four hitters in a complete-game effort and DiStasi belted a two-out RBI double during a four-run third inning.
In Class AAAAAA, both North Gwinnett and Brookwood posted 8-0 victories last Thursday. Kylee Smith mowed down eight batters in five innings to lead North Gwinnett past Norcross. Emily Dennis and Allison Roach had two RBIs apiece for the Bulldogs. Brookwood rode ace Amanda Ablan (11-0) to an easy win over Dacula. Ablan struck out 11 and gave up only one hit in five innings.
An intriguing matchup between Region 5-A rivals and two of the top teams in Class A-Private is set for Thursday, when Mount Vernon Presbyterian goes up against Eagle's Landing Christian Academy. Mount Vernon Presbyterian will head into it on the heels of a long week in which it won games in quite contrasting styles. The Mustangs beat Strong Rock Christian 2-1 and Aquinas 3-0 while also powering past Landmark Christian 11-2 and North Springs 14-0 in addition to a 17-12 shootout loss against Dunwoody.
Both Lovett and St. Pius X fell to Murray County last Saturday. The Lions lost 8-6 and the Golden Lions lost 8-1. It was a long week for Murray County, which also endured setbacks against highly-ranked opponents Calhoun and First Presbyterian Day.