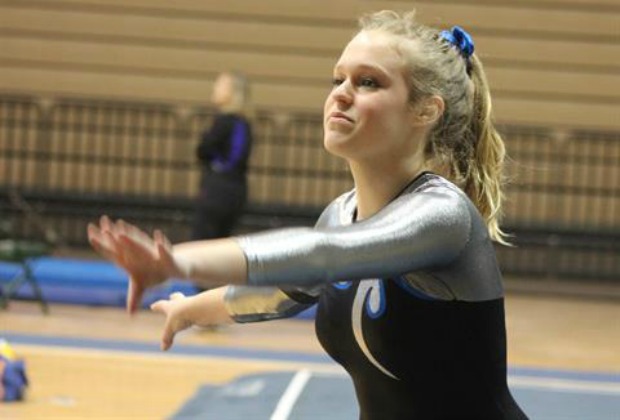 Buford totaled a 110.225 to win its first gymnastics state championship in school history Saturday at Westminster. The Wolves, in just their second season as a program, got off to a rocky start on the beam but were nearly flawless on the floor, vault and beams. Carrollton placed a close second at 109.35 and defending state champion Lambert finished third with a 107.550. Forsyth Central earned fourth with 107.525 and edged fifth-place Milton's 105.325 and sixth-place Westminster's 103.175.
Buford opened the night on the beam and saw three of four gymnasts take falls during their routines. Head coach Amanda Allen made sure to get her team focused and looking forward and all-around standout Logan Nugent led the way.
"I just told the team that we have to march on and put the beam behind us and to march forward like we were champions," said Allen. "And they pulled it off."
Nugent finished third in the all-around with a 36.975 and freshman teammate Berkley Berrett came up huge and placed sixth in the all-around to give Buford valuable points needed for the team scoring.
Nugent grabbed the individual title on floor with a 9.65 and placed second on vault with 9.675 behind Lambert's Katie Stuart (9.725).
"We rocked it out on vault," said Allen. "The floor gave them some confidence, but they just did a fantastic job on vault."
Undefeated Buford dominated the regular season, but entered the state meet shorthanded with two members of the team competing at Eastern Nationals for their club teams right now.
"We had two girls missing, but the team gained a lot of confidence after last week's preliminary meet and having a good appearance there. They came in wanting to win today."
Stuart took the all-around title after a second-place finish last year. Stuart placed first on the bar (9.55) and vault (9.725) and turned in a 37.525 all-around score.
Camden County's Tierra Acoff finished fourth in the all-around with a 36.835 and placed fifth on the floor with a 9.35 and fourth on vault with a 9.45. Bainbridge's Emily Perkins placed fifth in the all-around with a 36.775 and took third on beam (9.35) and second on the bars with a 9.35.
This year's all-around runner-up was Jefferson's Elizabeth McMullan, who finished just .250 points behind Stuart. McMullan scored a top finish on the beam with a polished 9.55 routine and took fifth in the vault with a 9.375.
This year's all-around scores were lower than last year and Stuart grabbed the gold despite a fall on the beam and a final score .275 points lower than last year. The team scores proved to be higher and Buford's 110.225 topped Lambert's first place total of 109.575 a year ago. Buford has just one senior on its team and the Wolves will return a ton of talent for year three.