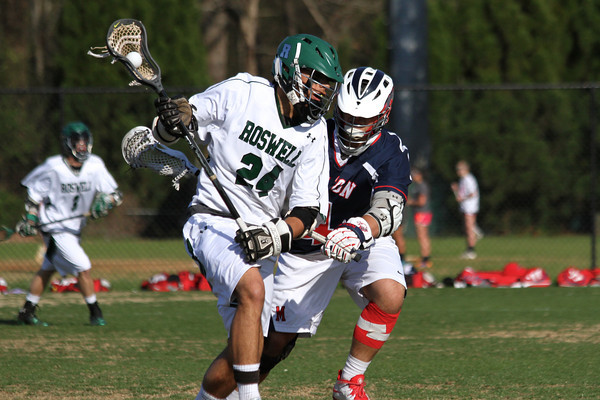 Photo by David Weaver
The lacrosse regular season ends today with nine boys games and nine girls games. Thursday night was packed with games and ranked opponents squared off to jockey for position in this year's playoff seeding. The Roswell boys jumped into the top 3 this week in the poll and closed out an 11-9 victory at Lassiter on Thursday. The Hornets enter the playoffs on a roll with consecutive victories over Greater Atlanta Christian, Walton, Mill Creek and the Trojans. No. 8 Chattahoochee topped Decatur 15-8 on Thursday to end its regular season and the Cougars will enter the postseason with a streak of seven consecutive victories.
Friday's boys games are highlighted with a 10 matchup between Gwinnett rivals No. 10 Peachtree Ridge will host No. 7 North Gwinnett.
In the girls action, Class A-AAAAA No. 4 Pope scored an 18-15 victory over Class AAAAAA No. 5 Centennial on Thursday. Kell finished the regular season 16-1 on Thursday with a 20-4 victory to cap off its best regular season in school history.
Friday showcases arguably the most anticipated game of the year for the girls. Class AAAAAA No. 1 Milton visits No. 2 ranked Lassiter. Both teams are undefeated against in-state opponents this year and are the only two teams in the state, boys or girls, that can say that.
Class AAAAAA No. 7 Centennial visits Class A-AAAAA No. 5 Cambridge to set up an intriguing cross-classification battle and Class A-AAAAA No. 10 Holy Innocents' hosts No. 7 McIntosh.
Playoff brackets will be determined after the games are completed tonight and the first round will open on Tuesday, May 6 with the Class A-AAAAA girls and Class AAAAAA boys.