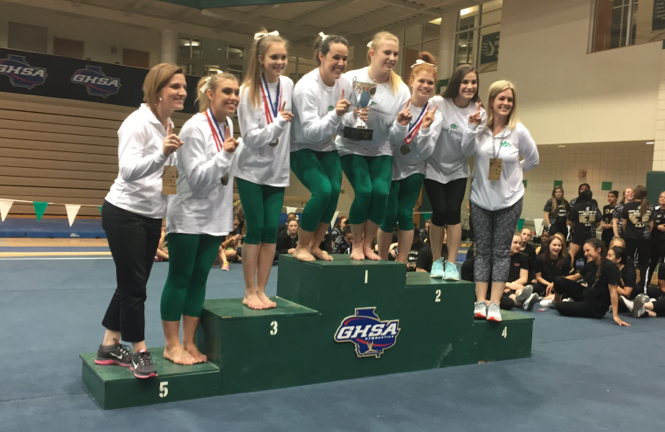 Photo by Craig Sager II
Buford won its second consecutive GHSA gymnastics state championship in convincing fashion with a score of 111.425 Friday night at Westminster's Turner Gym. Carrollton finished second with a 107.725 and Lambert edged Forsyth Central 104.375 to 104.050 for third place.
The first-place Wolves overcame a slow start last year on the beam before rolling to their first state title but this year the wasted little time on the beam and continued dominating the final three events. Lyndzi Jones was the fourth and final Buford gymnast to take on the beam and she used a flawless performance. Jones posted a state championship-winning mark of 9.7 and gave Buford a huge boost of confidence moving forward.
"She [Lyndzi] really made it up for us," said Buford head coach Amanda Allen. "It is nerve-racking starting off on the beam but Lyndzi really rocked it out and saved the day."
The Wolves used a team effort to continue gaining separation and Logan Nugent and teammate Berkley Berrett crowded the podium on bar with first- and second-place finishes. The two tied 9.550 but the tie-breaker went to Nugent.
Carrollton's Kyndel Yett won the state title in vault with a 9.6 but Nugent was able to place third with a 9.5 and Berrett took a fifth place (9.4) to give Wolves more breathing room.
Yett posted a 9.5 on the floor but Jones took her second event state title with a 9.55 and Nugent also earned a place on the podium with a 9.225 fifth-place finish.
"The girls were nervous and there is some pressure returning as champions, but they are great competitors," explained Allen. "It's a fourth-and-one at Buford all the time."
Locust Grove's Kelly Aycock took the All-Around state title with a 37.700. Aycock edged Tift County's Khloe Parker's 37.475 but Parker had to battle through adversity to earn her runner-up finish. While warming up for her final event on the beam, Parker's calf cramped up and the two had to switch their order while Parker stretched out. Aycock nailed her routine with a 9.5 and Parker stumbled with a noticeably sore calf but hopped back on and still posted a 9.3.
Jones (37.100) and Nugent (37.025) finished third and fourth in the All-Around and Yett (36.950) placed fifth ahead of sixth place Berrett (36.750).
TEAM RESULTS
1. Buford (111.425)
2. Carrollton (107.725)
3. Lambert (104.375)
4. Forsyth Central (104.050)
5. Colquitt County (103.175)
6. Roswell (102.575)
ALL-AROUND RESULTS
1. Kelly Aycock (Locust Grove) 37.700
2. Khloe Parker (Tift County) 37.475
3. Lyndzi Jones (Buford) 37.100
4. Logan Nugent (Buford) 37.025
5. Kyndel Yett (Carrollton) 36.950
6. Berkley Berrett (Buford) 36.750
7. Jennifer Bradenburg (Carrollton) 36.025
8. Maddy Lord (Lambert) 35.590
9. MacKenzie Miller (Forsyth Central) 35.425
10. Delaney Givens (Lambert) 35.175
BEAM RESULTS
1. Lyndzi Jones (Buford) 9.700
2. Kelly Aycock (Locust Grove) 9.500
3. Khloe Parker (Tift County) 9.300
4. Tierra Acoff (Camden County) 9.150
5. Maddy Lord (Lambert) 9.100
6. MacKenzie Miller (Forsyth Central) 9.000
7. Katie Beth Carter (Carrollton) 9.000
8. Kyndel Yett (Carrollton) 8.850
9. Ashley Thomas (Roswell) 8.850
10. Logan Nugent (Buford) 8.750
BAR RESULTS
1. Logan Nugent (Buford) 9.550
2. Berkley Berrett (Buford) 9.550
3. Tierra Acoff (Camden County) 9.500
4. Kelly Aycock (Locust Grove) 9.375
5. Khloe Parker (Tift County) 9.300
6. Ashley Thomas (Roswell) 9.250
7. Maddy Lord (Lambert) 9.150
8. Bobimarie Henderson (Lassiter) 9.100
9. Kyndell Yett (Carrollton) 9.000
10. Cara Trench (Northview) 8.800
FLOOR RESULTS
1. Lyndzi Jones (Buford) 9.550
2. Kyndel Yett (Carrollton) 9.500
3. Kelly Aycock (Locust Grove) 9.375
4. Khloe Parker (Tift County) 9.325
5. Logan Nugent (Buford) 9.225
6. Delaney Givens (Lambert) 9.175
7. Berkley Berrett (Buford) 9.100
8. Jennifer Brandenburg (Carrollton) 8.875
9. Alaina Steinberg (Lambert) 8.500
10. Sydney Wagner (Carrollton) 8.200
VAULT RESULTS
1. Kyndell Yett (Carrollton) 9.600
2. Khloe Parker (Tift County) 9.550
3. Logan Nugent (Buford) 9.500
4. Kelly Aycock (Locust Grove) 9.450
5. Berkley Berrett (Buford) 9.400
6. Timia Fowler (Colquitt County) 9.300
7. Katie Beth Carter (Carrollton) 9.250
8. MacKenzie Miller (Forsyth Central) 9.200
9. Sydney Barrett (Cartersville) 9.150
10. Emily Flint (Forsyth Central) 9.150