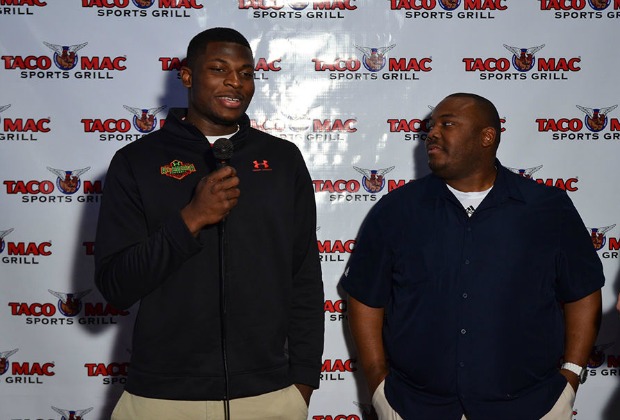 Photo by Jason Mussell
Mark Richt and the UGA defensive coaching staff got their man. Lorenzo Carter, one of the top prospects in the state of Georgia and even one of the most coveted recruits in the country, signed last Wednesday to play football in Athens. Carter is a 6-5, 235-pound defensive end out of Norcross High School. He turned down offers from Florida State, LSU and Florida, among others. Carter led Norcross to the Class AAAAAA state championship in 2013, while leading the team with 132 tackles and 40 for loss. He is one of the most athletic defensive players in the nation, with a vertical leap of 42 inches. Carter also plays center for the Norcross basketball team. Georgia's revamped defensive staff, which includes Jeremy Pruitt as coordinator, should have a good foundation with Carter at defensive end. The Bulldogs' recruiting class features 21 prospects and it is ranked eighth in the nation according to 247sports.
HOT HOOPS …
The Bulldogs' basketball team bouncedback this week with two double-digit wins against conference opponents. Victories over Texas A&M and LSU pushed UGA's SEC record to 6-4 and the team remains in position to capture one of the top four seeds in the SEC Tournament. Sophomore guard Kenny Gaines led the charge against the Aggies, scoring 14 points to go along with seven rebounds, two assists and a block. Forward Donte` Williams had a team-high 10 rebounds in the 62-50 win. Two games this week against Mississippi State and Ole Miss should give the Bulldogs a good chance to add to their conference record. Results of Wednesday's road contest at Mississippi State were not available at press time. Ole Miss. Meanwhile, is ahead of UGA by just a half-game in the SEC standings as of Wednesday.
LADY DAWGS ROLL …
The women's basketball team notched a big win in conference play when it defeated Ole Miss 84-63 on Sunday. The Lady Bulldogs had a tremendous first half, scoring 48 points. Guard Erika Ford was among five UGA players with double-digit points, scoring a team-high 16. Sydnei McCaskill scored 13 points in 19 minutes off the bench. Shacobia Barbee helped the cause with seven rebounds and a game-high six steals. The Lady Dawgs (16-7, 4-6 SEC) will trav-el to College Station to face the Texas A&M Aggies this week. This is the second game be-tween the two teams, with the Aggies beating the Lady Dawgs 58-44 earlier this season in Athens.