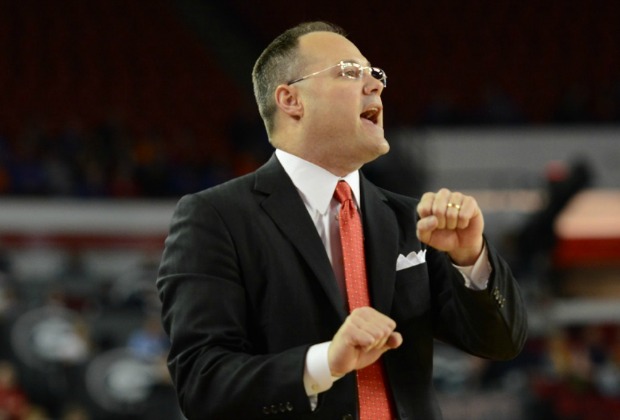 Photo by Jon Barash
The men's basketball team clinched the third seed in this week's SEC tournament. The top four seeds in the tournament automatically qualify for the quarterfinals. Should the Bulldogs win in the quarterfinals, they would most likely play Kentucky in the semis and probably be playing for a ticket to the NCAA Tournament in that game. At the beginning of the season, most experts had this team picked to finish 11th or 12th in the conference, so to finish third is a huge accomplishment.
Last Saturday's win over LSU was big go- ing into the postseason. The 69-61 victory gave UGA its 18th overall win and its 12th in con- ference. Charles Mann scored 22 points to go along with 10 rebounds, while Kenny Gaines hit six of seven three-point attempts to finish with 20 points. The Bulldogs have won two in a row, four of their last five and eight of their last 10 heading into the SEC Tournament.
WOMEN'S TOURNEY …
After a win over Vanderbilt in the first round of the SEC Women's Basketball tournament, the Lady Dawgs were eliminated by a 67- 48 loss to South Carolina in the second round. Lack of three-point shooting and missed shots kept UGA from moving on. The Lady Dawgs missed 33 of 42 shots in the game.
Head coach Andy Landers was disap- pointed by the loss and knew exactly where things went wrong. "It had nothing to do with size advantage or any of the other things that impress you about South Carolina," Land- ers told the AP. "It was about transitioning, get back on defense, get under the ball, get it stopped, know where their shooters are."
Erika Ford scored 10 points to lead UGA in scoring, while Krista Donald had a team-high 13 rebounds.
TYLER IMPRESSES …
Freshman pitcher Robert Tyler was named SEC Freshman of the Week on Monday. Tyler threw eight shutout innings against Georgia Tech, giving up just two hits and no walks in a no-decision. He also helped UGA to a 6-2 win over Western Carolina, pitching one inning, striking out one and giving up no hits and no runs.
Tyler leads the team with a 0.93 ERA in 19.1 innings. The right-hander has 15 strikeouts and has allowed just two walks this season. The Bulldogs play nationally-ranked Missis- sippi State this weekend and Tyler is scheduled to get his third start of the year.