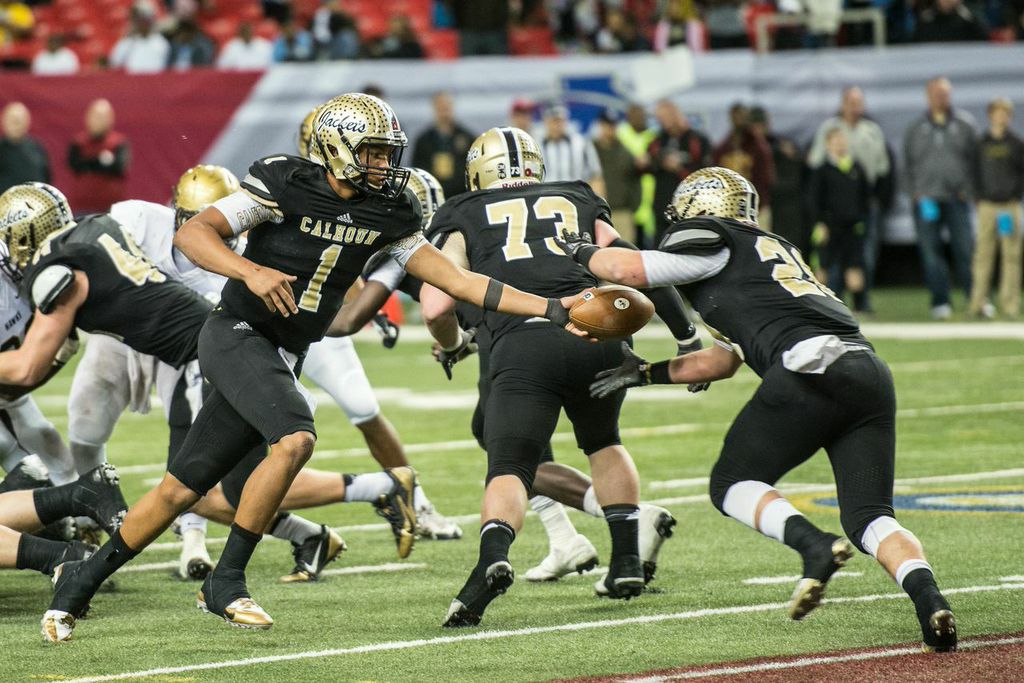 Photo by Jon Barash
Just a year removed from playing on the 2A level, the Yellow Jackets are able to capture the GHSA state title for 3A with a 27-20 win over Washington County. It truly was a four quarter battle and even needed some "trickeration" to win it.
The winning score came with 9:42 left in the fourth quarter, when the Yellow Jackets dialed up the double-reverse pass from sophomore backup quarterback Braylon Spector (lined up as a wide receiver) to senior wide receiver Carson Brown for the 40 yard touchdown.
Washington County led 17-14 at the half and their quarterback/Georgia Tech commit AJ Gray had accounted for 136 yards of total offense. He would finish the game with 219 yards rushing/passing combined.
Calhoun head coach Hal Lamb believes that his defensive staff did a great job limiting this game changing player.
"He hurt us with the pass a little bit," Lamb said. "We'd rather him throw it than run it, that's for sure. I thought our defensive staff did a great job."
It wasn't until junior quarterback Kaelan Riley ran in an 18 yard touchdown in the third quarter, for Calhoun to get their first lead of the game. That would make it 20-17 after the missed extra point.
Riley says the sideline remained calm, even when they were faced with terrible field position having to punt from deep inside their own end zone, with the game tied at 20 in the third quarter.
"That's been our theme all year," Riley said. "Got to respond, got get up, and got to hit them back. We weren't doing it in the first half. We were just taking it. I think that second half that's what we're all about, we're a four quarter football team."
If you were expecting either team to run away with this game, Riley would have been quick to shut down that idea.
"We knew it was going to be tough, we knew this was going to be a football game that we had to come out here and win," Riley said. "We just knew we couldn't go out make mistakes and give it away. I told (junior running back/linebacker) Jireh (Wilson) before we walked out on the field, 'if they win this game, they're going to have to take this from our cold dead hands.'"
This is Calhoun's first state title since winning on the 2A level in 2011. Before that, they hadn't won a state title since their very first one in 1952.