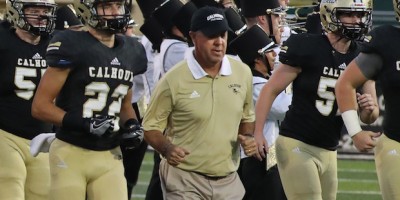 Photo courtesy of J. Lane Bearden
The Calhoun Yellow Jackets won the fourth state title in school history, third under coach Hal Lamb, as they defeated second-ranked Peach County on Friday in the Class AAA championship game at Mercedes-Benz Stadium. Calhoun, ranked fourth at the end of the season, had been nearly written off as a state championship hopeful after being routed by Class AAAA Cartersville earlier in the year.
The Yellow Jackets were glad to prove the doubters wrong.
"Nobody really gave us a chance to really get here," Lamb said. "Nobody gave us a chance against Cedar Grove and nobody really gave us a chance tonight. But, our kids believed that we could win and they practiced hard enough to win. I can't say enough about our kids and our coaches. It's a tremendous win for our football team."
"Everyone doubted us this whole season," added junior cornerback Brannon Spector. "No one thought that we could do it but we are here and we are state champs."
The game was a defensive battle and neither team scored a touchdown on offense. Calhoun took a 10-0 lead at the 9:30 mark of the third quarter before Peach scrambled back to within four points, 10-6, with 5:52 left in the game.
Peach's six points came from Mitchell Fineran field goals of 50 and 37 yards. Calhoun's 10 came from an interception return from Spector in which he returned it 45 yards for a score with 23 seconds remaining in the first half and a 34-yard field goal from Elmer Gutierrez.
"The play before, it was an out-route and a curl," Spector said of his interception. "I sat on the first one and then made a play, found my hands on the ball and took it to the house."
The game did not end without controversy, however. With 3:40 left and Peach facing a fourth-and-8 from the Calhoun 21, Gilbert passed to Noah Whittington at the 6-yard line. Whittington made the catch, cradled the ball in his arms and took four steps with a Calhoun defender trying to bring him down before diving with an outstretched arm toward the goal line. The ground caused the ball to pop loose and roll into the end zone.
An official, who was standing next to the play, ruled it was an incomplete pass.
The apparent touchdown and extra point would have given Peach a 13-10 lead with just a few minutes remaining.
The Peach County sidelines erupted at the call, with Campbell and his assistants pointing to the replay on the video board. When asked about the play after the game, Lamb addressed the call.
"Well, I don't really care about it," Lamb said. "[The referees] missed a few fumble calls that we [recovered] earlier in the game, so I guess it goes both ways."
The Yellow Jackets' stellar defense held Peach to just 170 yards of total offense while managing only 158. Calhoun had 65 yards on 29 rushes and was 13-of-26 passing for 93 yards. Spector finished the game with two rushes for 9 yards and three receptions for 25. Luke Moseley added two receptions for 28 yards.