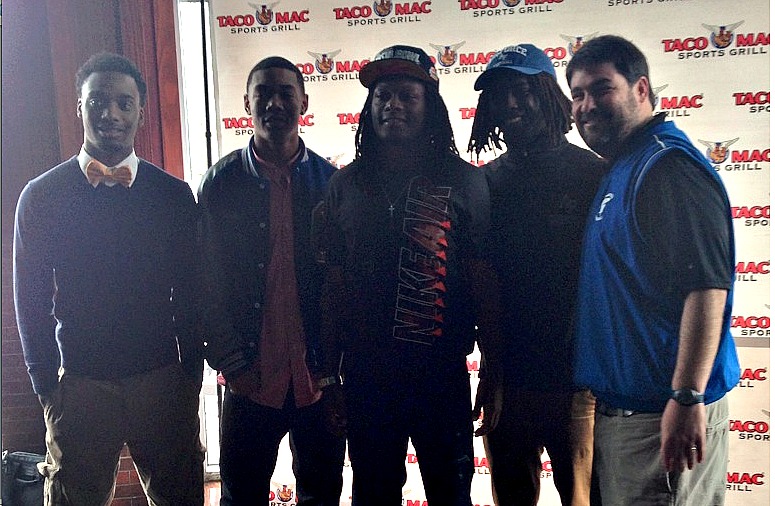 Football coaches do not usually get fired in late February, but Campbell principal Dr. I Denise Magee decided it was time to change directions on Monday and let go of head football coach Harris Rainbow after just three seasons.
"She [Dr. Magee] asked me to resign and I wouldn't because I'm not going to give up on our kids and I believe we've done a great job here," said Rainbow. "I told her if she wanted to fire me then she could and this was her decision not mine."
The unexpected news came the morning of the Cobb County Touchdown Club banquet, where Campbell safety/running back Mike Rogers (UCF-signee) received his 2013 MDJ Cobb County Player of the Year honors. Rainbow, who was an All-Cobb County lineman himself at Wheeler High School attended the banquet in support of his former players and their achievements.
The Campbell Spartans missed the playoffs last season, but Rogers' electrifying plays made him a household name and a promising 4-6 record brought excitement to the Smyrna school and the road ahead. Three seasons earlier, Campbell was 1-9 and averaged just eight points per game. Rainbow came in as the sixth head coach at Campbell since 2001 and improved to a 20 points per game average in 2012 and set a school record last season with a 29 points per game average. Two of the Spartans' losses this past season came by a combined five points. Rainbow improved Campbell's win total in each of his three seasons, and dedicated his time building a foundation at a school where he dismissed several players during his tenure.
"I think over the course of the last three years we've set the foundation of what is right and what is wrong and one of the things we've preached to our kids is doing the right things and our kids have bought into it," said Rainbow. "The kids that didn't do things the right way, not only did I have to let them go, but the kids on our team wouldn't put up with it anymore. … That is something Campbell should be proud of because the program is in the best shape it's been in in probably seven or eight years."
Dr. Magee agreed that the program was in much better shape since Rainbow took over, but decided change still needed to be made.
"She [Dr. Magee] told me yesterday [Monday] that I was doing a good job and our program is in much better standing from me being here," said Rainbow. "However, she said she wanted a change in direction and said we (have) to do program development better. When I asked her what program development was she could not tell me. She said she wanted to make a change and that we were going into a new region so it was a good time."
Campbell played in one of the best regions in the state last season with Class AAAAAA semifinalists McEachern and Hillgrove along with North Cobb, Marietta, South Cobb, Harrison, Kennesaw Mountain and Pebblebrook. Campbell's region for the 2014 season appears more favorable with Douglas County, East Coweta, Langston Hughes, Newnan, Pebblebrook, South Cobb and Westlake. Langston Hughes was the only team to make it out of the first round of the playoffs in 2013.
The next step for Rainbow could be a familiar one. Rainbow has taken five coaching jobs, all of which an 0-10 or 1-9 record the previous season.
"I've always taken over programs like Campbell and I love it," explained Rainbow. "Taking over a program where they haven't won anything to where they are competing at the highest level has been a wonderful thing."
Opportunities will be available across the state and Rainbow hopes to follow a path similar to another Cobb County coach that was fired last season. Ed Koester led South Cobb to a 7-3 record in 2012 only to be let go following the season. Koester took over South Paulding's program for 2013 and improved the team to a 10-2 record.
"There is no time to take off at this point," said Rainbow. "It would have been professional courtesy if she was going to do this [fire me] to do it in November but I will be looking for possible head coaching positions and, hopefully, just like in the past with coaches like Ed Koester last year, I land on my feet somewhere. … I have a beautiful wife and two great kids and wonderful friends and family and I feel well respected in the coaching world and that is what is most important. Life is not fair and, unfortunately, the decision of one has taken something great that we were building away from a lot of people at Campbell."
There is not way to tell at this point how many assistant coaches at the school will be coaching elsewhere next season now that Rainbow is gone, but it appears the Spartans could have a lot of new faces patrolling sideline this season.