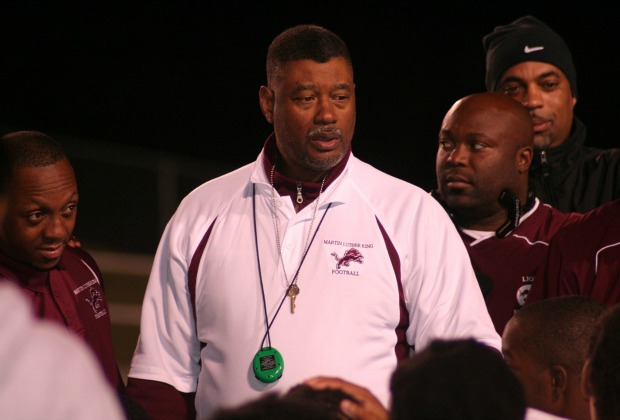 Michael Carson
Throughout his many years as a high school coach, Michael Carson built tremendous relationships with colleges across the country, helping many of his former players at Avondale and ML King further their education. Carson stepped down from his position at ML King just days before the 2012, but the game remained in his blood and he sought out a way to get back involved with football in the state of Georgia.
Carson looked around the south and realized that Atlanta was the perfect location for a prep school that could help the countless athletes that have the talent to play football at the next level but need help with grades. The former ML King coach decided to move forward with plans for the Georgia Prep Sports Academy.
"We're people who care about kids being educated and moving on," said Carson. "Our five-month program will be suited for kids that do not immediately meet requirement standards, especially test scores."
The Georgia Prep Sports Academy will be a "Grade 13″ according to Carson and will only be available for student-athletes that have graduated from high school. Current high school students will not be allowed to skip high school time to attend.
"Hopefully a program like this will extend opportunities to students that come out of high school but feel they don't have options," said Carson. "We'll give them hope."
Carson explained that if a student doesn't meet requirements out of high school, many times the student will be forced to attend a junior college long distances from home. The Georgia Prep Sports Academy recently entered a partnership with Morris Brown College to share facilities, allowing parents to come visit and watch the games.
"Our goal is to be the elite prep program in the southeastern United States," admitted Carson. "We want to be a total program to develop the total person."
In fact, Carson said the school won't simply be a football factory. Students will have a chance to mature, improve grades and learn life lessons such as time management skills.
"We are aiming to be a viable program for students that need that extra push," said Carson.
With National Signing Day approaching, Carson said he has been receiving calls to inquire about enrollment possibilities. The program is currently targeting 150 kids, but Carson will know more about the inaugural recruiting class after National Signing Day. Parents and students will have options on when to "sign" with the Georgia Prep Sports Academy, but Carson expects players to begin reporting Aug. 1. Classes will commence at the GPSA Aug. 20.
"We'll play a road schedule our first year, 11 or 12 games," predicted Carson, who will coach the football squad. "By the third year, we'll look into potential conference affiliations."
The new team would face opponents such as Hargraves and Fork Union, as well as JV programs of some colleges.
Carson also noted that the GPSA will initially begin with just football but eventually could expand to baseball and basketball, as well as, women's sports.
"This is a pilot for the state of Georgia," said Carson. "We want to give our student-athletes options and let them mature."