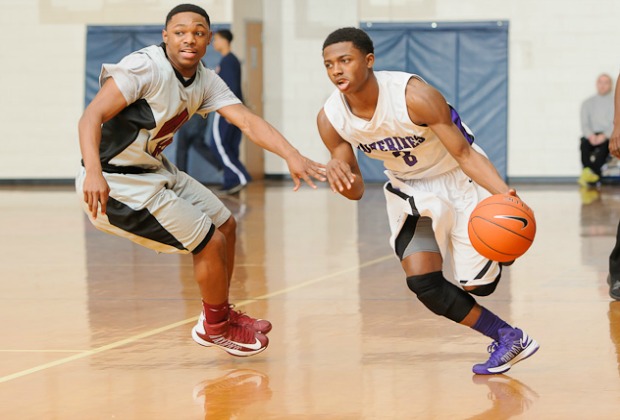 Ty Freeman
The Chattahoochee Cougars have been on a roll since late December as Markus Terry has helped Kacey Martin's squad to 12 straight victories and a new spot at No. 9 in the latest Class AAAAAA poll. Peachtree Ridge fell to No. 10 after losing to No. 3 Norcross and No. 5 North Gwinnett last week.
In Class AAAAA, Lithia Springs fell to No. 4 after suffering losses to New Manchester and Douglas County. Sequoyah fell to No. 7 after falling to North Springs. Evans moved up to No. 5 and Northside-Columbus debuted at No. 8 in the latest poll. Tucker re-entered the rankings at No. 10 while Northside-Warner Robins dropped out of the poll.
Class AAAA No. 6 Monroe dropped from No. 3 after falling to Terrell County.
In Class AAA, North Murray moved up to No. 7 after staying hot with two wins last week. Meanwhile, Dawson County dropped to No. 9 and Thomson dropped out after losing to No. 8 Washington County. Woodward Academy enters the poll at No. 10.
Class AA featured plenty of movement as Vidalia moved up to No. 2 as Manchester dropped to No. 3. Frank Booker is red hot and has made No. 5 Westside-Augusta the team you don't want to face in the postseason. Laney fell to No. 6 after Booker led Westside past the Wildcats last Friday. Dublin dropped to No. 9 after falling to Class A-Public No. 1 Wilkinson County. Taylor County dropped from the poll after falling to No. 4 Bleckley County. Pelham joins the rankings at No. 10 as the Hornets are heating up.
CLASS AAAAAA
1. Tift County
2. Shiloh
3. Norcross
4. Hillgrove
5. North Gwinnett
6. Westlake
7. North Cobb
8. Wheeler
9. Chattahoochee
10. Peachtree Ridge
CLASS AAAAA
1. Miller Grove
2. Allatoona
3. Effingham County
4. Lithia Springs
5. Evans
6. Mays
7. Sequoyah
8. Northside-Columbus
9. Mt. Zion-Jonesboro
10. Tucker
CLASS AAAA
1. Columbia
2. Eagle's Landing
3. Glenn Hills
4. Marist
5. Jonesboro
6. Monroe
7. South Atlanta
8. Statesboro
9. Grady
10. Westover
CLASS AAA
1. Cartersville
2. Buford
3. Johnson-Savannah
4. Savannah
5. North Hall
6. Morgan County
7. North Murray
8. Washington County
9. Dawson County
10. Woodward Academy
CLASS AA
1. GAC
2. Vidalia
3. Manchester
4. Bleckley County
5. Westside-Augusta
6. Laney
7. Calhoun
8. Dade County
9. Dublin
10. Pelham
CLASS A – Private
1. North Cobb Christian
2. W.D. Mohammed
3. Athens Christian
4. Greenforest Christian
5. Mt. Paran
6. Landmark Christian
7. Aquinas
8. Excel Christian
9. Holy Innocents'
10. Calvary Day
CLASS A – Public
1. Wilkinson County
2. Mitchell County
3. Wilcox County
4. Seminole County
5. Turner County
6. Portal
7. Treutlen
8. Stewart County
9. Dooly County
10. Hancock Central