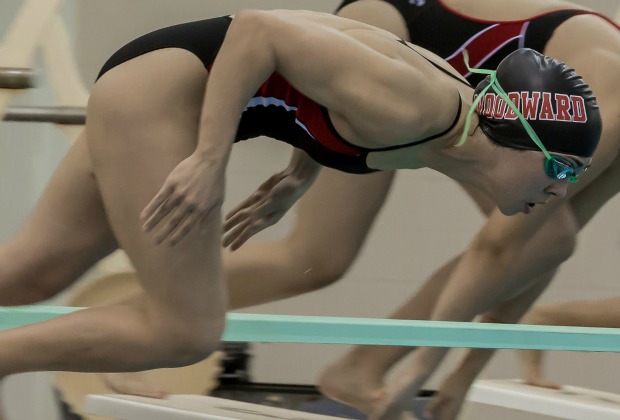 Kelsey Emerson
For years, some of the nation's best female swimmers have called Georgia home, including Olympians Amanda Weir, Kathleen Hersey and Kara Lynn Joyce. Once again, swimming enthusiasts will turn their gazes towards the Georgia Tech Aquatic Center to see another class of young ladies set fire to the pool and blaze their way to state titles.
While the A-AAAAA competition includes schools with some of the state's smallest enrollment numbers, plenty of standouts will be ready to compete. Wesleyan recently finished fifth at the Metro Atlanta Swimming and Diving Championships. Rachel Koch was one of the standouts for the Wolves, taking the 100 butterfly. In last year's championships, Koch finished fifth in the event. Wesleyan has won the last two boys titles, but the girls are looking for the program's first-ever GHSA swimming and diving crown.
The defending champion Westminster Wildcats ended Marist's run of five straight last season, but Westminster owns 20 crowns since 1963, including a run of six straight from 2001-1006. The Wildcats enter with some momentum after beating out Marist and Woodward Academy, among other programs that will be up for the A-AAAAA top prize in the recent Metro Championships.
Brookwood head coach Greg Puckett came away impressed by Westminster's Nicole Stafford at the Maddie Brown Invitational.
"(She) should be the favorite in the 200 free and 100 butterfly," said Puckett.
Woodward Academy will look to exact a measure of revenge after recent losses to Westminster. Expect Rebecca Justus and Caitlin Cooper to make some waves after each recent set a school record in the 100 butterfly and 100 backstroke, respectively. Cooper is also a threat in the 50 free, an event she won last year as a sophomore.
"I'd keep an eye out for Kathleen Cook," said Woodward Academy coach Kelsey Emerson. Cook is a freestyle specialist who placed in a number of events last year.
Two names to watch out for in the diving competition are Marist seniors Andrea Demick, who finished second last year, and Taylor Gould, who finished third.