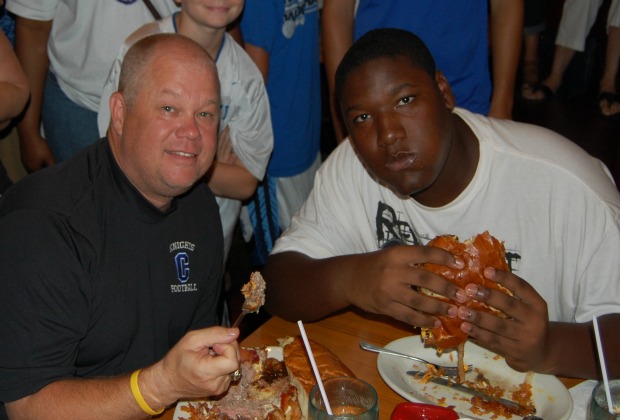 Centennial High School
New Centennial football coach Jeffrey Carlberg is quickly putting his fingerprints all over the Knights program, and he has invited Score along for the ride during his first year at the helm. Here are highlights from last weekend.
Practice has begun as we are just weeks away from a scrimmage at Marist and then the season opener at Roswell. Two seniors have been picked as permanent team captains for this season. Quarterback Chase Rosenberg and linebacker Ryan Bennett will be full-time captains and the team will vote each week on two additional players to serve for that game.
It hasn't been all work and no play this summer for Centennial. The key to a successful football program is finding the right balance between focusing on football and enjoying football. With this in mind, one of our biggest and most important pieces on the offensive line Vincent Calhoun and I took part in a burger eating contest Saturday at Lucky's Burger and Brew. We faced off against representatives from other schools such as Blessed Trinity, Roswell and King's Ridge with the six-pound "Grim Reaper" burger serving as the main course. Vincent destroyed both the burger as well as the competition, and Lucky's donated $500 to our program.
The burger was really good but I still was not hungry as of Monday. Overall the contest was fun, yet painful.