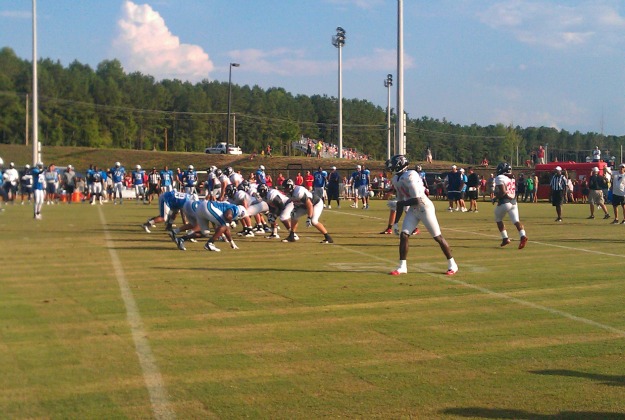 Brian Jones
When two NFL teams want to practice together during training camp, they usually go to one of the team's practice facilities for a day or two. The Falcons and Titans did something different on Monday as they practiced together at Coahulla Creek High School, located in Dalton.
"It was a good day of work," Falcons head coach Mike Smith said. "It was very productive and I can't tell you how much I enjoyed it. I hope the Titans fell the same way."
The joint workout with the Titians was not like the Friday Night Lights event at Peachtree Ridge. It was more like a routine practice for the Falcons, but the only difference was they were going up against a different team which is always good for the players who have been banging each others heads for the last week and a half.
"It was good for us to communicate against a different defense that features different looks," Matt Ryan said talking about the Falcons' offense going against the Titans' defense. "I think that was really productive for us."
This event was able to come together thanks to in large part of Danny Hayes who is the Superintendent of Whitfield County Schools. Hayes, who coached with Smith at Tennessee Tech years back, saw a past Friday Night Lights event and wanted Smith and the Falcons to take the show on the road.
"It sparked an idea in my mind that it would be something we could do," Smith said. "Coach Munchak and I had conversations last year about maybe working against each other. We had the lockout so we weren't able to do that. Danny kind of set this thing in motion."
One of the goals the Falcons wanted to achieve coming out of this scrimmage is getting better. On offense, the passing game was on point as Ryan has no problems finding Roddy White, Julio Jones and Tony Gonzalez on 7-on-7 and 11-on-11 drills.
"We'll have a better understanding of it when we watch the tape," Ryan said talking about the things they wanted to get better at during the joint workout. "For the most part we wanted to come out and make sure we were on top of our assignments."
On the flip side, the Falcons' defense was able to make some players against a Titans offense that is in a midst of a quarterback competition between Matt Hasselbeck and Jake Locker. Hasselbeck got the majority of the snaps with the first-team offense and there was one group of guys on the Falcons defense that stood out to him.
"They got a big D-line," Hasselbeck said. "I was trying to find a lane to throw through those guys. They're very big up front."
Hasselbeck also said the Falcons are a team that does things right when it comes to preparing for the season.
"Good teams know how to practice without pads, which usually means they know how to practice with pads," Hasselbeck added. "You can tell Atlanta is a good team,"
The Falcons not only know how to practice, they know how to please the fans as the players went to sign autographs after practice and some even took pictures. And like the Friday Night Lights event, the players had fun and would love to come up to Dalton again in the near future.
"We had a great time today," Ryan said. "The drive up was fun. It's beautiful up here and we're thankful so many people showed up to cheer us on."
The fans will have another opportunity to cheer the Falcons this week when they face the Baltimore Ravens in the first preseason game of the year. The game will kickoff 7:30 at the Georgia Dome.