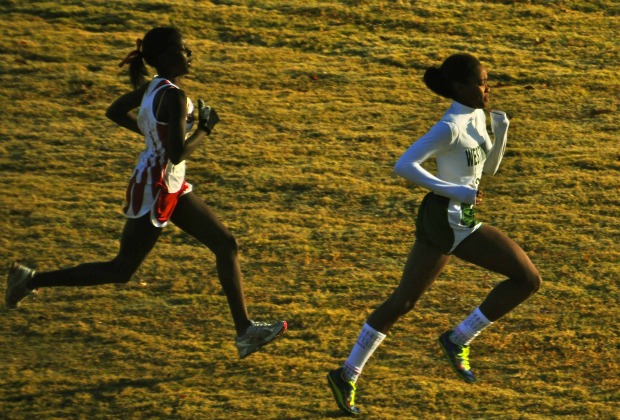 Tami McQueen
Class AAAAAA No. 8 Centennial won the boys race at the Asics Invitational at Alexander Saturday. The Knights were led by Mitchell Smith, who came in sixth. Mitchell Narro of Alpharetta won the individual meet. Alpharetta placed second.
The Centennial girls, also ranked No. 8, won the girls meet at Alexander while No. 4 Roswell came in second. Emily Dunn of Allatoona won the overall race while Rachel Thorne of Alpharetta came in second. Centennial had three runners finish in the top 10.
Stone Mountain's Abel Abay won the Class A-AAAA race at the Asics Invitational while Mount Paran's Joey Carr placed second. Class AAA No. 5 Oconee County won the race while Columbus came in second and Class AAAA No. 5 Sandy Creek came in third.
Landmark Christian Kathryn Foreman won her fifth meet of the season in the Class A-AAAA girls race at the Asics Invitational. The Class A No. 1 Eagles won the race and saw fellow Eagle Lindsay Long finish second. Class AAA No. 1 St. Pius came in second.
Etowah won the boys Cherokee County Championships in Canton Saturday at the Eagles placed seven runners in the top 15 of the meet. J.C. Cornett and Owen Bailey of Woodstock finished first and second place, respectively, at the meet.
The Woodstock girls placed five harriers in the top 10 at the Cherokee County Championships and were led by Alexandra Melehan, who finished first, and Morgan O'Toole, who came in second.