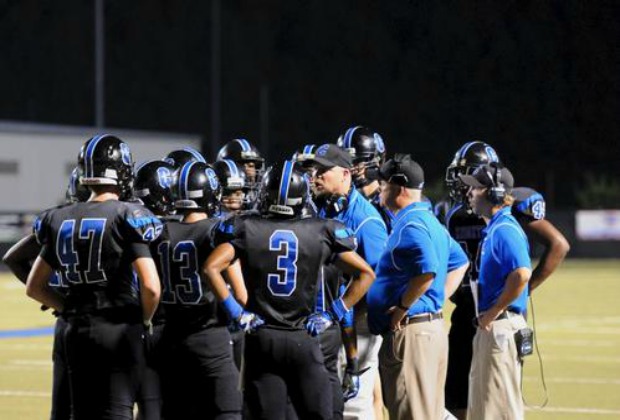 Photo by Elisa Herring
NORTH TEAM…
This year's North roster represents a dozen schools (Alpharetta, Cambridge, Forsyth Central, Johns Creek, King's Ridge, Lambert, North Georgia, North Forsyth, Northview, South Forsyth, St. Francis, West Forsyth) and houses an arsenal of playmakers on both sides of the football for North head coach Jeff Pickren. The nine-year varsity head coach led King's Ridge through a grueling Class A schedule this season that featured just two opponents with losing records. Starring for the North team are linebacker Brett Larkin, defensive back Matt Cira and defensive lineman Zach Martin (All Region 6-AAAAAA defensive standouts). This trio will represent South Forsyth at each level of the defense.
North Forsyth linebackers Jerrett Paige and Joshua Petz each recorded more than 50 solo tackles this season and add to a deep North linebacking corps. Paige is a track star of the gridiron and uses his speed to make plays. Lambert linebacker Zach Matthews is an-other tackling machine and combined for 102 total tackles and recorded sacks against North Forsyth, Alpharetta, Chattahoochee and West Forsyth this year. Matthews is a first-team All Region selection and will be joined by Longhorns' teammate Dillon Alexander, who paced Lambert with 10.0 sacks and a team-high 12.5 tackles for loss this season.
South Forsyth defensive end Tyler Crawford earned honorable mention Region 6-AAAAAA this season. West Forsyth defensive backs Justin Rosenblum and Jordan Harris had outstanding seasons. Rosenblum recorded 32 solo tackles and hauled in an interception against Alpharetta while Harris had five interceptions and recovered three fumbles, including one for a touchdown against Alpharetta. Lambert's Jordyn Jean-Felix is another ball-hawkingdefensive back and recorded five interceptions and forced and recovered a pair of fumbles this season. Brett Anderson (West Forsyth) will join 6-foot-3, 301-pound defensive tackle Chris Bryant (King's Ridge Christian) in the trenches. Johns Creek tackle Devon Howard also adds size to the North defensive front and stands 6-foot-2, 295-pounds. Howard received an offer from Kennesaw State in August.
North Forsyth lineman Lenny Bishop recorded sacks in wins against Dawson County, Cherokee and South Forsyth this season. Offensively, North Georgia running back Austin Rothenberger is dynamic carrying or catching the football. In a 47-7 win over the Augusta Eagles, Rothenberger tallied 53 rushing yards and a touchdown and added 75 receiving yards and a score. King's Ridge running back Connor Henderson ran for three touchdowns against Walker and turned in a two-touchdown performance over Pinecrest Academy. St. Francis running back Jonah Huff bulldozes his way into the endzone at 6-foot, 210 pounds. Forsyth Central running back Jake Gorczyca rushed for 152 yards and a touch-down off 19 carries (8.0 yards per rush) in the Bulldogs' 35-22 win over North Springs.
South Forsyth running back Isaiah Williams is All Region 6-AAAAAA first team. In the War Eagles' 31-24 win over Chattahoochee, South Forsyth ran the ball 40 consecutive plays behind Wil-liams, who led the way with 130 rushing yards. Tall and athletically-gifted wideouts stac this roster. Northview's 6-foot-2 wideout Connor Seagraves tallied at least 59 yards receiv-ing in five of the Titans' first six games this season. South Forsyth's All Region 6-AAAAAA athlete Sam Walker catch and run effectively with the football and stands 6-foot-4, 220 pounds. Walker has offers from Air Force and Georgia State. Six-foot-three Forsyth Central receiver Jeremiah Jones will have his quarter-back Michael Branigan throwing to him. Branigan is a dual-threat passer that can extend plays with his legs. Dakota Gottberg from North Forsyth will also quarterback the North team.
Gottberg completed all five of his passes for 110 yards and a touchdown in the Raiders' 28-24 win over Centennial and aired it out in a 17-12 win over South Forsyth, finishing 16 of 24 passing for 300 yards and a pair of touchdowns. Northview offensive linemen Matthew Clover (6-foot-5) and Hank Clayman (6-foot-3) will protect the North quarterbacks as will Alpharetta's duo of linemen, Christopher Wag-ner and Zach Maikos. Both Raiders' earned 2nd team All-region 6-AAAAAA. South Forsyth offensive lineman Kyle Watford earned first-team all-region and committed to Air Force in November. At special teams, All Region 6-AAAAAA long-snapper Davis Winkie (South Forsyth) will be snapping to West Forsyth kicker Timmy Hartshorn.
SOUTH TEAM…
Like the north squad, the south team is composed of players from 12 schools. Each of the South squad players is from a high school located in northern Fulton County, as are the coaches. Riverwood coach Robert Ingram is the head coach of the South squad and will be assisted by coordinators Pete DeWeese of Milton (defense) and Tim Ewing of Blessed Trinity (offense.) Ingram's Riverwood squad made the playoffs this season for the first time in his six years at the program. Ingram hails from Miller County, where he started for the Pirates on the offensive line. His father, Alan, is currently the head coach at Seminole County.
DeWeese coordinates the defense at Milton under coach Howie DeCristofaro. Milton went 8-3 this season with a second-place finish in Region 5-AAAAAA. The Eagles' defense held five opponents to less than two touchdowns, including three that scored less than 10. DeWeese is an Ole Miss graduate and has been coaching high school football since 2005. Ewing helped lead Blessed Trinity to a 9-4 record and an appearance in the Class AAA quarterfinals. The Titans won six consecutive games from the end of the regular season through the playoffs before a quarterfinals loss to eventual-finalist Washington County.
Ewing's offense scored 30 or more points five times and scored more than 20 points in each of its last 10 games. Blessed Trinity's Carter McManes, who was the team's emotional leader according to head coach Tim McFarlin, was named defensive player of the week by the North Fulton/Forsyth Touchdown Club after the season-opening shutout win over Westminster. Laterin the year, the Northside Neighbor named McManes its athlete of the week for the week of Oct. 2. McManes balanced his on-the-field responsibilities with school and taking care of his mother, who was undergoing cancer treatment at the time. Centennial wide receiver Christian Robinson was named a finalist for the Atlanta Journal Constitution's Super 11, a list of the top senior players in the state. Robinson led the Knights with 966 receiving yards. Also on the South squad from Centennial are Elijah Colon, Stefan Young and Devin O'Neill. Holy Innocents' enjoyed one of its most successful seasons ever this year.
The Golden Bears finished at No. 7 in the final Score Atlanta Class A-Private rankings and made the quarterfinals of the state playoffs. Clay Pfohl and the Bears beat Landmark Christian twice in a row to first clinch a playoff berth, then advance to the quarterfinals. The 5-foot-11 running back was named athlete of the week for the week of Dec. 5 by the Northside Neighbor after rushing for 121 and 135 yards, respectively, in the wins over Landmark Christian. Riverwood leads the south squad with a whopping 11 players on the roster. Eight of these Raiders were named to the all-Region 7B-AAAAA team, led by quarterback Grant Drakeford, who was named the region's of-fensive player of the year.
Defensive lineman Will Baynes made first-team defense as did defensive back Kendall Morrison and defensive lineman Connor Stewart. Offensive line-men Zachary Feldman and Kory Gilliam were named first-team offense as was wide receiver Stetson Mayes. Linebacker Izaiah Lackey made second-team all-region. Roswell has 10 players on the team while Blessed Trinity will dress out seven. The Hor-nets improved to 4-6 this season under new head coach John Ford, who had Roswell sitting pretty until ending the season on a three-game losing streak. Quarterback Matt Cory led the Hornets to a Mayor's Cup victory over city-rival Cen-tennial in the season-opener. The 39-30 win included three touchdown passes by Cory.
Kicker Shavi Bash was consistent all year for the Hornets, and kicked two field goals in the win over the Knights. In a 41-24 win over Johns Creek in Week 3, Cory connected with fellow Chamber Bowl-participant Colin McCaulley for a nine-yard touchdown pass. Chattahoochee's Kieron Ashley scored on a five-yard run on the opening drive of the season in the Metro PCS Corky Kell Classic, and didn't loom back. Ashley had a successful senior year for the Cougars, which were in the first year under head coach Mike Owens, who is an assistant coach in the Chamber Bowl.