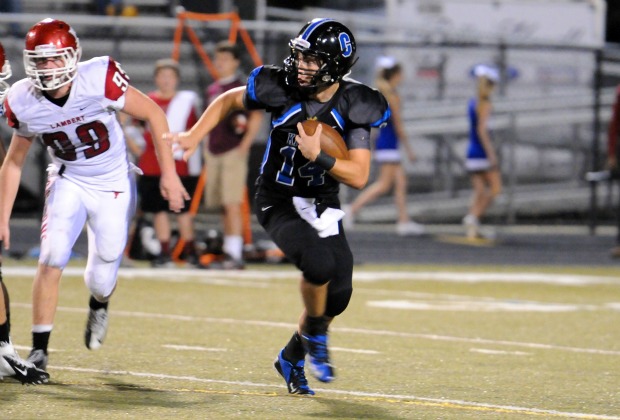 Elisa Herring
For a number of seniors in the North Fulton and Forsyth County area, the football season is not over quite yet. They will get a chance to showcase their talents in the Dec. 22 Chamber Bowl, an annual All-Star Game that will be held this year at Lambert High School in Suwanee.
In a battle between North and South teams, the South squad is made up of players from 11 different high schools. Leading the way are Chattahoochee and Roswell, which have 11 representatives apiece on the South roster-also more than any other school on the North side.
Roswell finished a disappointing 3-7 as part of a tough Region 5-AAAAAA, but three of their losses came by three points or fewer. Only one of their seven setbacks came by more than 14 points. Offensive skill players for Roswell who will take part this weekend include quarterback Ryan Monty, running back Andrew Kwateng and wide receiver Bennett Barton. Monty completed 101 of 154 passes for 1,585 yards and 12 touchdowns with only two interceptions. Kwateng rushed for 1,458 yards and 10 touchdowns, while Barton hauled in 42 passes for 742 yards and seven scores. Linebacker Grant Beidel, who should be a factor at linebacker in the Chamber Bowl, led the team with 100 tackles, three interceptions and four sacks. Also looking to wrap up his high school football campaign on a high note is defensive back Alex Brandeis, who also snagged a team-high three interceptions to go along with 82 tackles.
Chattahoochee went 7-3 in the regular season before falling to Norcross in the first round of the Class AAAAAA playoffs. Myles Hill, who starred for the Cougars at both wide receiver and safety, was named North Fulton Forsyth Touchdown Club Defensive Player of the Week in early November after his performance in a 48-14 win over Lambert. Offensive lineman Brandon Keith is Chattahoochee's only offensive player in the Chamber Bowl who was named to an All-Region Team in 6-AAAAAA. Defensive end Majeed Bilal and safety Josh Hearn are first-team All-Region performers that the South squad will be happy to utilize.
The final playoff spot out of that region came down to Chattahoochee and Centennial, which has 10 players on the South roster. The Knights fell 33-20 to end their season, but that won't be the last time quarterback Chase Rosenberg sees the field in high school. One of four quarterbacks for the South, Rosenberg threw for 2,296 yards and 18 touchdowns. Three of Centennial's defensive standouts will also be back in action. Defensive end Lorenzo McWilliams had seven sacks while defensive backs Kola Balogun and Cory Grimes both picked off three passes.
Two more quarterbacks on the roster are Blessed Trinity's Spencer McManes and Holy Spirit Prep's Sean O'Connell. McManes accounted for 18 total touchdowns (five on the ground) while pacing the Titans to a 9-3 record. O'Connell played both ways at Holy Spirit, also featuring prominently on defense at safety.
Among the other players to watch on the South side is North Springs' Xavier Landers, who can line up at both tight end and wide receiver. Landers played football his freshman year, but then sat out two seasons to focus on ROTC training before returning to the gridiron as a senior. The Spartans have not won a non-forfeited game since 2008, but their biggest offensive weapon will have a chance to go out in victorious fashion on Saturday.
Also keep an eye on the Riverwood Raiders, who boast 10 players on the South roster. Three were named to the All-Region Team in 7B-AAAAA: offensive tackle Zach Kilgore, wideout Jonathan Goodson and defensive end William Holiday. At Holy Innocents', running back Stephen Williams knows a thing or two about following the blocks provided by center Grant Gosden. They will team up one more time on Saturday.
Thirteen coaches, at least one from each of the schools with player representatives, will lead the South squad on Saturday. Head coaches on the South roster are Terry Crowder of Chattahoochee, Ryan Livezey of Holy Innocents', Doug Dixon of Mount Pisgah Christian, Hunter Chadwick of Fellowship Christian and Jeff Carlberg of Centennial.