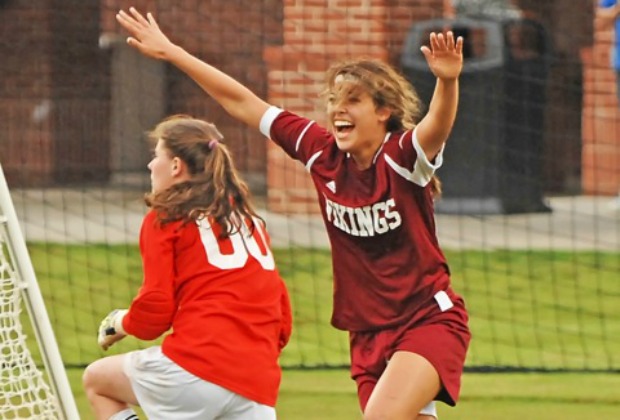 Sonny Kennedy
The girls soccer playoffs crowned six outright champions for the first time in the history of the GHSA. In 2006, six teams claimed championships but Blessed Trinity and Westminster split the Class AAA title while Holy Innocents' and Savannah Country Day shared the Class AA/A title.
In Class AAAAAA, No. 1 Parkview beat No. 2 Harrison as the top two teams from the final regular season rankings met for the title. No. 3 Brookwood, No. 4 South Forsyth and No. 5 Lassiter round out the top five. Lowndes jumped up from No. 10 to No. 6 after a run to the quarterfinals, with No. 7 Tift County and No. 8 Hillgrove also finishing in the final poll. Walton and Mill Creek round out the top 10.
Whitewater entered the playoffs as the No. 1 team in Class AAAAA but fell to new No. 1 Northgate in the finals. Whitewater fell to No. 2 in the final poll. McIntosh, Starr's Mill and Northview round out the top five. Pope sits at No. 6 in the final poll after a run by the Greyhounds to the quarterfinals, including a victory over No. 10 Flowery Branch. Riverwood and Allatoona finish Nos. 7 and 8, respectively while No. 9 Lakeside-DeKalb fell in the second round.
Marist took home the Class AAAA title to stay atop the final rankings after entering the postseason with the No. 1 rankings. Columbus beat No. 9 Grady, No. 7 Wayne County and No. 3 Veterans to finish the year No. 2. No. 4 Heritage-Catoosa gave Marist its closest game of the playoffs until Columbus in the finals. No. 6 River Ridge beat No. 10 Lanier in the second round.
In Class AAA, St. Pius X won the state title and finishes the year No. 1. Blessed Trinity slipped to No. 2 in the last poll of the year. Buford, Woodward Academy and Chapel Hill round out the top five. No. 6 Pike County topped No. 10 Pierce County 2-1 in the second round before falling to No. 4 Woodward Academy in the quarterfinals.
Defending Class AA champion Greater Atlanta Christian attempted to rally back against Westminster in the state finals, but the Wildcats held off the Spartans and finished No. 1. No. 3 Lovett and No. 4 Wesleyan also made the semifinals. No. 9 Oglethorpe County had a strong regular season but fell to Lovett in the second round. No. 10 Thomasville lost to No. 7 Vidalia in the second round.
Paideia entered the playoffs as the No. 6 team in the state, but claimed the title with a victory over No. 2 Fellowship Christian to finish the year No. 1. Paideia also eliminated No. 3 First Presbyterian Day, No. 5 Holy Innocents' and No. 10 Providence Christian during the 2013 postseason. Fellowship Christian beat out No. 9 Mount Paran, No. 6 Hebron Christian and No. 4 Aquinas to reach the finals.
Class AAAAAA
1. Parkview
2. Harrison
3. Brookwood
4. South Forsyth
5. Lassiter
6. Lowndes
7. Tift County
8. Hillgrove
9. Walton
10.Mill Creek
Class AAAAA
1. Northgate
2. Whitewater
3. McIntosh
4. Starr's Mill
5. Northview
6. Pope
7. Riverwood
8. Allatoona
9. Lakeside-DeKalb
10.Flowery Branch
Class AAAA
1. Marist
2. Columbus
3. Veterans
4. Heritage-Catoosa
5. Cairo
6. River Ridge
7. Wayne County
8. Locust Grove
9. Grady
10.Lanier
Class AAA
1. St. Pius X
2. Blessed Trinity
3. Buford
4. Woodward Academy
5. Chapel Hill
6. Pike County
7. Central-Carroll
8. Savannah Arts
9. Lakeview-Fort Oglethorpe
10.Pierce County
Class AA
1. Westminster
2. Greater Atlanta Christian
3. Lovett
4. Wesleyan
5. St. Vincent's Academy
6. Putnam County
7. Vidalia
8. Dublin
9. Oglethorpe County
10.Thomasville
Class A
1. Paideia
2. Fellowship Christian
3. First Presbyterian Day
4. Aquinas
5. Holy Innocents'
6. Hebron Christian
7. Calvary Day
8. Savannah Country Day
9. Mt. Paran
10.Providence Christian