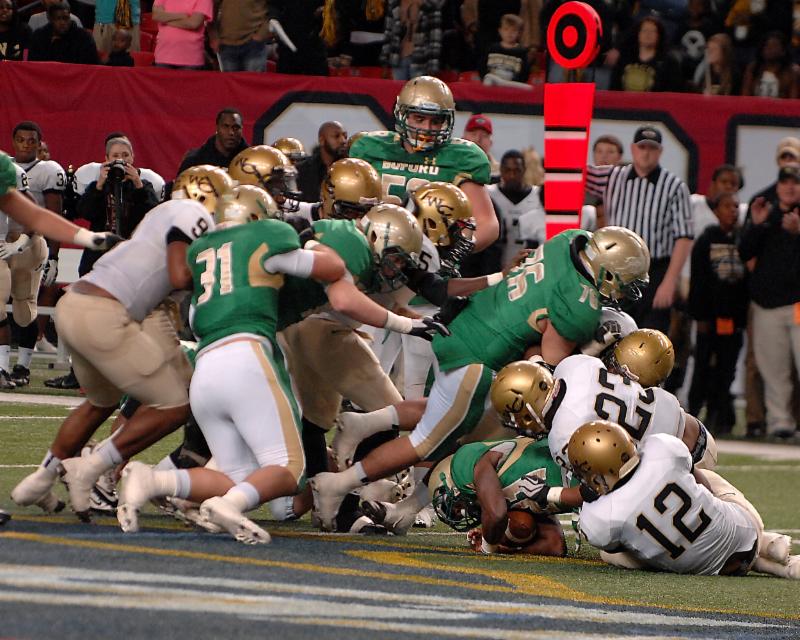 Photo by Sonny Kennedy
BUFORD 14-0, REGION 8 NO. 1 SEED
The more things change, the more they stay the same; at least thatis one win away from continuing to be the case for Buford. Unquestionably the most well-established football dynasty going in Georgia, Buford captured four state championships in its last five years in Class AA, with its only blemish coming via an overtime loss to Calhoun in the 2011 final. The Wolves moved up to Class AAA and promptly won it all in both 2012 and 2013. Now making their debut in Class AAAA, they have remained dominant. Buford boasts a 27-20 victory over McEachern, a semifinalist in the state's highest classification, and no other in-state opponent has come closer than a three-touchdown margin. The string of overwhelming performances includes playoff defeats of Southeast Whitfield (63-0), Mary Persons (35-14), Marist (30-6) and Cartersville (27-3). Buford is crushing its 2014 adversaries by an average of 36 points per game and has five wins by more than 50 points.The team has posted six shutouts, has limited 10 opponents to single digits and nobody other than McEachern has managed to put up morethan 14 points. Cartersville mustered only a field goal and was held to a mere 66 yards in the first half (193 in the game) after previouslyaveraging more than 41 points per game. A dominant, opportunistic defense helped the Wolves own the field-position battle and start allfour of their touchdown drives at no worse than the Purple Hurricanes'41-yard line. Joshua Johnson had a trio of one-yard scoring runs, Jordan Perlotte tacked on the exclamation point from two yards out and Evyn Cooper was Buford's leading rusher with 99 yards. Complimenting a deep backfield, Luke Humphrey can also pull the trigger throughthe air. During the win over Marist he threw for 172 yards and tosseda 22-yard touchdown to heralded tight end Isaac Nauta. Head Coach has a career record of 137-18 and that includes a 0-10 mark his firstyear and only year as the head man at East Paulding.
ST. PIUS X: 12-2, REGION 6 NO. 1 SEED
St. Pius knows a thing or two about turning the tide on familiar foesand this will be another revenge game of sorts for the team. The Golden Lions' most recent state championship appearance came in 2012against none other than Buford, which triumphed 10-3 in that ClassAAA showdown. They will hope to inflict some payback on Buford,just like they did on Woodward Academy in the semifinals. This 2014 campaign got off to an extremely slow start for St. Pius, which lost its first two games by more than 20 points apiece (42-20 to Blessed Trinity and 42-21 to Woodward). The War Eagles, however, ran into a much different opponent last Friday, even though for much of the contest a similar outcome to that of the regular-season clash seemed to be in the cards. With the benefit of home-field advantage thanks to a victorious coin toss, St. Pius erased all of a 21-7 deficit heading into the fourth quarter. The Golden Lions scored 21 unanswered points to prevail 28-21. Joey Connors, now a running back after beginning the year as the team's quarterback, delivered the game-winner with 47 seconds remaining via a 30-yard scamper. He finished with 10 carries for 124 yards. Surviving close encounters is nothing new for St.Pius, which may be an advantageous factor in advance of a date with Buford given that the Wolves are not exactly candidates to ever get blown out. In addition to the quarterfinal thriller, the Golden Lions' 12-game winning streak includes a 31-28 victory over Grady and a 10-9defensive struggle with Marist. At the same time, their playoff run has also featured more routine wins over Fayette County (24-0), East-side (52-20) and West Laurens (31-13). Run-heavy St. Pius has beenled by Connors, Dalton Wilson, Ransom Klinger, Grant Holloman and quarterback Reed Egan. The Golden Lions are one of the oldest private schools in the metro Atlanta area (1958) and have had only eight head coaches in their history.
THE SKINNY…
Buford is making an eighth consecutive appearance in the state final. St. Pius is looking for its second championship and first since 1968. While that maynot be an extensive history of titles, the Golden Lions have been consistently solid of late. They have not been bounced out of the playoffs prior to the quar-terfinals since 2010. With neither team afraid to pound the ball on the ground, the outcome of this one could be decided in the trenches. Buford's defense, led in part by defensive tackle Quay Picou and linebacker Austin Smith, held Marist's ballyhooed rushing attack to just 81 yards. St. Pius must shore thingsup against the run after watching Woodward's Elijah Holyfield go for 186 yards on 22 carries. Running back Joey Connors will likely have to make big playsboth on offense and from his safety position if the Golden Lions want to pull off an upset. The teams have only played three times with Buford winning thelast matchup in the Class AAA finals in 2012.