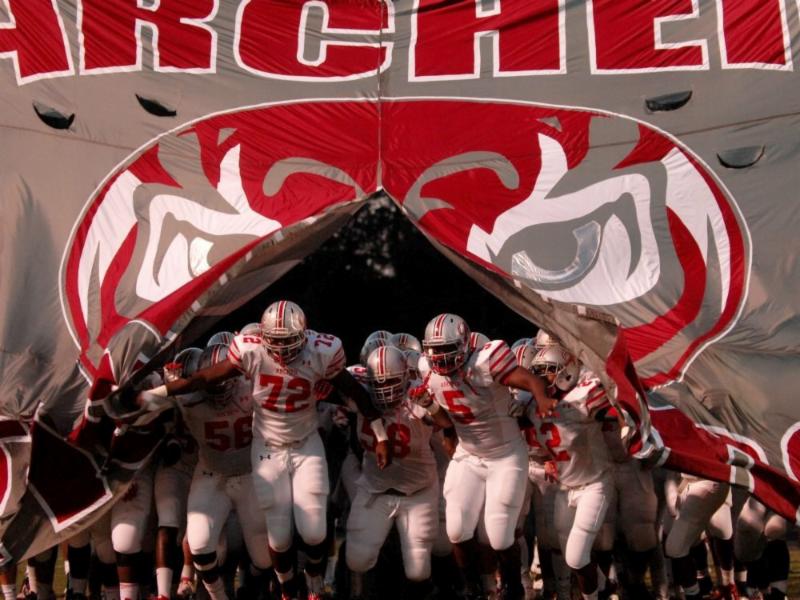 Photo by Sonny Kennedy
ARCHER 11-3, REGION 8 NO. 1 SEED
Archer is in just its fifth full varsity season and will make its first finals appearance in school history on Saturday. The Tigers were 11-0 last year before they were served a heartbreaking 34-32 exit by North Gwinnett in the second round and looked to avenge the loss this season with a team that returned the majority of its starters. Despite all the talent dotting the roster, Archer fell short in three consecutive one-possession games to start this season and wore a 0-3 record. This slow start has been followed by 11 straight wins and a 30.5-point average margin of victory along the way. In the playoffs, Archer has obliterated its four opponents by a combined 147 points. Gabe Tiller quarterbacks Archer and is the key to getting the football to its deep cast of play-makers. Juniors Kyle Davis and Dylan Singleton can score in a variety of ways and have shared the spotlight well this season. In Archer's 52-7 win over Etowah in the semifinals, Davis caught a 70-yard touchdown pass on Archer's first play from scrimmage. Tiller dove in for Archer's second touchdown and found Singleton for a passing touchdown less than a minute later before Singleton ran in a touchdown and returned an interception for a touchdown to make it 34-0. Singleton returned a punt for a touchdown during his three -touchdown performance in the quarterfinals. Sophomore Jameyst Williams is another big-play threat for Archer and he added a 42-yard touchdown run in the win over Etowah and two touchdowns in the quarterfinal rout over Hillgrove. Running back Randy Nails and South Carolina-commit and tight end Connor Redmond add more dependable playmakers for head coach Andy Dyer to call upon. Defensively, Archer has held five opponents to seven points or less and allows 16.6 points per game. The Tigers look to become the second-youngest school to ever to win a state football title as they opened their doors in 2009.
COLQUITT COUNT 14-0, REGION 1 NO. 1 SEED
Colquitt County dominated McEachern 57-20 last Friday in what marked the Packers' sixth straight semifinal appearance. The victory advanced the Packers into the finals for the first time since 2010. Head coach Rush Propst won five state titles at Hoover High School in Alabama but still searches for his first state crown in Georgia and what would be the Colquitt County's first championship in 20 years. The Packers defeated Hoover earlier this season as the Alabama dynasty then went on and won another state championship last weekend. The Packers are led by an explosive offense that averages 47.1 points per game. In the semifinals, Colquitt County's Ty'kerious 'Grump' Jones returned a kickoff for a touchdown and the offense had just one touch-down in the first half before catching fire. In the second half, the unit exploded for five touchdowns. Running back Sihiem King is the catalyst of the offense and has totaled 32 rushing touchdowns this season. Sixteen of King's touchdown runs have come this postseason. Junior quarterback Chase Parrish adds balance to the offense with his efficient passing. Parrish has tossed 26 touchdown passes this season with nine interceptions and completes nearly 73 percent of his at-tempts. Defense has been a staple on Propst's teams and this year's unit has shown its ability to make key stops and adjust within games. Colquitt County trailed Dacula 23-15 at the half during the second round matchup and outscored the Falcons 36-7 in the second half. In the win over McEachern, the Packers' defense held the Indians to three points in the second half and included a pick six on what marked the fourth interception of the game. The defensive line is relentless in its pressure but is also disciplined when it comes to playing as a unit and keeping teams from breaking off big plays outside. Quintin Hampton and De'Themeyus 'Bull' Barge roam at linebacker and lead a group that has posted 38.5 sacks and 119 tackles for loss this season.
THE SKINNY…
The state title in Georgia's highest classification has landed in Gwinnett County the past four seasons and Archer will look to make it a fifth against the No. 1 ranked team in the state, Colquitt County. Quarterbacks Gabe Tiller (Archer) and Chase Parrish (Colquitt County) are leaders and game managers that know how to build offensive momentum and fuel the type of explosive scoring we've seen this season from both offenses. Colquitt County's star running back Sihiem King will look to outpace an Archer offense that stars Dylan Singleton and a cast of some of the most versatile offensive weapons in the state. Archer can hit big plays with deep threat Kyle Davis and Colquitt County will have to use its ability to pressure quarterbacks to get to Tiller, who has shown the ability to extend plays in the pocket and get the ball down field. This marks the first time Archer and Colquitt County have ever faced each other. The two teams have combined for 414 points in their playoff victories, an average of 103.4 combined points per round.