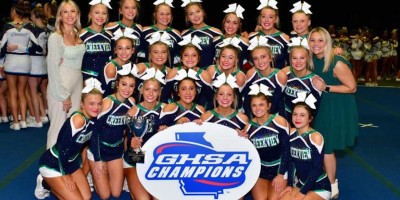 The 30th anniversary of cheerleading as a sport will be celebrated at the 2022-23 GHSA Cheerleading State Championships this weekend at the Macon Centreplex Nov. 11-12. The sport has grown tremendously since the inaugural 1993-94 season and the 128 squads making the trip to Macon this weekend will put those three decades of progress, pride and competitive spirit on full display. With more athleticism, creativity and focus peppered into the routines each year, the bar is always getting pushed higher. Former GHSA Cheerleading Coordinator and State Tournament Director Pam Carter now serves as a liaison to her successor Penny Mitchell and has been instrumental to this growth and has witnessed it first-hand as one cheerleading's pioneers.
Carter graduated from Columbus High School and returned to the area after college to accept a teaching position at Hardaway High School. There she was introduced to the sport of cheerleading and signed up to be the squad's 'sponsor' in a time before cheerleading coach was an established term. Once it was announced that schools would begin competition cheerleading, Carter felt compelled to learn the rules and started to coach intently. A 35-plus career as a cheerleading coach began and so did Carter's above and beyond attitude and influence on the sport.
Carter initiated meetings with different coaches around the state and this led to the organization of the Georgia Cheerleading Coaches Association that would help educate all member schools on the state's regulations. Carter continued developing the sport and had experience serving on the National Federation of High School's Board and Spirit Rules Committee, and judging state, national and international competition by the time she was named GHSA Cheerleading Coordinator. During her time as a coach, Carter's Hardaway teams took region titles every year from 1992-2004 when she retired and won the 1994-95 Class 3A state title. The title in 1995 came in the second year of competition cheerleading and serves as an example to Carter of how far the sport has come in the 28 years since.
"When I won state in 1995, the little pyramid I won with probably would be in the bottom three scores in the state this year if you look back in time," explained Carter. "This sport has just developed way beyond what I ever expected."
UP FOR GRABS
South Forsyth captured its second-straight and ninth all-time championship last year in Class 7A and will look to extend its dynasty against a crowded field of contenders. This includes six-time state champion Lambert—who emerged as the top team out of Region 6-7A and Denmark—which recently captured a Class 4A state title in 2019-20. The Eagles' title defense will also be challenged by 10-time state champion Carrollton—who has joined Class 7A after recently taking the Class 6A title in 2020-21. Class 7A, Class 5A, Class A and the COED division will crown their champions on Saturday, while Class 2A, Class 3A, Class 4A and Class 6A will close out their seasons on Friday.
Class 6A will see Creekview attempt to capture its third state title in the last four seasons and the Grizzlies emerged as the top squad out of Region 6-6A with Allatoona. Class 6A has been bolstered with the addition of Roswell, St. Pius, defending Class 4A state champion Jefferson and Cartersville.
In Class 5A, McIntosh will aim for its fourth-straight state title and eighth all-time championship this weekend. The Chiefs emerged out of Region 3 as the top team ahead of powerhouses Northgate and Northside-Columbus. Northgate has won nine all-time championships in addition to last year's CO-ED state championship. The Vikings' win last year was their first COED state crown and it snapped Mill Creek's streak of three-straight.
Jefferson's title defense will have to occur in Class 6A after the Dragons' jumped classifications and Class 4A will crown a new champion in an intriguing field that includes newcomers Whitewater, Starr's Mill and East Forsyth and region front runners Central-Carroll, North Oconee along with Walnut Grove and Chestatee.
Dawson County made history last year with its first-ever state title and is back to headline the Class 3A field. The Tigers will contend with six-time defending Class A-Public state champion Gordon Lee—who has joined the Class 3A field this season with the likes of Pickens, Hebron Christian, Bremen, Adairsville, Morgan County, Savannah Christian, Columbus, Mary Persons and Upson-Lee.
Defending Class 2A state champion Bleckley County now resides in Class A and 10-time defending Class A-Private state champion Mt. Paran looks to continue its historic streak in Class 2A for the first time. The Eagles will be competing with Dodge County—who recently took the Class 2A state crown in 2020-21. Class A's fresh lineup includes three-time state champion Armcuhee and nine-time state champion Commerce.