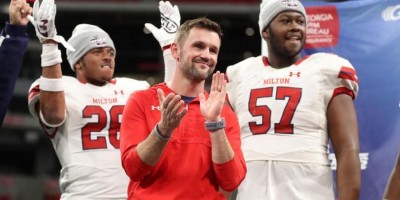 The 75th episode of the Georgia Farm Bureau "Georgia Prep Sports: From a Distance" video podcast features Cherokee Bluff head football coach Tommy Jones, who has led the Bears to an 8-0 record in the school's third year of operation after a combined record of 3-17 during its first two seasons.
Host I.J. Rosenberg, the President of Score Atlanta, will also have Haralson County head football coach Scott Peavey, who is coming off a 36-29 upset-victory over Callaway this past Tuesday. Rejoining the show will be Milton head football coach Adam Clack, who sits at 6-1 on the season following a 20-14 win over Roswell last Saturday. Also joining the show will be Kealy Hartman, who is the Director of Install Operations at PlayOn! Sports.
The podcast is produced by PlayOn Sports, which runs the National Federation High School network, and airs Mondays and Thursdays starting at noon, as well as the Friday Night High School Football Scoreboard Show which airs at 10:30 p.m.
Follow the LINK to watch.