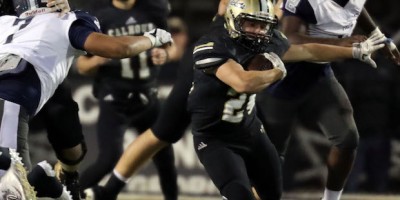 Photo courtesy of J. Lane Bearden
All season long, the focus was on the top three ranked teams in the classification-No. 1 Cedar Grove, No. 2 Peach County and No. 3 Greater Atlanta Christian-with the rest of the class looking in at the titans. Two of the three came up short of the finals, and a deserving Calhoun program is back in the state championship game again. This will mark a rematch of the second-round playoff game in 2014 in which Calhoun defeated Peach County 20-14 in overtime. Since falling to Class AAAA Cartersville 58-6 on Sept. 1, the Yellow Jackets have not been challenged, climbing in the Class AAA rankings from No. 6 to No. 4, where they entered the playoffs. Peach County handled Savannah, Pierce County and Westminster in the playoffs before its close win over Greater Atlanta Christian.
Peach County
Peach County avenged last year's loss to GAC in the semifinals to advance to the championship game after dropping just one game all year, to Class AAAAA finalist Warner Robins. The Trojans, who won titles in 2005, 2006 and 2009, have not made a championship game appearance since 2011, when they fell to Burke County 28-14. Peach will be without star wideout Kearis Jackson but has done well without the UGA commit since he was injured in the second round, and numerous players have stepped up. In the semifinal game against Greater Atlanta Christian, Antonio Gilbert passed to seven different receivers, demonstrating the depth of the Trojans receiver corps. Gilbert finished 28-of-37 for 325 yards and two touchdowns, to Millard Thomas and Jaydon Gibson. Under Chad Campbell's leadership, Peach has been to at least the semifinals three times, at least the quarterfinals once and the final game twice with one title in 2009.
Calhoun
The Yellow Jackets are in familiar territory as they are entering their seventh state title appearance in the past 10 seasons under Hal Lamb's watch. Lamb, who arrived at Calhoun in 1999, missed the playoffs in his first season, but in 2000 he made it to the first round. Since then, Lamb has led the Yellow Jackets to a region title and playoff appearance every season since 2001. Calhoun has state championships in 2011 after defeating Buford 27-24 in overtime and 2014 after defeating Washington County 27-20. This season, the Yellow Jackets entered the playoffs as the No. 1 seed from Region 6 and proved doubters wrong with a semifinal victory over the heavily favored and defending champion Cedar Grove Saints. In Calhoun's 14-6 victory, it held an explosive Cedar Grove offense to just 170 total yards. Gavin Gray had touchdown passes of 6 yards to tight end Davis Allen and 60 yards to Brannon Spector.