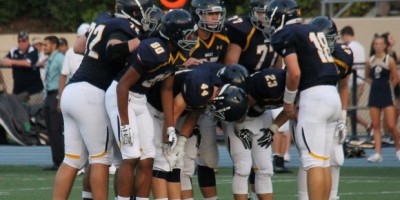 Photo courtesy of Marist
Marist and Blessed Trinity did not play for the first time until 2016 when the GHSA's reclassification pinned the two powerhouses in Region 7-AAAA together. A 28-26 Blessed Trinity victory in the first-ever meeting and a 25-24 Marist victory this season has set up a rubber match for the ages on Saturday. Marist head coach Alan Chadwick has led the War Eagles in 33 straight postseasons and is two-of-five in championship games. Tim McFarlin previously led Roswell to a state title in 2006 before taking over for Blessed Trinity in 2011. This is the second finals appearance in the past three seasons for Blessed Trinity, which still searches for its first crown. These teams dominated Class AAAA's best to set up the weekend's only finals matchup with two Metro Atlanta teams.
Marist
Marist is one of the six teams taking an undefeated record into this weekend's finals. The War Eagles improved throughout their 10-0 regular season and have looked even better in the postseason with double-digit victories in each round and a 20-point average margin of victory. As good as Marist has been, however, its Oct. 20 win over Blessed Trinity hints to why Saturday's final will be the biggest test of their season. Playing in the smallest, and only five-team region of Class AAAA made Oct. 20 already feel like a playoff atmosphere. Marist never led in that game and trailed 24-17 with 5:46 left before converting three fourth downs and capping off an 18-play scoring drive with a Chase Abshire 2-yard touchdown run with just 53 seconds left. Still trailing 24-23, head coach Alan Chadwick chose to go for two. Abshire found Kyle Hamilton on a slant for the 25-24 win and Marist's Region 7-AAAA title was clinched.
Blessed Trinity
Since Blessed Trinity's 25-24 loss to Marist on Oct. 20, the Titans have conquered an incredible stretch of games that includes road playoff victories over Cartersville (21-17), Thomson (43-13) and Mary Persons (28-7). Junior quarterback Jake Smith threw three interceptions in the regular-season loss to Marist, but has thrown eight touchdowns and three interceptions in the five games since. Junior running back Steele Chambers rushed for three touchdowns in the loss to Marist and has added eight more touchdown runs, two touchdown receptions and a touchdown pass in the five games since. The Titans are well-balanced offensively and their defense has been a nightmare for opposing offenses and especially their passing games. Expect Blessed Trinity's top playmakers to contribute on both sides of the football on Saturday. Blessed Trinity is still a young team, but they are loaded with talent and share an invaluable bond from the bulk of the roster having played together since youth football.