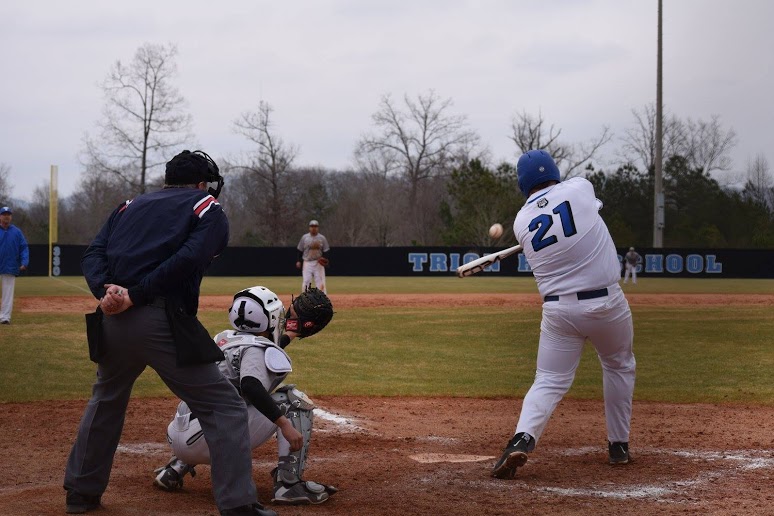 Kellee Stamey
Hebron Christian broke the spell cast over Class A-Private the past two seasons as they defeated defending state champ King's Ridge in the semifinals. It took the Lions three games to bounce the Tigers, who beat Hebron in a gut-wrenching three-game series last year in the state finals. Entering the tournament as the No. 6 seed, Hebron (29-6) edged past King's Ridge 5-3 in the clincher. The Lions trailed 3-1 heading into the sixth inning before Sloan Bennett blasted a 2-run triple to knot the game up and Shane Smith added the go-ahead run with a sac fly. Bennett finished the game 3-for-3 but it was Spence Johns' clutch performance at the dish and on the mound that locked up Hebron's chance at the school's second title. After tossing a complete-game, three-hit shutout in a deciding Game 3 victory over George Walton Academy to advance to the semis, his encore performance in the clincher produced a complete-game allowing just two earned runs and adding an insurance RBI of his own at the plate with a double in the top of the seventh.
The Lions meet Tattnall Square Academy (25-7) in the championship, a program looking for its first state championship. The Trojans will need to be ready for a heavy dose of Jake Hershman, Hebron's righty on the mound signed to play at Wofford. No. 4 seed Tattnall has swept through the playoffs, posting a perfect 6-0 record against No. 13 Mt. Paran, No. 5 ELCA and No. 9 Calvary Day. The Trojans turn to a trio of Division-I signees to power their offense.  Nick DiPonzio (Wake Forest), Blake Simmons (Georgia Southern) and Garrett Houston make up a potent core. In their 6-1 win over Calvary Day to clinch a spot in the state title game, DiPonzio went 2-for-4 with a 3-run homer to set the tone while Simmons added three hits and two runs. Houston struck out 11 batters in his complete-game outing. On the season Simmons is batting .422 with 31 RBIs. DiPonzio is hitting at a .429 clip and Cory Bartholomew is batting .344. Simmons' younger brother Logan is a sophomore and is second on the team with 30 RBIs. The Trojans turn to Houston (13-1, 1.40 ERA) and Bartholomew (11-2, 0.81 ERA) on the mound.
Class A-Public
No. 6 Trion (24-7) attempts to raise its third banner and first since 1983 against No. 4 Treutlen (26-5), the Vikings in search of their first ever state championship after sweeping defending champion Schley County while allowing just two runs. Treutlen's pitching will be tested by Gabe Howell, a Chipola College commit that has high hopes for being drafted this summer after an incredible senior season in which he has hit over .600. The power-hitting shortstop is lethal with the stick. Evan Walker, Drew Williams, Griffin Floyd and Malik Martin join his as top offensive threats.
Tristan Cone is the ace up Treutlen head coach Brent Korn's sleeve. Cone, a Valdosta State signee, leads the Vikings with 30 RBIs and has a .304 batting average. Titus Benjamin has been a table setter with his .391 average and .459 on-base percentage. Treutlen's stoppers on the mound are Cones and Zach Hughes. Cone is 10-1 with a 1.07 ERA including 120 K's in 72 innings. Hughes is 9-2 with three saves to go along with his 1.10 ERA. Treutlen has cruised through the postseason and has not allowed more than two runs in a game en route to outscoring opponents 48-to-8.