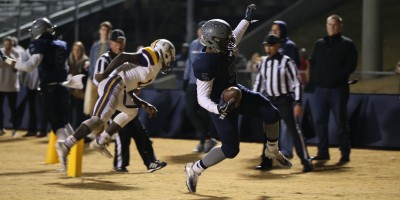 Photo courtesy of ELCA
This year's championship game features No. 1 seed Eagle's Landing Christian against a second-seeded Athens Academy squad looking for its first state title. While the Spartans' 2017 season gives them an opportunity to make school history, Eagle's Landing Christian is familiar with playing for state titles. The Chargers have won three in the past five years and are aiming to win their third in a row. Both teams feature talent on each side of the ball. ELCA has put up an unmatched average of almost 53 points per game and has shut out each team it has faced in the postseason. Athens Academy has only given up 28 points in three games during the playoffs, just over nine points per game, so the Spartans will look to slow down the Chargers in the title game.
ELCA
Eagle's Landing Christian's dominance throughout the regular season helped the Chargers achieve a perfect 2017 season, giving them a chance for their third consecutive state title. After losing their first game during the 2012 season, ELCA held strong and won out for the rest of the season. They shut out opponent Prince Avenue in the Championship game to claim the first school title since 1996. After a 2014 season in which the Chargers went 7-7 and lost in the finals to Mount Paran, they responded in 2015 by advancing all the way to the finals, where they upset third-ranked Aquinas 35-14. The 2016 season was more of the same, as the Chargers went undefeated, ending their season with a double-overtime victory over Fellowship Christian after running back Trevor Gear rushed into the end zone for the game-winning touchdown. Justin Menard and Josh Mays provide a one-two punch on offense.
Athens Academy
Athens Academy's 13-0 record gives the school a chance at its first perfect record and state title in school history. Truly in superior form, the Spartans have beaten opponents this year by an average of just over 32 points, making them a hard team to keep up with. A close game with third-ranked Mount Paran Christian in the semifinals almost ended the Spartans' season. Midway through the third quarter, George Smith picked up a Mount Paran fumble and returned it 25 yards for a touchdown to give the Spartans a 14-7 lead that they would not give up. Sophomore Len'Neth Whitehead stars at running back and linebackers. Head coach Josh Alexander is in his third season with Athens Academy and led the team to its first region title in five years this fall. Alexander has a 31-5 record at Athens Academy. With strong coaching and a prolific offense, the Spartans will look to upset the Chargers.