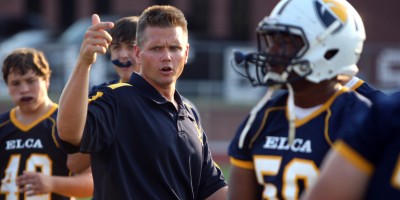 HC Jonathan Gess of ELCA. Credit: Jason Getz/AJC
Eagle's Landing Christian (12-0) vs. Prince Avenue Christian 11-1 
Eagle's Landing Christian, the No. 1 state seed for Class A-Private, goes for its fourth state title and third in a row, and the Chargers have been the most dominant team in any classification so far this season. ELCA averages 53 points per game and only gives up six; the team's closest game was a 21-14 win over Eagle's Landing, which made the second round of the Class AAAAA playoffs. Prince Avenue (state No. 5 seed) is all too familiar with meeting ELCA in the playoffs. The Wolverines have met ELCA three times total, all in the postseason, with a 2012 loss in the state finals, a 2014 loss in the quarterfinals and a 2015 loss in the semifinals. Prince Avenue's only loss this season came against city rival Athens Academy in the final regular-season game, 32-14.
ELCA's 55-0 quarterfinals win over Calvary Day was the team's 34th straight win. Running back Josh Mays scored three touchdowns in the blowout win and rushed for another three in the team's 54-0 playoff victory over Savannah Christian. Two quarterbacks get snaps for the Chargers, junior Brayden Rush and sophomore Nate McCollum, and wide receiver Sean Queen is a weapon on offense as well. Christian Parrish is Prince Avenue's offensive star; he rushed for two touchdowns and caught a 50-yard touchdown pass in the team's 31-18 win over Darlington last Friday. Parrish also blocked an extra point in the game, showing his versatility. Quarterback Grant Roland pulls the strings on offense for the Wolverines.
Athens Academy (12-0) vs. Mount Paran (11-1)
Mount Paran, the state's No. 3 seed in the classification, is looking for its second state title after it broke through with a trophy in 2014. But Athens Academy, the No. 2 seed, is hungry for its first-ever championship and is undefeated on the season. Mount Paran's lone loss came to Class AAA Bremen 14-10, but the Eagles have had mostly blowout wins from there, with close victories over Mt. Zion-Carroll 31-24 in the regular-season finale and No. 6 seed Stratford Academy 14-7 last week. Athens Academy has had an easier road in the playoffs thus far, taking care of First Presbyterian 56-7 and Savannah Country Day 38-14. Athens Academy is 3-1 all-time versus Mount Paran; the Spartans won the first three matchups in 2008-10, including a playoff victory in 2010, but Mount Paran won the second-round matchup last season.
Mount Paran trailed Stratford Academy 7-0 heading into the fourth quarter of the their quarterfinals game, but the Eagles got two touchdowns from Chandler Webber to win. Webber scored on a 7-yard run with 10:02 remaining and a 3-yard run with 3:34 left. Eagles quarterback Niko Vangarelli carried the ball 19 times for 110 yards in Mount Paran's rush-heavy attack. Athens Academy advanced to its third-ever semifinals and first since 2007 with a big performance from Lenneth Whitehead. The sophomore scored on runs of under 10 yards in each quarter to help Athens Academy score 28 straight points. The Spartans also got a touchdown rush from Henry Trapnell and an interception from Deion Colzie.